2022 Highlights: The Biggest When I Work Updates
You're busy. You're always busy. So 2022 was all about how to make managing the work schedule faster and easier for you. There were improvements in scheduling, attendance, integrations, the mobile app, onboarding, and even billing—all to simplify your work life.
And because you're busy, we're guessing you didn't have a chance to keep up with every single update. That's cool, we've got you covered here. You can see the highlights to make sure you're taking advantage of all the great enhancements. Plus, you'll get a sneak peek on what's coming in 2023. But first, let's revisit all the improvements you saw in 2022…
Learn all about:
Better shift coverage with an optimized labor pool
Set up your scheduling rules once and your managers can be assured that their schedules comply with workplace policies and local laws. You can set rules for consecutive days worked, hours between shifts, and scheduled days per week.
Instead of forecasting in hours or sales, you can choose the unit that's right for your business, removing the mental load of translation. Whether you forecast in patients, hotel rooms, or guests, now you can do it more efficiently to get better shift coverage.
Give your employees more options by allowing them to pick up parts of OpenShifts that overlap with when they're already working. You'll fill more shifts and have better coverage.
And more
See your assigned and OpenShift coverage on the Dashboard Coverage Card, import bulk data into your schedule with shift template uploads, and easily move staff between schedules or locations (without all the approvals) through labor sharing enhancements.
Better payroll for you and your employees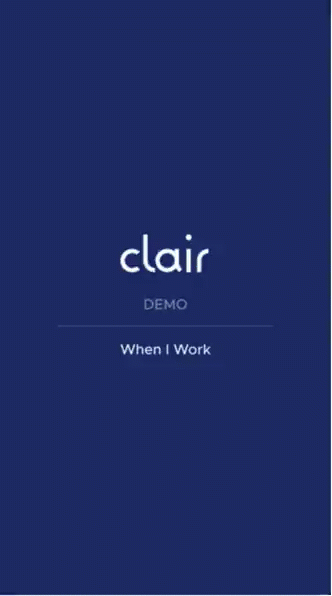 Employees want on-demand pay, and now you can offer it through Attendance with just a click. Your team can access a portion of their earned wages after shifts, before payday, with no changes to your payroll process. Just toggle on On-Demand Pay in the Attendance Settings—it's that simple. Clair is free for you to offer and provides your employees with fee-free and instant options.
Payroll integration improvements
The new and improved Square integration means you can push time data as often as you want to ensure your labor costs are always up-to-date. The Gusto integration has an easier set up and navigation, and the ADP Workforce Now integration has new options for multiple pay rates.
And more
You can now customize your pay periods so they work better for your business. Plus, you'll get  missed clock in notifications on the Attendance Notices section of your dashboard, so you can head off any issues before they get to payroll.
Better data visibility to identify trends and make changes
Get answers to your most pressing business challenges with quick access to data. Access shift data, timesheet data, and shift history data and manipulate it easily through sorting, filtering, and pivoting, right within When I Work.
Create the dashboard you want to see everyday! You can reorder and hide information so you have the best picture of what's happening at your business. See your labor costs in a more flexible graph and triage attendance issues quickly with the Attendance Notices section.
Better communication with your employees
Team messaging is the key to communicating with your employees. So these WorkChat updates will make that easier and more clear for everyone involved.
Create channels faster—you can build channels without having to send a message first.
Remove users from the channel—simply remove someone instead of creating a new channel.
Quickly find employees—they're in alphabetical order for easier searching.
Better search and filtering—use enhanced filtering and "Select All" options to quickly add and remove members from channels.
See when others are typing—keep the conversation flowing quickly.
Start each day with a date—it's easier to know when a message was sent with the date at the start of each new day.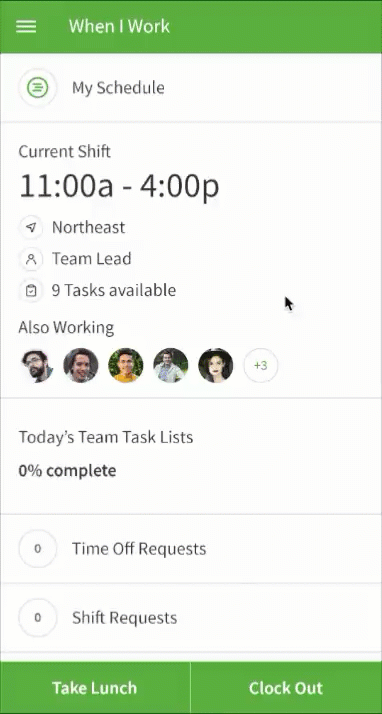 Better day-to-day management of your When I Work account with more flexibility
You can get those new locations up and running faster with child account copying and employee import. If you have locations in different time zones, you can update it with just a toggle to make scheduling easier. Plus, enhancements to the user interface of your account, including the workplace and shift or time-off requests make it easier to get the data you're looking for. The changes to the billing page make it easier for you to update your plan and get a better, more detailed look at your account history.
Coming soon in 2023
Next year, you'll see updates that make When I Work the easiest scheduling  and time tracking platform to use—and you'll find value in it every single day. You'll be able to make sure your employees are paid quickly and more accurately, and you'll see even more time-saving features to create the best experience for you and your team. 
A few things in the works include Absence Tracking, which will give you the ability to track and take action on absences. Employees will have a place to explain their absences and it will help managers cover shifts. You'll be able to keep an eye on trends and have the data to make decisions based on employee behavior. Plus, you'll be able to make payroll faster with Timesheet Rounding, which can automatically round your timestamps to the nearest five, six, or fifteen minute interval to reduce human data entry and errors. And we're working on a way for you to be able to track tips within When I Work.
If your resolution this year is to stay on top of the updates so you can use them as soon as they're available, check out our Product Updates category on the blog. You'll be the first to know when new features are released. 
Thanks for being a part of When I Work. Here's to another year in the books and a new one full of possibility and success!