EMPLOYEE COMMUNICATION APP
One simple app for employee communication
The team communication app for a connected workplace. Bring all team communication onto one secure platform, available on the web and mobile.
Reach your entire team with a single message.
Send 1:1 messages or start group chats.
Protect privacy without sharing phone numbers.
Secure Team Communication App
Secure team messaging app for your workplace.
Bring all team communication under one private and secure roof. Keep your team updated in real time and never worry about giving out personal phone numbers again. You'll know who's read your updates and who needs to be contacted again. All work communication stays in the app that's dedicated to work, so you don't have to worry about it getting lost. Eliminate worries about leaving someone off the group chat or email chain.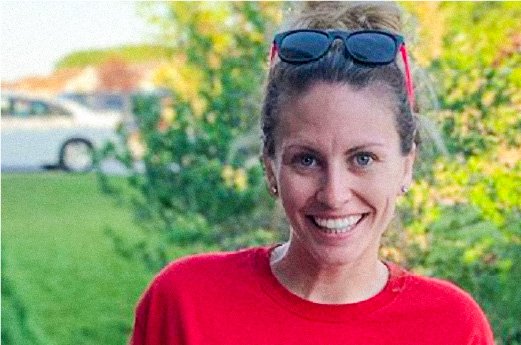 Desktop & Mobile Team Messaging
Connect with everyone across any shift or any department.
Communication between managers and employees doesn't need to be messy or difficult. The Team Messaging App from When I Work helps you ensure that everyone on your team is on the same page at all times, no matter where they are.
EASY-TO-USE TEAM MESSAGING FEATURES
Keep your team informed, engaged, and productive.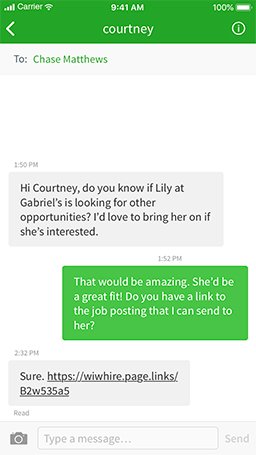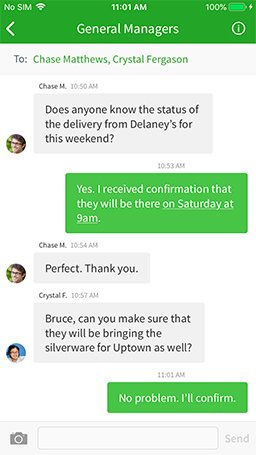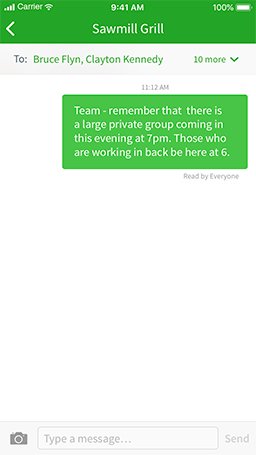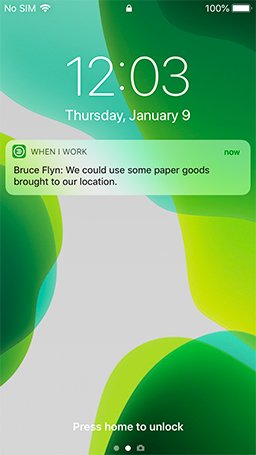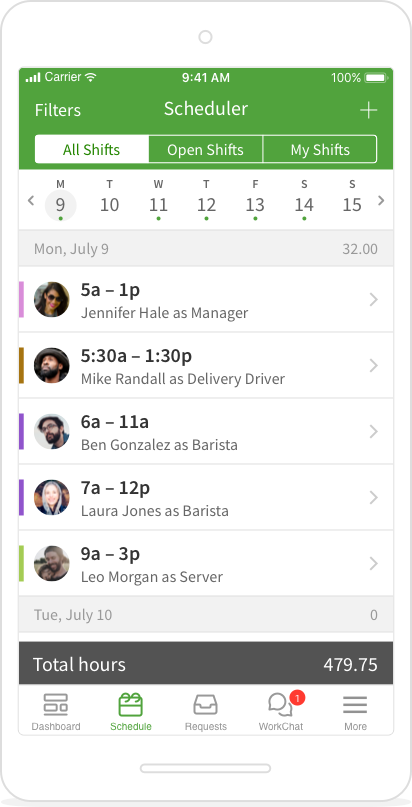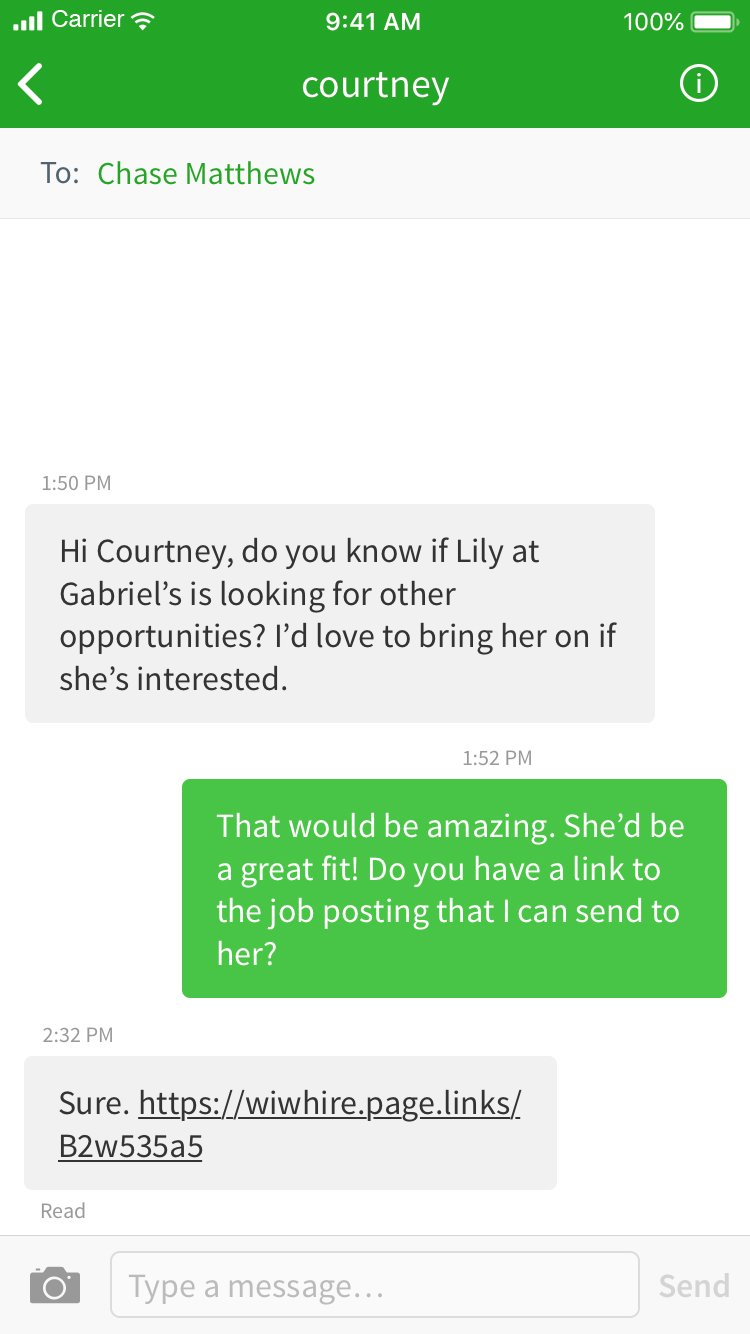 "When I Work saves me 20 hours a week. It has been outstanding at helping our team communication." - Miss Mixology, Customer since 2015
Secure & accessible app
Easy team communication all in one place.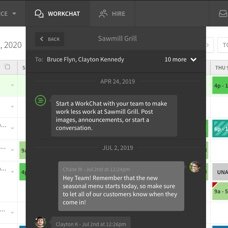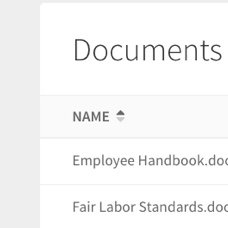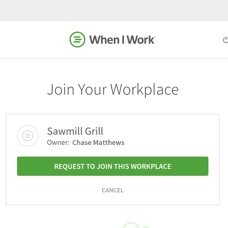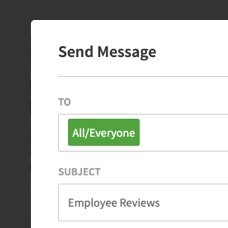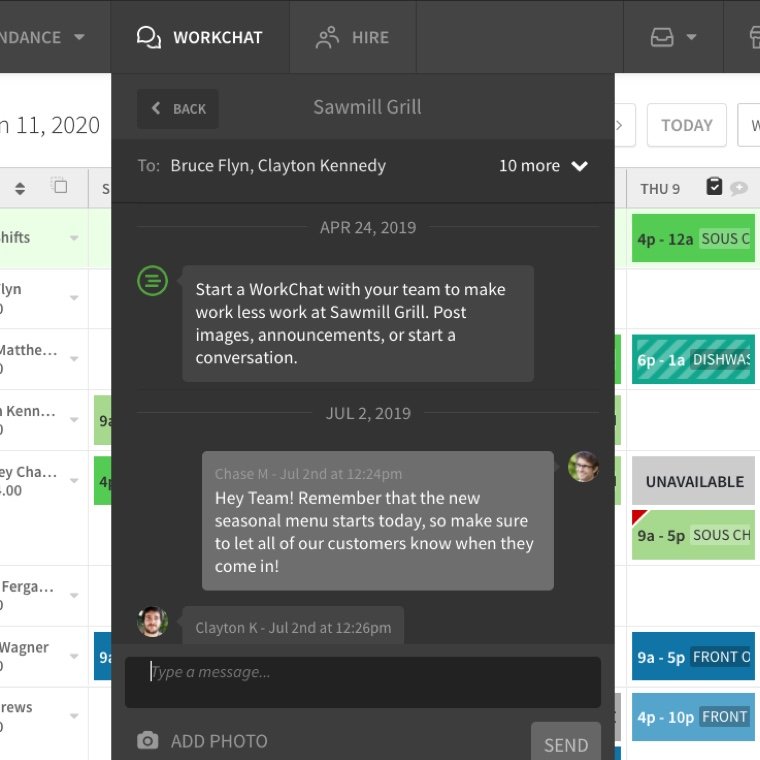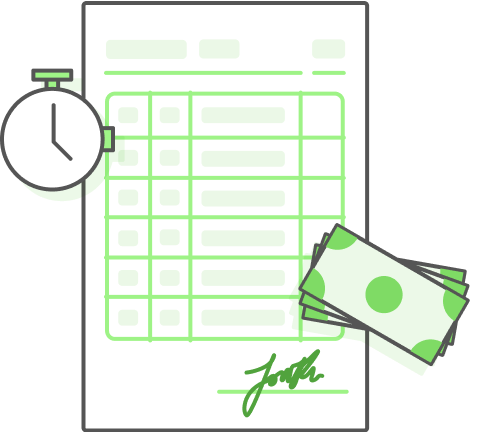 Team Messaging App Reviews
Join more than 150,000 workplaces running on When I Work
When I Work is rated

by our customers on  Capterra.
Pretty fantastic time saver
Villainous J
User friendly...straight forward and customizable all the things you need from a scheduling app.
Best App for Restaurant Scheduling
Yodonna
All communications, scheduling, swap, requests...all on the same app. You can even see everyone one the shift.
???? Love it!!
HikariHellscythe
It really helped me keep track of when I worked and also helped me keep in touch with coworkers.
Amazing
ReNae
I want to recommend this to every place I'll ever work!!!
Convenient and easy
Michael Hearn
In my 34 years of working in the service industry and watching technology grow, this is a very convenient and easy way for a team to coordinate.
Stress free!
Christina B
This app is definitely Stress Free! Coming from downloading calendars and typing in employees names, this is so convenient compared to the old school pen and Calendar!!!
Great app not just for scheduling!
Long Island Bro
Communication with my staff has been way more efficient and my labor cost is clear to see as I am making the schedule. I recommend this for any business trying to scale, simplify payroll cost and employee scheduling.
Love it
Elizabeth Rogers
Love it.. it shows when I work my hours and who's on schedule with me. Its quick and convenient.
Employee Opinion
Jordon Sabo
As an employee this app works fantastic. The notifications are in real time, the work chat is easy to manage, and the shift alerts are beneficial to my busy schedule. Would recommend for any company!
Excellent
WendyJoV
Thank you for creating an excellent app to help manage work schedules! I love that I can offer a shift and the first people to respond automatically take the shift for however many positions I have set up.
So Easy So Efficient
WORKFlows
I have been using When I Work for years now across many different brands and industries. I absolutely love how easy it is to use, how economical and efficient it makes scheduling.
Great Vibe
Vxspy
It has all the necessities to fuel a good work environment. Everyone at work is connected and not so irrational. I love this app and I recommend it to all of you whose workplace invites the workapp idea.
Unbelievable piece of software
Dean Malkani
Unbelievable piece of software that I've been looking for as a manager for years. The UI is glorious across browser and mobile app.
Great for employees
Mullac544
I'm an employee for a concession stand with varying hours and locations and it works really well to show me both the different locations and the hours for each. Would 100% recommend
Modern Scheduling App
Kaley Lariviere
Really modern way to have a schedule, makes communicating with coworkers easier!
Easy, convenient
Life nurse
I have my schedule with me at all time. Able to communicate with my coworkers and swap shifts. Get immediate notification of available shift.
A COMPLETE EMPLOYEE MANAGEMENT SOLUTION
Communicate, schedule, and track time—all in one place.