FRANCHISE EMPLOYEE SCHEDULING SOFTWARE
Simplify your franchise staff scheduling
Sign up and start scheduling for free now, or check out more of our awesome features below.
Start scheduling and tracking time today.
Makes payday a breeze with easy payroll integration.
Control costs with pay rules and schedule integration.
Turn any device into your franchise's employee time clock.
Franchise scheduling software
Schedule your franchise employees with ease
Streamline your franchise operations and increase efficiency with better employee scheduling. Your workers will be notified of new shifts and can confirm them, so you know they've seen the schedule. Make changes quickly to adjust for callouts and empower your employees to manage their schedule with OpenShifts and shift swapping. You can save up to 15 hours a week with better franchise scheduling software.
Franchise staff time clock and timesheets
Franchise employee time tracking has never been easier
Track attendance, breaks, and time off with ease. The integrated time clock and schedule save time and reduce human error during payroll. Control labor costs with real-time overtime alerts and in-depth reporting.
Franchise employee team messaging
Team chat app for a connected franchise location
All team communication and collaboration is on one secure platform. Message employees one on one, in groups, or all at once. Protect the privacy of your workers with communication that doesn't require you to share their phone numbers.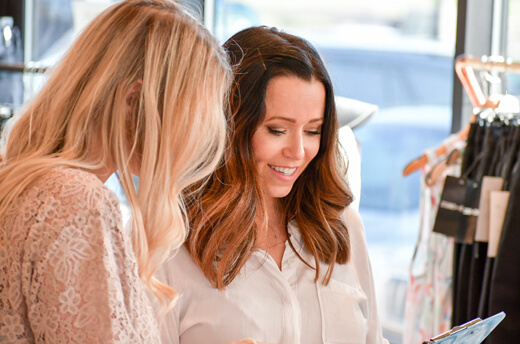 RAVE REVIEWS FOR OUR SHIFT PLANNER APP
Reliable shift planning. Hassle-free timesheet auditing.
Digital timesheets, payroll integrations, and labor reporting help you manage your budgets and get back to business. Customers have reported seeing savings as large as:
20%
Decrease in Labor Costs
Employee Scheduling Software for Any Industry
Glowing reviews from our franchise clients

97%
Decrease in Time Spent Scheduling
3x
Reduction in Employee Absenteeism

Scheduling and Team Communication Made Easy
97%
Decrease in Time Spent Scheduling
3x
Reduction in Employee Absenteeism
Goldfish Swim School of Reston, VA specializes in offering a safe and engaging environment to help children build their confidence and develop a lifelong passion for swimming. As part of their success, they employ millennials throughout the year to create a flexible curriculum that accommodates all students. In addition to regular classes, they also host birthday parties and other fun special events!
"Using When I Work has saved me more than 7 hours per week handling scheduling changes and requests. Now, I'm only spending about 15 minutes per week to build out a schedule. I also find myself very active in checking the requests submitted by employees through the Mobile app."
– Tommy Hamilton , General Manager

Prior to When I Work, it took about 8 hours a week to oversee the scheduling for 20 staff members on Excel. Because much of the business is consistent throughout the year, Tommy found that he was spending a lot of time copying and pasting shift information repeatedly on his Excel schedule. It soon became evident that in order to expand the business, Tommy needed to find a more efficient way of managing scheduling and time clock demands. Tommy chose When I Work because it offered the ability to create shift templates for his most frequently scheduled shifts. Now, instead of copying and pasting information repeatedly, he can load in a pre-populated shift template with two clicks. He also enjoys the flexibility of adding OpenShifts™ when a special event request comes in. Tommy also chose to activate mobile clock in to provide his employees the option to clock in for their assigned shifts without waiting. Employees are also encouraged to review their timesheets and turn on shift reminders to reduce absenteeism. Using When I Work was a clear choice for Goldfish Swim School of Reston, VA as it was able to simplify scheduling demands and allow Tommy to grow his business. He's now scheduling 45 employees in less than 15 minutes per week!
Products Used
Scheduling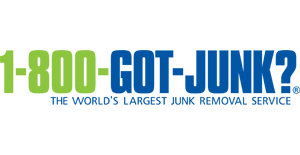 <30
Minutes Spent Onboarding Staff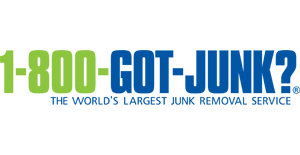 When I Work Mobile App Increases Employee Accountability and Makes Onboarding a Breeze
<30
Minutes Spent Onboarding Staff
1-800-GOT-JUNK? is a full-service junk removal business serving both residential and commercial requirements. As part of their success, 1-800-GOT-JUNK? is able to dispose of old furniture, electronics, construction debris, and much more. To minimize waste going into landfills, the 1-800-GOT-JUNK? team donates or recycles as much as possible to help give back to the community.
"Using When I Work has saved me about 50% of my scheduling time per employee. As I am thinking about ways to grow the business, I know that I'm scheduling more efficiently than ever before. I also know that training a new employee to use the app takes less than 10 minutes."
– Chris Koehnen , General Manager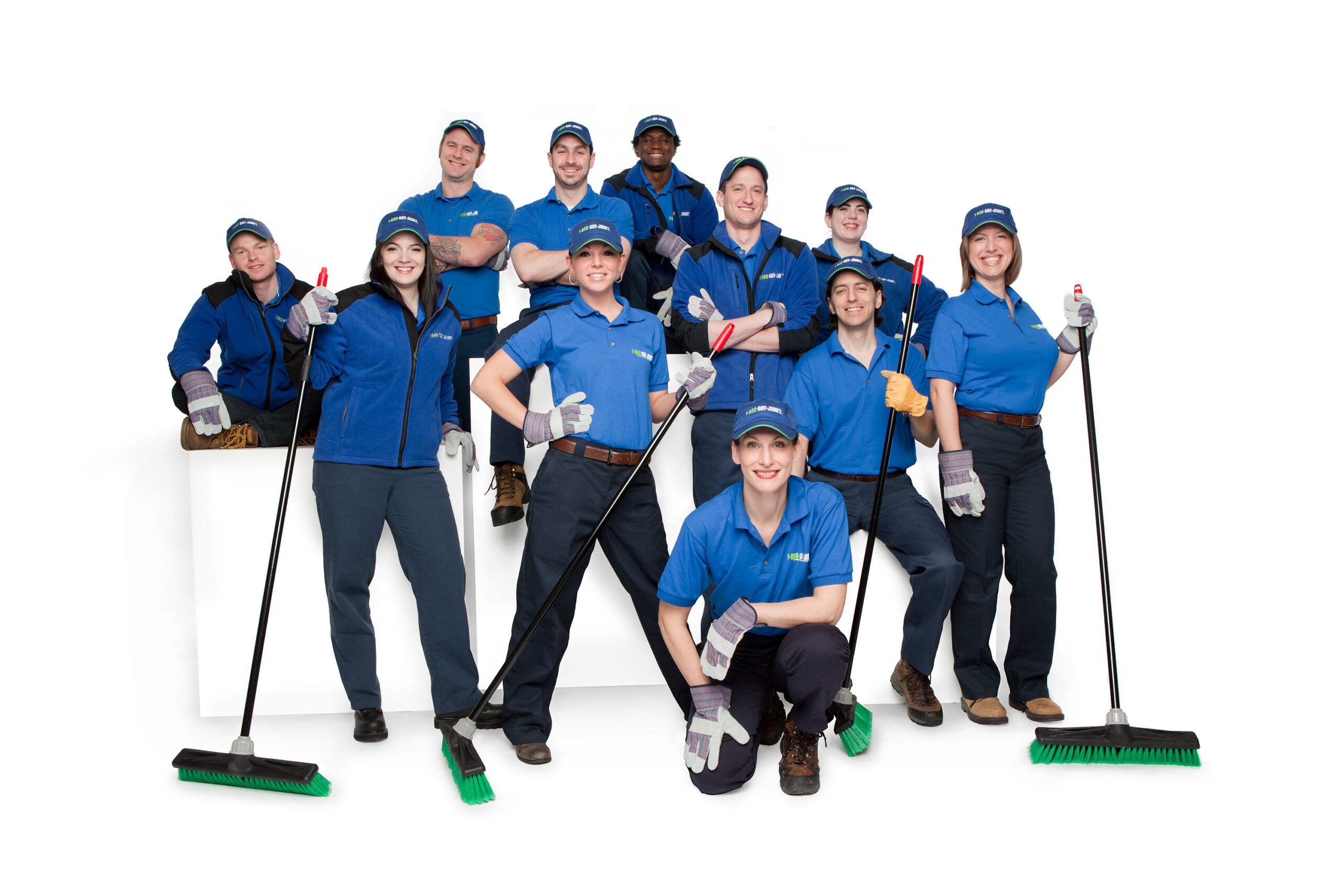 Prior to When I Work, Chris used an Excel spreadsheet to manage his 1-800-GOT-JUNK? Twin Cities team. With a growing customer demand in the Twin Cities, Chris added multiple routes into the schedule and added more employees to his workforce. It soon became evident to Chris that scheduling with Excel was too time-consuming and confusing for employees to read. Chris chose When I Work because it promoted employee accountability. With mobile apps, employees can quickly see their assigned shifts and routes without having to go to the main office or contacting their manager. In addition, employees could submit and track their Time Off Requests in one area. As part of onboarding new employees, Chris now only has to dedicate 10 minutes to training new hires into the When I Work app. Using When I Work at 1-800-GOT-JUNK? simplified team communication so all employees know exactly where and when they start their shifts. Now, with an intuitive platform, Chris can focus on new ways to grow his business and less time worrying about his employees! And if he is curious, he can look at the When I Work Dashboard to see who is working at a glance!
Products Used
Scheduling

<30
Minutes Spent Onboarding Staff

When I Work is a perfect fit for Mathnasium of Richmond, VA
<30
Minutes Spent Onboarding Staff
Since 2009, Mathnasium of Richmond, VA has been offering math tutoring and homework help to hundreds of students to kids in grades K-12. It was James' personal passion for mathematics that led him to discover a large frustration gap that many children feel towards mathematics. James joined the Mathnasium community and now employs passionate experts of the Mathnasium Method™.
"We chose When I Work because it offered the flexibility to schedule our seven locations separately. In addition, onboarding new employees to When I Work with the color-coded shifts takes only 5 minutes. Staff also install the mobile apps and set up shift reminders to reduce absenteeism!""
– James Temple , Co-Owner of Mathnasium of Richmond, VA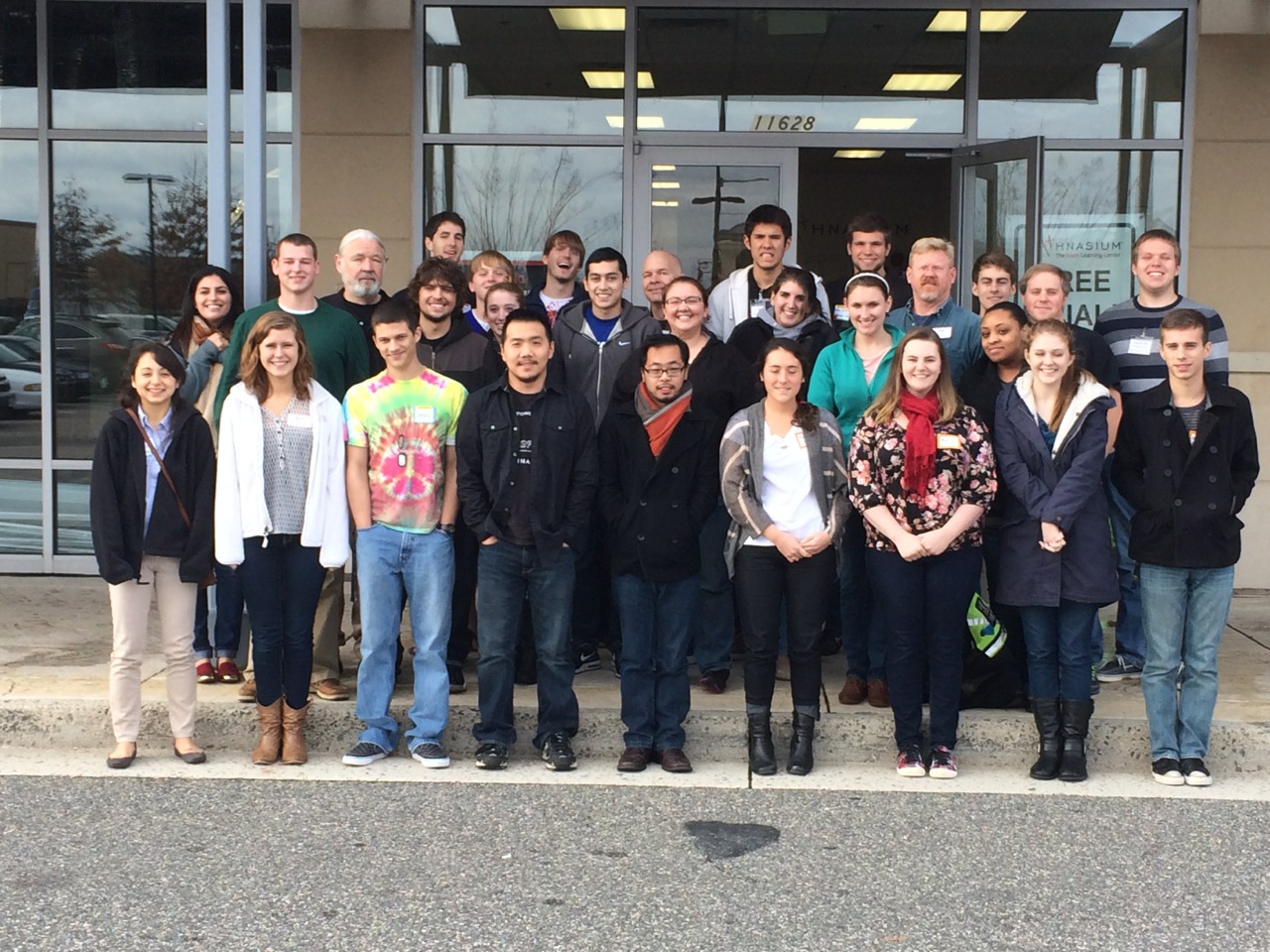 Prior to When I Work, James used a Google Spreadsheet to manage his schedule across multiple locations. However, as James expanded the business, he realized that it lacked key features such as a history of all time-off requests. It became evident to James that with all the incoming requests from his millennial workforce, he needed a real-time way to show schedule updates James chose When I Work because it promoted shift accountability among his staff in addition to addressing his other reporting/ exporting requirements. For example, James requires staff to explain why they are dropping a shift. Employees can also see scheduling changes, get notifications via email and SMS/ push notifications, as well as file requests all through one app without having to wait for James to manually edit the Google Spreadsheet schedule. Using When I Work at Mathnasium of Richmond, VA simplified team communication. With a reduction in employee absenteeism and an increase in staff accountability, James can focus on expanding his business beyond the Richmond, VA metro state area. He recently acquired Mathnasium of McLean- his first location outside the Richmond market.
Products Used
Scheduling
Scalable Work Schedule Maker
Built to scale across single or multiple locations.
When I Work is easy to adopt for teams of any size, and is built to scale across one or many locations. Start with a single location or team today, and scale to hundreds within weeks.
TIMESHEETS INTEGRATE DIRECTLY WITH PAYROLL
Processing payroll can be easier and more reliable.
Export employee timesheets and process payroll quickly with integrations to your favorite payroll provider.
Free time clock and scheduling Apps
A powerful duo. An integrated time clock and work schedule.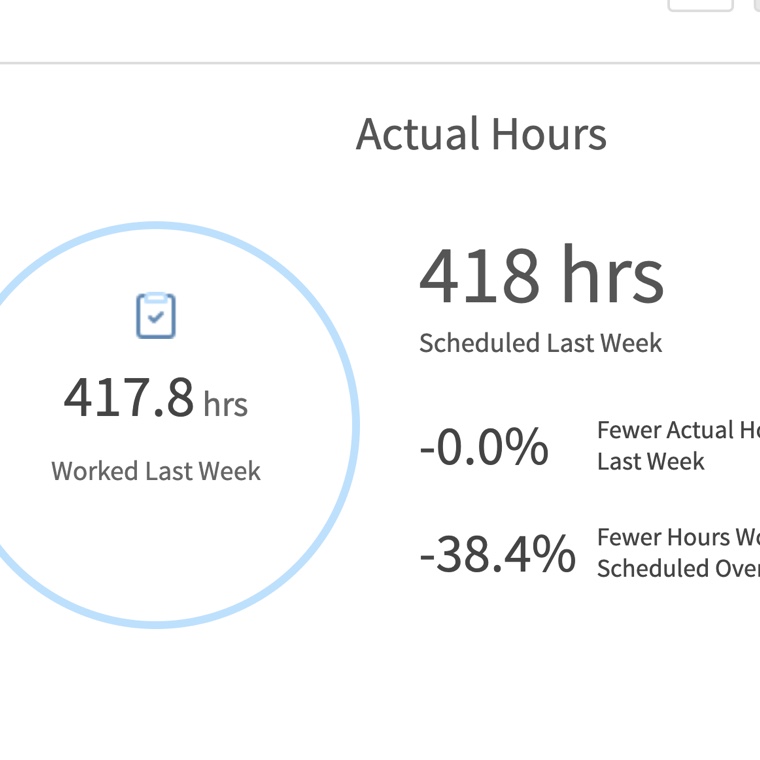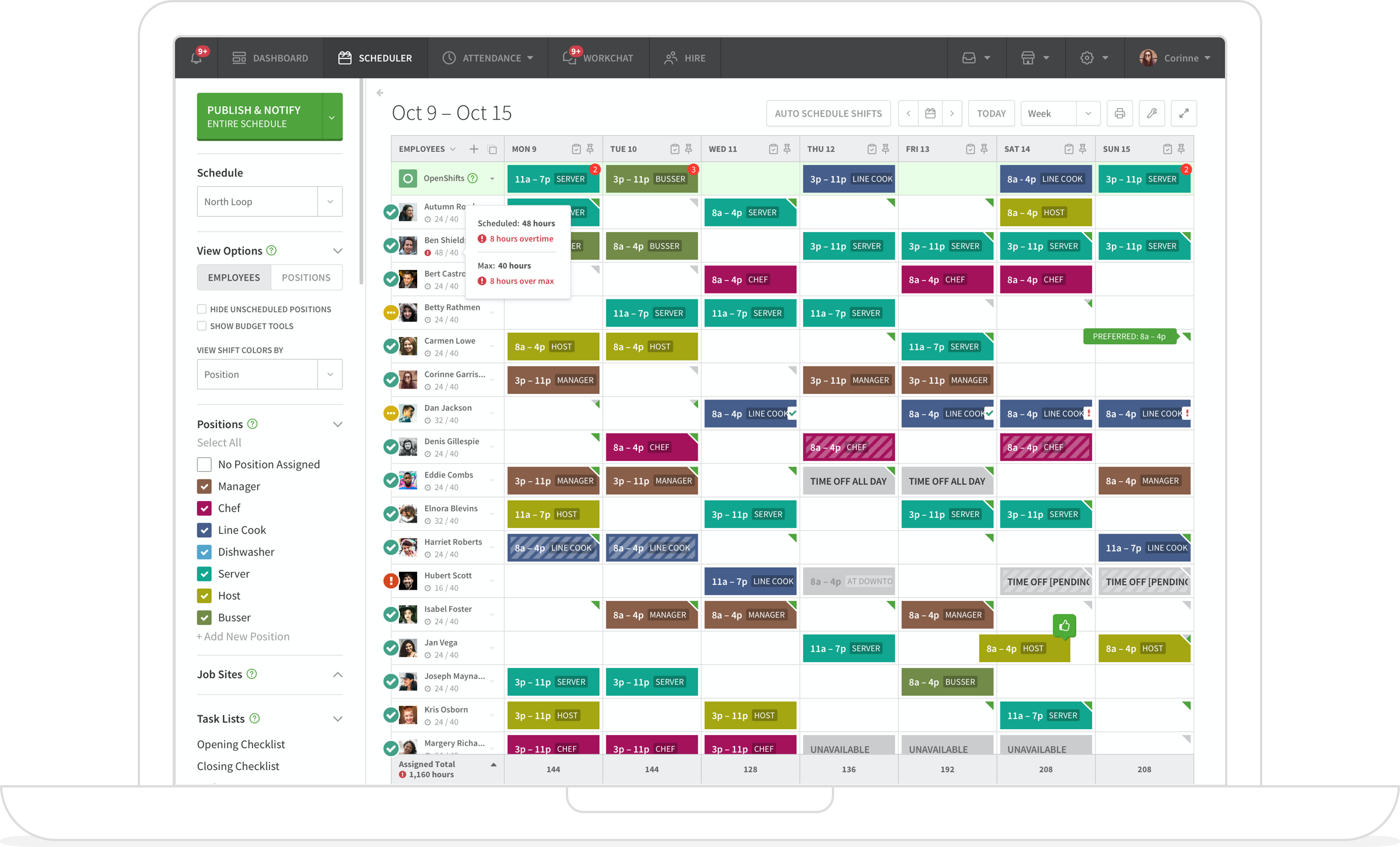 Control Labor Costs
Manage your labor costs in real-time with labor distribution reports.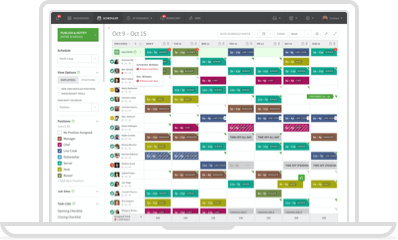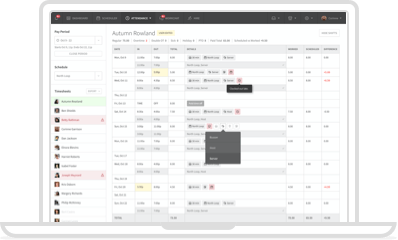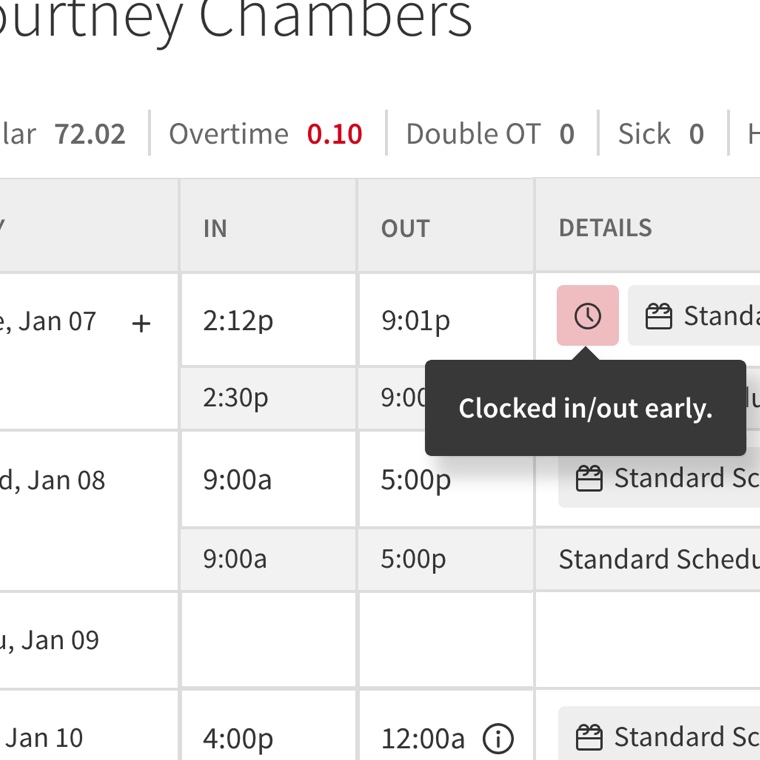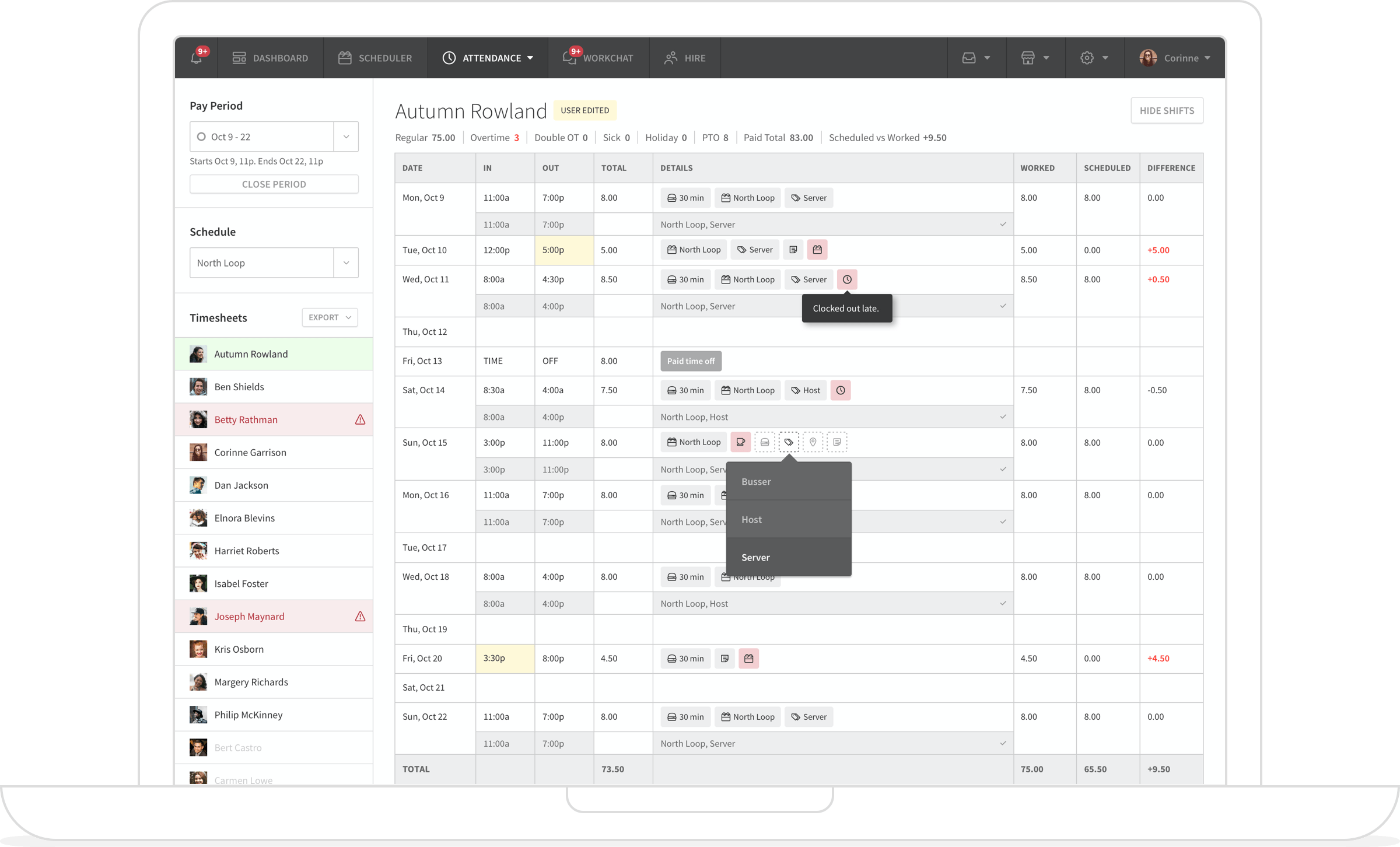 Interested in other industries?