2021 Highlights: The Biggest When I Work Updates
This past year was a busy one for us at When I Work. In our mission to make shift work awesome, we made updates across all of our products, apps, and in the platform itself. Here's an overview of everything we did to improve When I Work—check it out to make sure you're getting all the benefits!
Learn all about:
Save time with day-to-day admin
Managing a schedule can be time-consuming, so we added features to save you time when you're making changes, tracking information, and viewing your employees.
Bulk edits—Change multiple shifts in one action, so you can mass edit info like shift times, job sites, tags, and more.
Availability controls—Get the right coverage for every shift and improve scheduling management. You can set the number of days prior to a shift that employees are allowed to change their availability, so you get sufficient notice. 
Role permissions—Customize user roles to fit your needs with centralized control over what permissions are allowed for managers and supervisors. We've also added two more available Admin roles, so you can have up to three.

Custom time-off types—Save time trying to track down important information and get more transparency when an employee requests time off. You create your own time-off types to suit your business. We've seen jury duty, bereavement, floating holiday, and more.
Employee filter—Find employees on a large schedule, quickly with this new filter.
Create schedules quickly, with confidence
It's important to create schedules quickly, but it's also just as important that you're confident you have the best schedule for your employees and business. That's why we've added another way for you to manage costs with OpenShifts and enhanced auto assign and schedule templates.
Max hour enforcement—Keep labor costs down and shifts evenly dispersed with this setting. You can offer OpenShifts only to employees who haven't exceeded their max hours and automatically prevent employees from taking too many shifts.
Auto assign enhancements—One-click scheduling now does a better job of honoring employee preference, with a 70% match to employee's preferred availability. You also have the flexibility to schedule the most important shifts first, with prioritization options and improved randomization.
Schedule template enhancements—Create efficiencies when creating similar schedules. You can now save, load, and edit existing templates when you're in the middle of building the schedule.
Get visual insights with action
Dashboard—Your new dashboard gives you a snapshot of what's happening in your business today. Check the schedule, manage your OpenShifts, and review your labor projections, all in one place. These features are available on both Scheduling only and Bundled accounts. Here's what you'll find:
Today's Snapshot— See what needs your attention as soon as you start your day. View pending shift requests, unfilled OpenShifts, and more.

OpenShifts— Manage unfilled shifts down to zero for the upcoming seven days to make sure you have the coverage you need. Filter by position, schedule, or job site.

Pay Period Forecast— Stay on track for the pay period with a view of your daily scheduled and worked labor costs.

Worked Labor Cost— See where your worked labor cost was spent the last seven days and find out where your labor budget is being allocated. You can break it down by position, schedule, and job site.
Important Upcoming Dates— Check out the annotations across all schedules, all in one place.

Manage accurate employee timesheets
Integrity in your pay is key, and managing timesheets to include accurate information is fundamental to running your business. These features have been highly requested from our customers, so we made them a priority this year. 
Clock out location restrictions—Get better control of labor costs and accurately account for employee time with geofence limitations at clock out.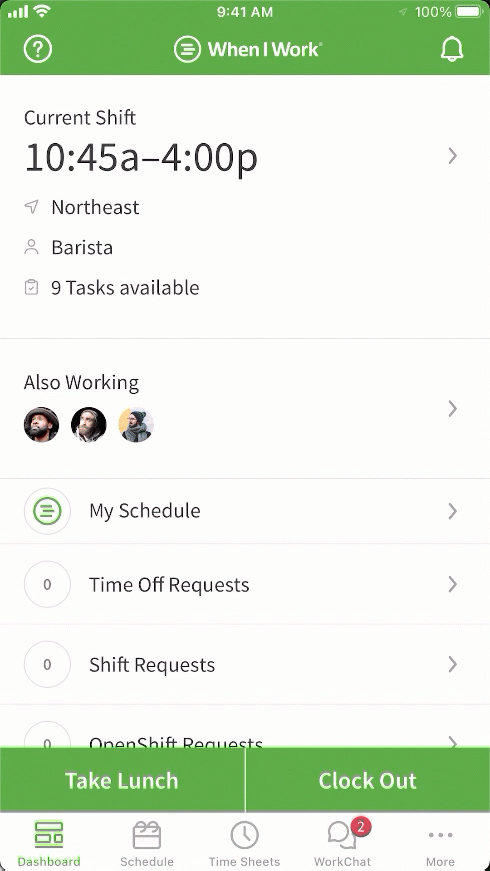 Stability enhancements for clocking in and out—The clock in and out experience for employees is now more reliable, so you can be sure your timesheets are correct.
Improved mobile functionality and design
Your feedback made this happen! We're proud of our mobile design and usability, and to make it better, we've added task lists, tags, and specific updates for Android and iOS.
Task lists—Now you can create, edit, or delete task lists or individual tasks directly on mobile to keep your team on track. Both team tasks (iOS, Android) and shift tasks (iOS, Android) are available.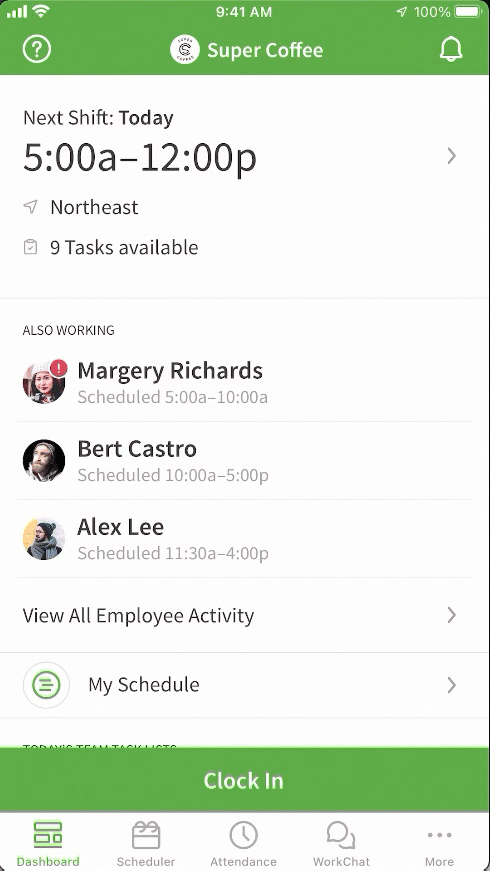 Tags (iOS, Android)—Make adjustments to your employees' qualifications and skills on mobile. Now you can create, edit, delete, and assign tags on your phone or tablet. 
Android app enhancements—A better user experience lets employees know what actions are available to them, like clocking out for a break. Improved error messages lets users know exactly what's wrong so they can fix the issue. And now employees have the option to choose which shift to clock into, solving a problem that caused employees to clock in late for back-to-back shifts.
Dark mode on iOS—Now users can rest their eyes while in the When I Work app.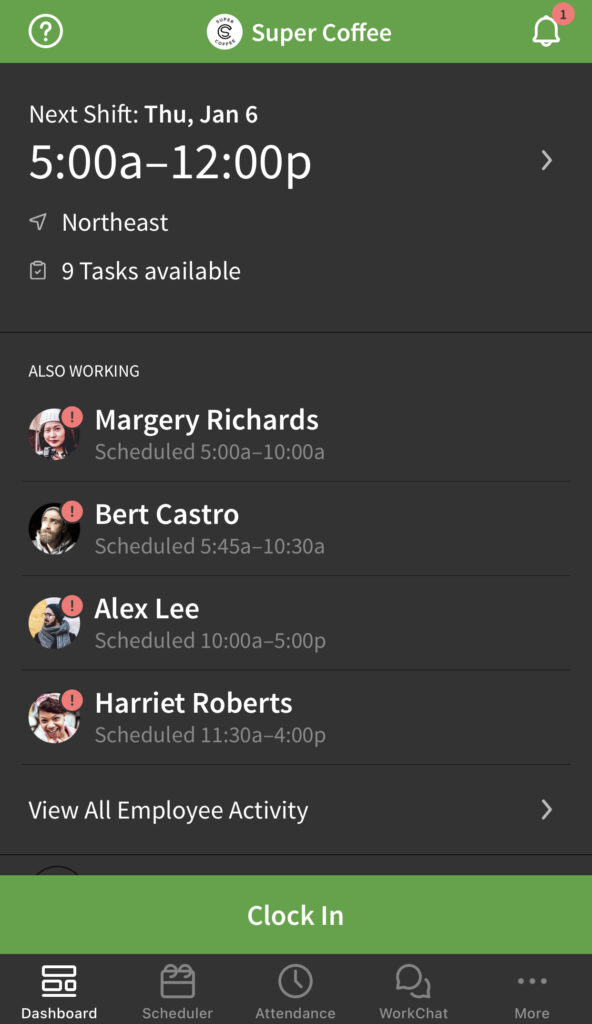 Technical features
These aren't the flashiest updates we have, but this behind-the-scenes work is still really important to make the security and experience of using When I Work the best it's ever been. This past year we've enhanced stability across our software so you can get real-time updates with webhooks. Plus, we've created a more secure login experience with multi-factor authentication on computers, iOS, and Android devices. 
A sneak peek at what's coming this year
2022 is going to be a big year for making shift work awesome, and we can't wait for you to see some of what we have planned. We're working on more scheduling automation to make life easier for both the employee and the scheduler, adding more rules for scheduling and compliance, and offering more flexibility in managing and administering When I Work. Here's a sneak peek of a few things we're excited to bring you in the next few months!
Scheduling rules (Try it now!)—Use configurable schedules to reduce the amount of time managers spend complying with workplace policies. You can set rules for consecutive days worked, hours between shifts, and scheduled days per week.
Labor sharing enhancements —Easily move staff between schedules. Managers are able to assign a shift directly to another worker from a different location instead of having to go through OpenShifts and approvals.
Clair On-Demand Pay—We're teaming up with Clair to offer on-demand pay as a part of Attendance. Your employees will be able to access a portion of their earned wages after shifts, prior to payday. Clair is free for you to offer and free for employees to use.
Reporting enhancements—We're working to make reporting more customizable to better fit your business needs.
Time zone views —See the schedule in the time zone you're scheduling for, not your personal location. 
We need you
The updates we choose to work on come from you. We love customer feedback. Please share your thoughts on how When I Work could be better with our Customer Care team or your Customer Success Manager.
Thanks for helping us make 2021 a great year. Here's to making shift work even more awesome in 2022!