Where To Go To Find The Best Part-Time Employees
In 2017, the Bureau of Labor Statistics shows that 80.4 million workers age 16 and older in the United States were paid at hourly rates, representing 58.3 percent of all wage and salary workers. That's a huge pool of people, but how can you find the good ones and give them a job?
There are tons of strategies, though some are more likely to result in motivated employees than others. Here are ways to find the best hourly and part-time employees for your business:
Friends, Connections, Referrals
Referrals from friends, family, and professional connections are a great way to find employees. When you have open positions, ask around to see if anyone is looking for work, or knows someone who is. Post the job on LinkedIn, send out a few emails, and post a status on Facebook.
When you get referrals, you're getting prospective employees that are verified by someone you trust, and it can save you time, money, and headaches. Referrals cut out a large part of the complicated hiring equation.
Pros:
Employees are verified by someone you trust.

You don't have to pay job sites or recruiters for help.

Can potentially save time.
Cons:
Could turn professional relationships and friendships sour if new employee does not meet your standards.

Potential for favoritism and letting employee "off the hook."

Risk of hiring unqualified candidates.
Online Resources
Everyone's online, and the internet is the first place many turn to for job opportunities. Here are some online resources to check out:
Craigslist
Craigslist is so-so for finding full-time, salaried employees, but it's the perfect place to find hourly employees. Those hiring in the hospitality, beauty, and for general labor are sure to have good luck on Craigslist.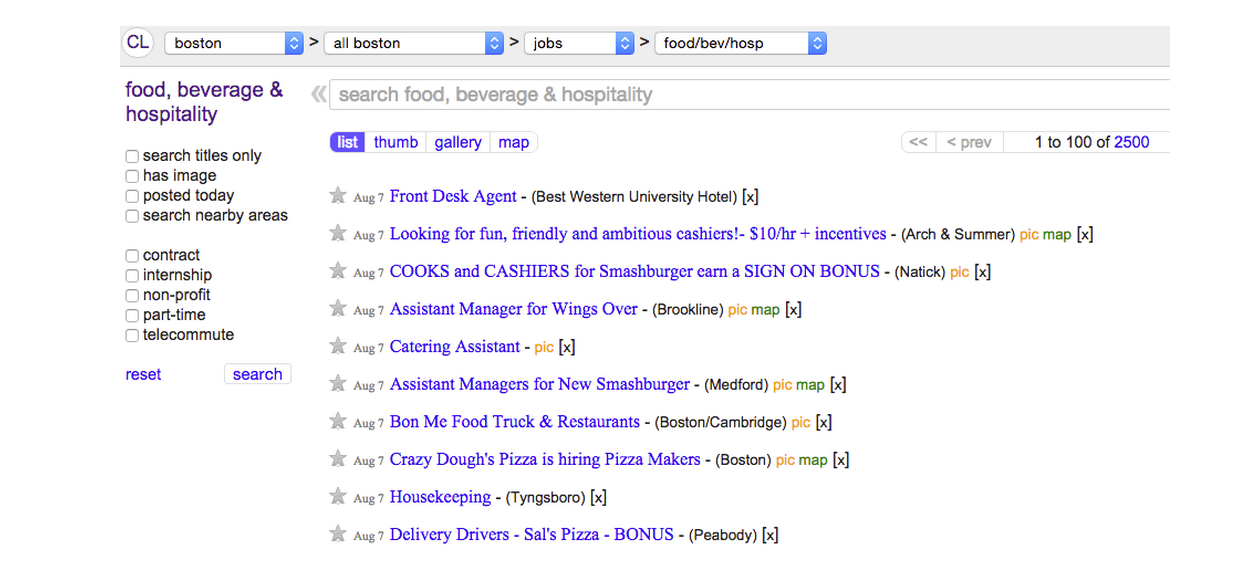 Pros:
Tons of potential employees are looking for jobs on Craigslist.

You don't have to pay job sites or recruiters for help.

Craigslist is best for hourly work, which is what you need.
Cons:
Prospective employees are not verified, and it can be difficult to decipher who's really good.

Too many candidates apply for the job and flood your email inbox.

Can potentially take a lot of time.
LinkedIn

LinkedIn is a professional social networking site that has a whopping 364 million members. In the past several years, LinkedIn has become the go-to place for everything job-related, making it a great place to find both full time and salaried employees.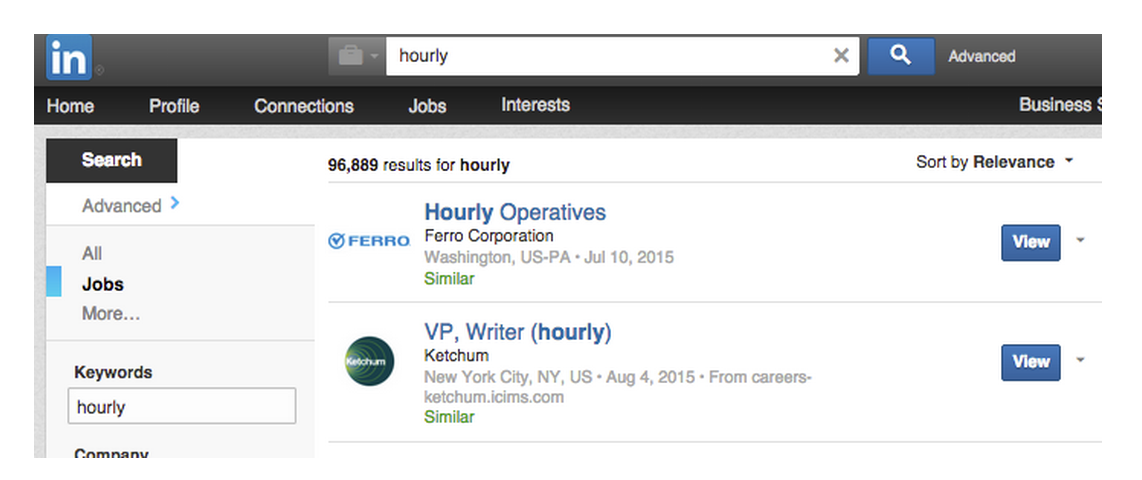 Pros:
Easy to post jobs to the platform.

Job candidates often share a connection with you.

LinkedIn is a go-to site for those hunting for jobs.
Cons:
Most people on LinkedIn are looking for full-time, salaried positions. LinkedIn doesn't cater to the needs of hourly employees.

You have to pay for job listings.
Monster, Indeed and Other Big Job Sites
Major job boards cater to hiring managers like you. They'll help you get your job posting out there, and they are trafficked by those on the hunt for employment. These big sites have the ability to get your job in front of the masses.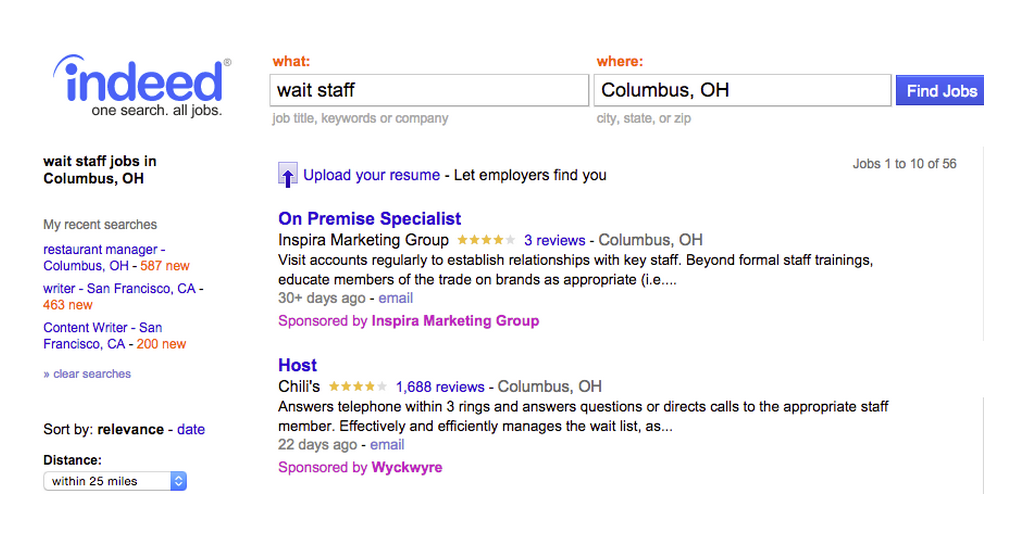 Pros:
Gets your job in front of a giant audience.

Provides a platform for sifting through candidates.

Can potentially save time.
Cons:
You have to pay for job postings.

Lack of control over who sees your postings.
College Career Centers
College career centers have access to amazing hourly job candidates because they serve students, recent grads, and seasoned alumni. Many search for hourly opportunities in the form of summer and seasonal jobs, or part-time work that can help put them through school.
Pros:
Employees come from a career center you know.

You don't have to pay job sites or recruiters for help.

Can potentially save time.
Cons:
Candidates may be looking for full time employment or seasonal work rather than hourly opportunities.

The university has a limited network, not a giant one like big job sites.
Job Fairs & Events
In person and virtual job fairs and events are excellent ways to meet prospective candidates. You'll get to meet them face to face, rather than through a resume, and you can go to events that target the kind of employees you want to hire, such as veterans or college students. Networking nights, college job fairs, music festivals, VA job fairs, and sporting events are all options.
Pros:
Meet prospective employees face to face rather than through a resume.

Requires preparation and can be time-consuming.

Allows you to target a certain demographic (e.g. veterans or college students).
Cons:
Limited by the quality and quantity of job fairs and events offered in your region.

Attendees may be looking for salaried work rather than full time employment, depending on the event.
Bonus: Snagajob
Our friends over at Snagajob develop innovative tools to help hourly workers and employers connect with each other. As an employer, it's a great tool to use to find the best hourly workers out there. Give it a try!
How to Attract Part-Time Employees
Now that you've found some good sources for hourly employees, now you have to convince them to come work for you. They may have lots of options, so you should try to set yourself apart with what you can offer.
Here are some creative strategies for getting hourly employees to work for you:
Make 'em Come to You
Do you think Disney has a problem recruiting employees? They don't because everyone wants to work for them.
You need to create a magnetic company culture that makes employees want to work for you, even if they'll only serve you on a part time basis. You can do this by offering social outings and activities, paying well, and offering opportunities for growth and advancement. Don't underestimate touting the way your team works either. Are you using an employee scheduling software? Do you have new POS systems? All of these factor in recruiting new employees. 
Think Like a Marketer
Marketers constantly assess their audience, and craft materials that will lure them in. When you're recruiting hourly employees, think like a great marketer. That means you not only need compelling job descriptions, but need to think carefully about promotion.
Many hiring managers launch campaigns to get employees. For example, Fraser Health and Earl's both created successful social media campaigns to recruit hourly workers.
Create a Job Hotline
Catch prospective employees when they're looking for you, even if they're perusing at three in the morning.
"Install a 24-hour job hotline and include it in your job postings," wrote Mel Kleiman on Monster.com. "It can be as simple as an answering machine or as sophisticated as a fully automated interviewing system. With a 24/7 system, you'll see an increase the high-quality applicants by 30-50% or more."
You can use a virtual phone system like Grasshopper or Switch.co to easily set up a hotline.
Find the Best Part-Time Employees
There are enough hourly employees out there. The key is to get them working at your business. If you visit the sources and try the strategies in this post, you'll be well on your way to finding committed and motivated hourly and part-time workers.