Creative Ways to Get Customer Referrals for Your Small Business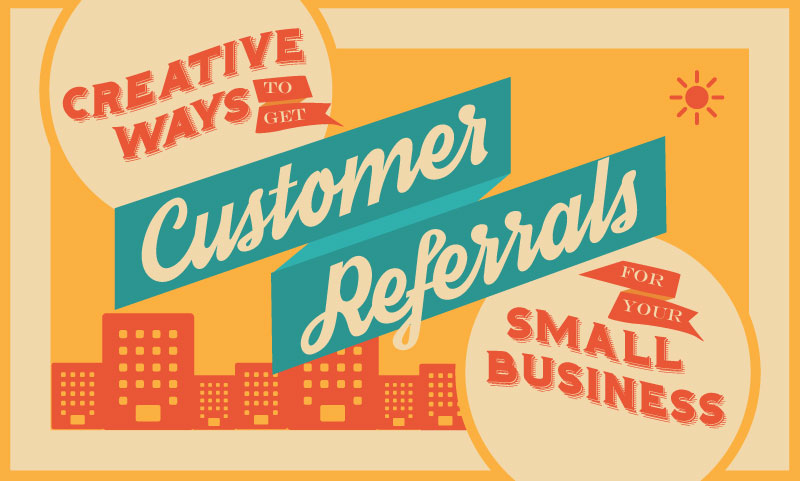 Customer Referrals Are the Backbone of a Small Business' Survival
Good "word of mouth" is indisputably the most effective marketing device available to small companies, especially for a business like a salon (hair, beauty, tanning, nail, etc.). Referrals are also vital for law firms, doctors, accountants, dentists and real estate brokers. In this post, we'll provide creative, proven and effective methods your shop can use to retain repeat buyers and, more importantly, build your business through referrals by your best customers.
Holding Onto Your Best Customers
Happy customers are the folks most likely to recommend your business to their friends, family, neighbors and co-workers. Was there something different or special you said or did for these particular patrons? Or are they just the type of people who like to show their appreciation for a satisfying experience?
According to customer service consultants Bain & Company, a typical business will lose upwards of 50 percent of its customer base within five years if they're left alone, an attrition rate of 10 percent a year. Therefore, it is of the utmost importance for you to delve into these questions so you can understand your clientele's needs and duplicate the successful process with every customer.
5 Reasons Why VIPs Are So Important to Your Business
They spend more money

They don't haggle (as much) over prices

They complain less

They are easier to sell to (than new customers)

They give you a lot of referrals
Your Repeat Buyers Are Your Company's Most Valuable Asset–and 80 % of Your Referrals
A recent survey by Harvard Business School (HBS) reported that a 5 percent improvement in your customer retention rate will increase revenue 25 to 95 percent. The now closed White House Office of Consumer Affairs (WHOCA) states that 5 to 20 percent of new customers will make a purchase, while a staggering 60 to 70 percent of existing customers will buy.
Furthermore, acquisition costs of finding, marketing, selling and converting a new customer is 600 to 700 percent of what it costs to retain good, current, repeat-buying VIPs. And, bear in mind that it costs you nothing to acquire new customers through referrals.
Novel Ideas to Improve Customer Retention Rates
Most people are familiar with the traditional methods of providing good customer service: Greet with a smile, follow up after the sale and provide a quick response to customer issues. In order to excel at customer satisfaction and stand above the crowd, you need to try fresh, novel ideas to exceed patron expectations.
If your business is local, say a quick lube auto center, flower shop or financial planner, invite your VIPs, along with their guests, to exclusive events held several times a year. The event could be a dance, cocktail party or barbecue, and if done well, can be enormously effective. This kind of customer relationship reinforces client loyalty, exposes potential new patrons to your business, is a prime networking opportunity and you get referrals from your VIPs and their guests.
Other Great Approaches to Increase Customer Retention
Set up an automatic, continuous contact system for every customer. Send them greetings on their birthday, anniversary, or national holidays. There are companies that provide these services if you don't have the time or the staff to do it yourself.
It's common knowledge that you should always follow up with the customer after every sale, but if at all possible, try to make the follow-up contact via phone instead of email or text. A phone call, especially from the owner, is far more personal and intimate than a machine-generated email and is a powerful way to create and fortify customer loyalty.
For More Referrals, Create More VIPs
Although a small percentage of one-time buyers will refer you, the fact remains that your repeat buyers are responsible for four out of five referrals. Therefore, in order to maximize your number of customer introductions, you must first maximize conversions to VIP status. Try some of these creative ideas to turn one-time customers into VIPs:
Follow up after every sale. Preferably with a phone call from the owner or at least the salesperson, waiter, service technician, etc. who was involved in the transaction.

Include a free gift with every sale. This will be a total surprise and far beyond the customer's expectation. It doesn't have to be expensive. In a diner, the server can bring several extra mints at the conclusion of the meal, an auto repair shop can give customers an air freshener to hang on their mirror and a dentist can give customers a home care package that includes things like a toothbrush, toothpaste and floss. These items can cost as little as a few dollars but can be worth thousands in repeat business and referrals.

Consider writing a Service Level Agreement (SLA). An SLA is a written policy stating exactly what services and benefits the customer should expect. For example, a transmission shop could guarantee a 72-hour turnaround on an overhaul, a furniture store could offer 2-day home delivery or a gourmet food store could promise delivery of specially ordered items within 10 days. To make the SLA work for your business, always over-deliver on the promise. This way, you'll ensure that you always exceed customer expectations, and they'll love you forever.
There are many methods and techniques businesses can use in order to build a customer base over time. Undoubtedly, best and most important strategies are the ones that focus on investing in current customers as a way to encourage them to refer new prospects. Business owners and managers who keep their customers happy keep their businesses afloat.
What methods do you currently have in place that encourage your customer to send new business your way? Leave a comment for us below.