11 Ways to Make Your Dental Practice Run More Smoothly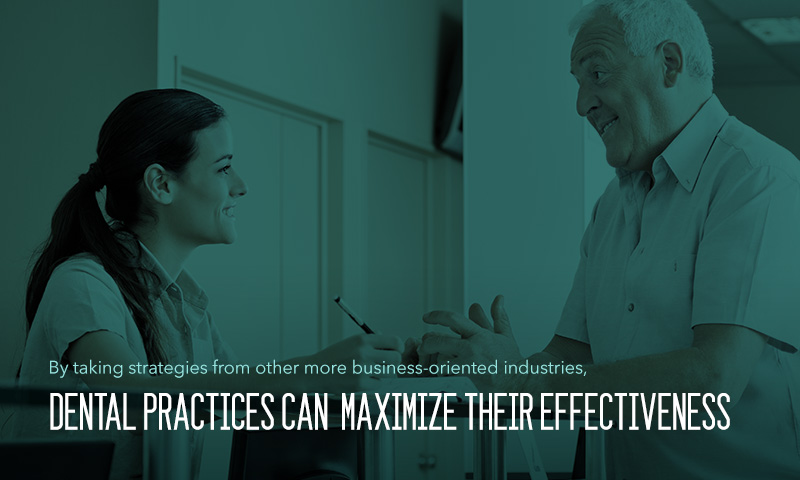 Sometimes, it's hard to see your dental practice as a business, rather than a service.  Chances are you didn't become a dentist for the love of money – you got into it to help people look and feel their best.  That's a great thing, but unfortunately, that attitude can make it difficult for you to organize, promote and manage your personal or group practice as effectively as possible.
Below, you'll find eleven ways to make your dental practice run more smoothly.  Each step functions in conjunction with the others in order to create a unified approach to customer service and business management that will have your practice working more effectively, servicing your customers more successfully and bringing in future generations of patients – all while making the day-to-day operations of your office much easier to manage.
Let's get started!
Marketing Your Services
Dentistry is one of those "hard-sells" about which the general public tends to have a pre-conceived negative impression.  Past experience and horror stories can make getting your patients through the door difficult.  Fortunately, most dental marketing does an extremely good job of combatting patient fears.
However, as Kathleen O'Donnell of Jameson Consulting notes, one thing most dentists fail to do is to effectively present the need for their services to new customers.  In order to keep your practice growing, you have to continually pull in new clients.  Educating the listening and viewing public about the need for regular dental services is just as important as showing them how painless those services can be.
Get a Handle on Your Inventory
As Doctor Sheri Doniger notes, inventory management is an essential skill for dentists.  Proper ordering ensures that you always have the right products on hand to treat your patients, but it also ensures that you aren't sitting on piles of extra products – essentially, "wasted" money.
To minimize this risk, create an inventory system that works for your office and make that system as flawless as possible.  Keep all of your office supplies in one location and all of your extra medical supplies in another.  Additionally, keep in mind that assigning one person ordering duty minimizes the risk of accidental over-ordering.
Organize Your Exam Rooms
Ideally, exams/surgeries should contain minimal cabinetry, allow easy traffic flow and house everything you need within an arm's reach.  Consider using a tray/tub or cassette system or mobile units to ensure that you have all the tools you need on hand for any individual procedure.
Pay Attention to Cash Flow
Jane Pack, CEO of the National Association of Women Business Owners, notes that many dental practices view billing as their only opportunity to influence their cash flow.  This just isn't true.  Dentists should always be looking for ways to increase their effective inflow (through new patients, more efficient equipment, better software and technology) and minimize their outflow (by purchasing more affordable supplies, adopting better inventory control practices, paying attention to marketing metrics and so on).
Automate Billing
Billing is a time-consuming headache for most dental practices.  While it should be handled by a dedicated staff member or members, new software solutions can further streamline the process.  By paring down the mechanics of billing to a few clicks of the mouse, you'll cut lost billing time by at least half and increase the effectiveness of your office staff exponentially.
Adopt Digital Staff Scheduling Solutions
Of course, your dental practice isn't just successful because of the number of patients it's able to attract.  Your ability to hire and retain effective staff members plays just as big a role in creating the type of office that patients want to come back to again and again!
One way to keep your team members happy is by adopting a healthcare scheduling software that takes the pain out of managing your worker schedules. Obviously, we're partial to When I Work because of their employee scheduling software, but any program like this minimizes your scheduling headaches and improves office morale by giving employees easy access to all their scheduling information.
Offer Help with Financing
The American Dental Association regularly reports that one of the main reasons people fail to seek dental treatment is money.  Dentistry is expensive, and necessarily so. Unfortunately, many people who need work done either don't have dental insurance or find that their insurance is lacking.
Don't lose income due to financial barriers.  Educate your clients about the financial options available to them.  Have a concrete financial policy in place from day one and stick to it.  Make it rigid but fair – and always easily understandable.  Designate a specific person in your office to handle all of your financing options so that nobody gets their wires crossed.
Extend Your Hours (If Possible)
Good dentistry is good customer service.  As an example, take McKinney Dentist – a group practice run by Doctors Marvin Berlin, Jeffrey Lynch, Matthew Markham and Britt Bostick.  Their practice offers hours between 7:00am and 5:00pm six days a week to accommodate their patients' needs.  By emulating their example, you'll make it easier for your patients to work around their schedules.
If you can't offer extended hours, consider changing them.  Offer open hours after "quitting time" or switch your days off from the weekend to mid-week.
Build Your Team
In order to offer everything your patients want or need, you may have to expand your team.  This may mean partnering with other dentists, surgeons and denturists that have complementary skills (but not necessarily combining your practices).  For instance, consider small town dentist Dr. Robert Erickson, who moved his practice next door to the offices of The New England Denture Center in order to provide his patients with a one-stop solution for extraction and denture implantation.
Fit in as Many Patients as Possible
Dr. Berlin and his associates examine their schedules on a daily basis to account for cancelations, no-shows and last-minute emergencies.  They view these openings as "opportunity time" to sneak in additional patients who are either walk-ins or are on a call list in order to maximize the number of services they provide per day.  Every patient counts, both from a financial and a customer service standpoint.
Look to the Future
You simply can't afford to stick your head in the sand and rely on "business as usual" in order to keep your dentistry practice financially viable.  Every industry grows and changes over time, so be sure that you're regularly reevaluating the choices you've made in light of market demand.
Many outsiders view the dental industry as stagnant and unchanged for decades.  Images of old men in white coats drilling angrily away with outdated equipment still instill fear in potential patients.  Of course, you know that this isn't true.  The dental industry has progressed so far from that outdated stereotype that it's laughable.  But even your modern practice may be holding on to some old-time ideas and practices that are keeping it from functioning like the well-oiled machine it could be.
Many dental practices across the country have already instituted one or more of the tactics above to great success.  However, there's always room for improvement.  By taking strategies from other more business-oriented industries, dental practices can maximize their effectiveness, build their customer bases and be prepared for industry-wide changes.  All it takes is a little re-imagining and some innovative thinking.