Working Effectively with Mobile Employees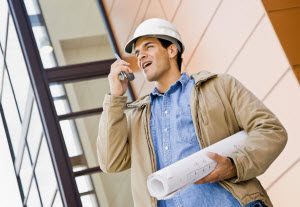 The news media and business publications have focused a lot of attention recently on managing mobile and remote employees in IT and information-based corporate settings.  As a result, there have been plenty of studies done about the benefits for the employees, the benefits for the company – and even the benefits for the planet – that stem from this type of work arrangement.
But employing a mobile workforce is nothing new.  Small and mid-sized business owners who operate in select service fields have been managing mobile and remote employees for decades.  Lawn care and landscaping companies, delivery services, cable/phone/satellite providers, repair workers and others must all follow the work.  They're not cooped up in an office or tied to one location – and they never have been.
Regardless of whether your remote work arrangements have come about in response to workplace trends or the practicality of your line of business, managing a mobile workforce can be complicated.  Communication issues, reliability and accountability issues, time tracking problems and more can turn the management of remote and mobile employees into a living nightmare.  So how can you streamline your company's operations in order to get the most out of your remote employees?
Hire Great Employees
It may sound simple, but avoiding complications starts with having a reliable workforce in place.  That means taking the time to vet potential employees thoroughly and making sure that any new hires clearly understand their responsibilities, the company's expectations and the consequences associated with failing to meet those requirements.
It's tempting to hire someone based on their resume skills and qualifications, but even good workers don't necessarily make good mobile or remote employees.  Some people need to be managed in order to stay on task – and that's nearly impossible when you're relying on the individual to police themselves in a remote work environment.
Measure Goals Not Actions
Avoiding micro-management (except in crisis situations) is essential for productivity in any workplace – after all, being micromanaged is the number one reason employees quit, whether they're remote or not.  This management style can also drive owners and managers crazy trying to ensure everything gets done precisely the way it should.
Instead, take a step back and trust the employee you've hired to do his or her job.  Measure and manage the completion of specific goals and accomplishments, rather than tasks.  If the job gets done, does it really matter how it happened?
Accurate Scheduling and Time Tracking is Essential
Even with remote and mobile workers, standard bookkeeping processes still apply.  Ensuring your employees are where they're supposed to be when they're supposed to be there is essential for building client trust, maintaining productivity and eliminating crisis "issues" before they arise.
Also, keep in mind that standard pay rates and deductions still apply – even if employees aren't in-house.  You still have to keep track of and pay overtime, workers' compensation, taxes and everything else, just as if you were running a stationery business.  Fortunately, there are plenty of different software and hardware options available to help you can do this (some of which are listed further down in this article).
Keep Communication Lines Open
Mobile business – whether it involves deliveries, services or something else – must be able to quickly adapt to change.  Traffic, weather, client schedules and illnesses can all dramatically change the face of your workday in a heartbeat.  As a result, it's essential that your employees remain connected.  Mobile phones (especially those with push-to-talk functionality) are a great option, but also consider email, two-way radios and cloud-based message boards as a vital part of your company's communication strategy.
Encourage Feedback ­­
Even if everything appears to be running smoothly on your end, your employees may have a very different impression.  Allowing your workers to give feedback – and actively encouraging them to do so – allows you to spot potential problems with communication, scheduling and management styles before they arise.
As an example, your employees may be having trouble with the job tracking software you've opted for – but instead of bringing it to your attention at the risk of looking "stupid," they might choose to keep quiet if you don't encourage feedback.  Before you know it, the whole system is falling apart and a previously good employee seems to be the heart of the problem.  Really, it's just a usability issue that's easily solved by a little on-the-job training.  Keep your eyes and ears open for situations like this and reward any productive feedback you do receive!
Technology for Managing Mobile and Remote Employees
If you aren't yet using technological solutions to help manage your mobile or remote workers, consider any of the following hardware and software tools – including When I Work, of course – to make your job easier.
Push-to-Talk – Verizon, AT&T, and Sprint all offer push-to-talk (or even "Direct Connect") options that allow you to instantly get in touch with employees over wireless networks.
Field One – A web-based mobile management suite that's customizable to fit any business or industry.
HiveDesk – File sharing service which allows multiple workers access to the same documents.
FlexiServer – Allows you to unobtrusively track mobile computer use.
Producteev – Web-based "to do" list that's shareable across multiple employees.
Telenav from AT&T – A GPS-linked fleet navigation system which allows for employee reporting.
GPS Commander – Quite possibly the leader in GPS fleet tracking.
Remember, these hardware and software options are only as good as their implementation.  If you do decide to go the technological route, be sure to also invest in proper training and ongoing system management for best results.
Managing a mobile workforce can be challenging but technology has made it easier today than ever before.  However, technology can't replace good management skills.  Hiring great employees, ensuring accurate and timely communication and demanding employee accountability are the true keys to keeping your mobile business running smoothly.