How Technology is Changing the Home Healthcare Industry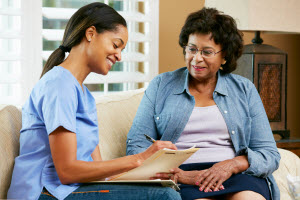 By 2020, 50 million Americans will be 65 or older – representing an estimated 17% of the entire population.
However, according to Soeren Mattke, senior scientist and managing director of the RAND Corporation, during that same time, the number of physicians and nurses will decrease – falling short for the demand created by this aging population by 5.5% and 36%, respectively.  Relying on the hospital system alone will no longer be a viable option, as these overtaxed resources dry up.  As a result, Mattke is adamant that "inaction is simply not an option."
So what can be done to manage this increasing demand?  The Rand Group believes "advances in home health care products and services are attractive, promising, and, perhaps, even necessary solutions to mitigate the current pressure on the health care system while improving the patients' well-being beyond the physiological parameters of disease control."
This revolution in home healthcare will be predicated on the expansion of current technological trends that began as far back as the late 1990s.  Just how big will this expansion be?  Figures released by Lucintel show that the home health device market will experience an explosion in the next few years, growing to an estimated $29 billion by 2017.
The one thing that will facilitate that move is the creation of new and affordable in-home "gadgets" that patients and homecare providers can use to actively (or even passively) manage health.  While home healthcare is already popular among those seeking to "age in place," expanding these systems to incorporate new patient groups – such as children or those suffering from chronic illnesses (especially those who are responsible for a high number of hospital visits for non-critical care) –  will pave the way for a brighter future for both patients and providers.
And the demand is already there.  The nonprofit ECRI Institute's research shows that three of the current top 10 hospital technology trends have in-home or mobile components.  These include:
Electronic health records
Mobile health devices
Alarm integration technology
The Future of Home Health Technology
As the Rand study mentioned above notes, home healthcare technology isn't just limited to self-monitoring devices such as glucose meters.  "Home healthcare and self-management devices and services span a broad spectrum.  Depending on the interpretation of the terminology, they can include everything from mobility support tools to basic diagnostic and therapeutic tools… to telemedicine solutions and care delivered by home health care professionals."
Speaking of telemedicine, it's one of the most exciting and forward-thinking technological advancements to date.  Associate Prof Dr. Low Cheng Ooi, Chairman of the Medical Board, Changi General Hospital, Singapore explains that the "convergence of broadband penetration into homes and the emergence of more sophisticated portable medical devices is creating an opportunity for harnessing innovative technology to push the point of healthcare delivery to the home."
His Indian colleague, Prof. K. Ganapathy (President, Apollo Telemedicine Networking Foundation) says that telemedicine technology may go even further in the future.
"It is mind boggling for me to see how simple history-taking, and clinical examinations have given way to technology, and more technology still."  He sees an era – in the not-too-distant future – where "clinical intuitions may even be challenged by expert systems armed with Artificial Intelligence."
While full-fledge AIs are still science fiction, many diagnostic systems have already been developed to aid nurses and physicians quickly during patient triage.  With the advent of mobile technology, these systems will undoubtedly wind up trickling into the home healthcare industry.
A massive 6,000 patient study of mobile assistive technology is currently underway at sites in Cornwall, Kent and the London borough of Newham in the U.K, where it is supervised on a local level by nurses like Marie Hudson and Martin Roberts.
"We know that face-to-face contact inspires confidence in the patients, and I wasn't sure how this could be replaced," says Martin.  "I thought my clinical decisions were more important than a piece of technology." But Martin adds the technology has made her job ever easier and gives her patients added confidence and security, as well as a deeper understanding of their medical conditions.
Currently, telehealth remote monitoring and self-reporting are the two fastest growing branches of home healthcare technology.  It's estimated that the number of patients monitored via mobile technology will reach 3 million by 2016, depending on industry adoption.
The Seattle Times reported on breakthroughs in this area by visionary Julie Kientz, Assistant Professor at the University of Washington's Department of Human Centered Design and Engineering.  Inspired by a dream, she created the Lullaby sleep tracking system which integrates with the commercially available FitBit and allows patients accurately to self-report sleep habits (and key biometrics during sleep) to doctors in unprecedented detail.
Kientz also helped develop a baby tracking system called Baby Steps, which allows parents to record and share specific data with their caregivers.  As a result, parents are able to better understand when an in-home solution is preferable to a doctor or ER visit for common issues.
Her dream is for manufacturers, scientists, and doctors to adopt commercially-available equipment (or to develop low-cost alternatives to proprietary one-offs) that allow for "better, cheaper health care through personal technology."  To that end, she has enlisted the help of her students in order to "…bring the technology of health care – its applied knowledge as well as its instruments – closer to home."
Obstacles to Technological Advancements in Home Healthcare
As revolutionary as the changes brought about by new and emerging technology could be, there are a huge number of roadblocks that both the devices and the manufacturers themselves must overcome – not the least of which is cost.
Steven Dean, global healthcare segment lead for Freescale Semiconductor, said recently that "the challenge in remote patient monitoring today is not the technology… the technology has been available for at least a decade. Now, it's more an issue of the reimbursement climate."  Nobody wants to pay too high a price for a new technology when all it appears to provide is convenience.
Examining the cost issue a little more deeply, Dean said, "With a Band-Aid, you rip it off and throw it away.  So volumes need to be really high, and costs need to be really low."  Inevitably, this will be the case with home healthcare technologies that are just entering the market today – as they become more main-stream and the market is opened to competition, prices will go down.
But perhaps the most damning hurdle is standardization.  "In the medical space in general, it's a mess," Dean said, speaking of the lack of radio standardization in monitoring systems.  "There's no one standard out there right now."  And that pretty much goes for all of the technologies being applied to in-home healthcare equipment today.  Hospital devices have had a century (sometimes more) to reach some sort of equilibrium – a luxury that these new technologies have yet to enjoy.
Poised on the Edge of Greatness
Never before have so many positive contributing factors lined up.  The need is there, the technology is ready (or very nearly so) and hungry device manufacturers and innovators are looking for ways to cash in on the current and future demand.
Instead, the industry is waiting anxiously for one thing: consumer adoption, which – in many ways – hinges on insurance companies and their willingness to pay.  However, by adopting currently available consumer tech (such as Kientz's use of the iPad), companies can cut cost dramatically and speed the process of mobile home healthcare technology into the future.