Hire The Best People With This Customer Service Job Description [TEMPLATE]
Customer service is crucial to the success of your business because of two very good reasons:
Word of mouth from real people brings in trusting new customers.
It's easy to get caught up in the sale, focusing on getting a customer to buy. The sale, though, isn't the end of it. In reality, it's just part of the beginning. Before, during, and after the sale something even more important has been going on, something that plays into those two reasons I just mentioned.
That something is customer service.
Studies have found that 70% of the decision on whether or not to patronize your business comes from how a customer felt your business treated them. That's not product, that's not price, that's customer service.
Customer service is the real product, no matter what you think you're selling. It's not sandwiches, clothes, or appliances. It's customer service. And that's why you have to get it right when it comes to hiring customer service employees.
Use This Customer Service Job Description Example As Your Guide
While there always needs to be some wiggle room for your specific business and circumstance, there is an ideal customer service job description template that you ought to follow when posting for customer service jobs. I'll give you the template first, and then I'll dissect it for you so that you understand how and why it works.
Job Title: Customer Care Representative

The workforce management industry is broken. Nearly every tool on the market is a nightmare to use, impossible to learn, and expensive to implement — and worst of all, they all fail to focus on the end-user. At When I Work, we're doing something different. We're building products for the end-user, not the decision maker. We're creating transformative, simple scheduling and attendance products that help hourly employees and managers work better together. We spend every day doting over how technology can empower the hourly workforce like nothing the world has ever seen. Our ultimate mission is to help people spend less time working and more time living. We need your help.

We are looking for some great writers who love helping our customers. You should enjoy making complicated situations simple and painless and have a passion for our products.  This position is located in our St. Paul office.  

You'll be responsible for providing unprecedented customer service for When I Work. You'll also help us interact with customers via live chat, create and edit help documentation, and maybe run some online classes. In addition, you may be expected to pick up the phone as needed to help customers answer more complex questions, however, 90% of customer engagement is via email or live chat.  You'll work scheduled shifts with the expectation of being flexible to be available as needed.  

You'll be expected to answer about 50-75 emails/inquiries per day once you're fully up to speed (2-3 months or thereabouts). This is a significant volume, so be sure that you're ready and able to deal with that kind of daily load – you'll get all the love and help you need along the way!

What You'll Be Doing

Become a product expert and provide documentation updates to our knowledge base.
Assess nature of product or service issues and resolve basic to complex support problems for customer inquiries received via email and live chat (and occasionally phone).  
Troubleshoot and report new or possible bugs via detailed summarization of issue on each user ticket.
Work is performed under limited supervision with considerable latitude for the use of initiative and independent judgment.
Participate in training employees across departments.

Experience and Skills Needed

1 to 2 years of customer support experience dealing with complex issues, troubleshooting and problem resolution, preferably with software.
Exceptional writing abilities to provide clear and empathetic customer support through email and live chat.
Must demonstrate strong communication and interpersonal skills.
Requires basic software knowledge, strong Web and Mobile App navigational experience, and the ability to pick up new technology quickly.
Must be able to efficiently manage multiple projects and tasks at the same time.
Bachelor's degree or equivalent combination of education and experience, not required, but preferred.

Competencies Valued

Displays passion for and responsibility to the customer.
Displays leadership through innovation in everything you do.
Displays a passion for what you do and a drive to improve.
A strong drive to complete tasks.
Displays personal and corporate integrity.

What's In It For You

Medical and dental benefits
Paid vacation and holidays
Flexible work environment
Dynamic and dedicated team
Data/Cell (internet) stipend
Casual dress code

Sound Like a Good Fit?

We'd love to talk to you!  Please submit the following to apply:

Resume (including months/years of employment for each position)
Cover letter explaining:

Why you want to work in customer care.
Why you want to work at When I Work and not somewhere else.

*Must already be authorized to work in the United States on a full-time basis for any employer.

**This job is based in St.Paul, Minnesota.   

About When I Work

When I Work is a dynamic, growing, and fast-paced organization. Our employees thrive in situations that require flexibility, adaptability, and speed. Successful employees are willing to collaborate with other team members, able to work against tight deadlines, and excited to test new ideas, tools, and tactics. We're motivators, go-getters, and we're constantly seeking out ways to improve our processes, our products, and ourselves.
Why Does That Job Description Work?
There are reasons why that customer service job description template is likely to bring in the best hires. It isn't because it is trendy or modern, but because it is very specific in how it uses language with an eye towards finding the right person, not just a person.
While you'll have to tweak that template to fit your specific situation, the foundation of it is solid.
1. You write to attract the person you actually want.
If you are looking to hire a confident employee, you use language that speaks to that confidence. You use the words and descriptions that they view themselves as.
If you're looking to hire an ace developer, you don't describe the position by saying you need "development help." Ace developers don't see themselves as just there to help. Instead, they are there to move and shake and build.
Take a look at all the other job descriptions for customer service, and then avoid mimicking their language. After all, they're going to attract from the larger pool of job seekers, but you're looking for the top shelf job seeker, not the larger generic pool.
2. You write in clear language that avoids caveats.
You're familiar with business-ese language. Instead of saying "talk to customers" you say "interact with customers." It's a level of professional and polite language that removes the edginess from the job description and makes it sound as bland and benign as every other job description.
Be blunt. Be direct. Avoid passive voice. Speak in present tense (i.e. "you will"). Clearly describe what you expect from your customer service employee.
This includes the title of the position. Do you want a customer service representative, or do you want something like what GrooveHQ is looking for, Customer Service Experts? Rethinking the boring job title is a standard practice among many top companies, and for good reason. In their blog post on the subject, they highlight different titles used by popular companies: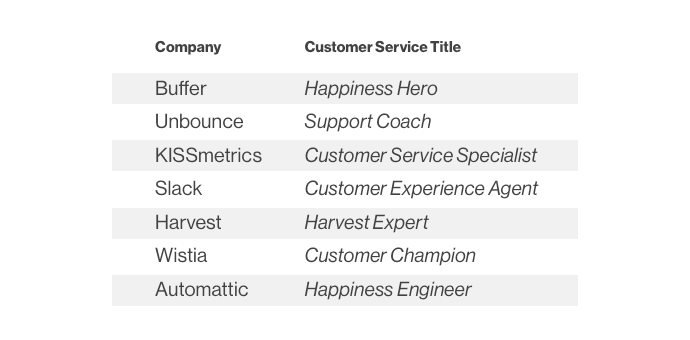 Clear language isn't an excuse to be clever or offensive in your job description copy, but to really think about what you want and speak plainly in describing it. Tell the hire what you want and expect in clear language. This helps you understand what you need from the job as much as the person applying for it.
3. You write directed towards accomplishment, not duties.
GrooveHQ has another gem of advice when it comes to hiring and job descriptions, and that is to describe what the new hire will be expected to accomplish, not do.
This is freeing and exciting to the right person, because they see that you are not restricting or controlling them by telling them how they will do their job, but rather, telling them what you want the end result to be however they choose to accomplish it.
How often do you see job descriptions that are simply a long list of tasks expected of a person? Anyone reading that list can tell themselves "yeah, I could probably do that" without asking themselves if they are the right fit.
The right hire is a self-starter, someone who thinks on their feet in each customer service situation. They want the final result to be right, whatever the process might end up being. The wrong hire prefers a list of tasks and a script that they must follow and do. They aren't concerned with the end result as much as they are with following the right procedure.
The end results will be quite different between these two, and believe me, the customer will notice.
4. You describe ideal attributes, not just skill sets.
What should your ideal customer service employee be like? Not what can they do (because most skills can be achieved by in-house training), but what are they like?
If you're hiring a person based on what technology they can operate or what college degree they have instead of how well they communicate and feel empathy towards people, you'll have some problems. This is especially so if those skills aren't truly required.
Yes, there are going to be some must-have skills (e.g. able to use a computer, interest and knowledge in your industry), but listing intangible things as if they were tangible skills (e.g. "communication skills" and "listening skills") can be problematic. Most job applicants consider themselves able to communicate and listen, whether or not they are particularly good at it.
Keep skill set lists to a minimum, and keep them measurable and tangible. If some skills aren't necessary to hit the ground running, and can be trained in-house, leave them off the list.
Don't list intangible attributes as a skill, but describe scenarios or settings where they might be needed. This helps the potential hire understand what level of communication you're looking for instead of "communication skills."
5. You describe the environment they will be working in.
A mere job and its paycheck, particularly for Millennial workers, is not enough. They need to know the culture and the company are larger than life. They need to know they are going to be a part of something worthwhile.
Remember, happy employees are good employees. Their work reflects their lack of fear and happiness in where they work. Be sure to describe the work culture and environment, and be creative in how you both describe it as well as what you expect from employees who want to be a part of it.
If you want to attract people with a good sense of humor, be funny in your description.

If you have amazing benefits, share them.

If you are more buttoned-down, be upfront about it or use that kind of language.

If you have specific books or training you expect all of your team to be familiar with, list them.
6. Do a bit of weeding.
Posing a job description can be a bit dangerous.
Depending on where and how you post the job will determine how easy and often people can apply. Some online job boards make it easy for people to flood potential employers with generic resumes that don't do anything to suggest they've carefully considered your specific customer service job.
To prevent a flood of applicants who are indifferent to your job listing:
Ask the resume and cover letter to include something specific. It could be fun ("List three things you made recently that you are super proud of.") or it could be relevant ("Tell us three customer service experiences you've had as a customer that should have been handled differently.")

Request a short essay or response that gives you an idea of their communication skills.

Present them with three test scenarios of customer service situations and ask them to respond as a customer service employee.

Ask applicants to specify why your customer service job description attracted them, and why they think they would be a good fit.
It's not that you're trying to be ornery or make them do free work for you, but you are trying to find a high-level employee and not merely a resume blaster who grabs the highest paying job that might get offered out of the 20 he applied for. A potential high-level employee wants a specific job, not just any job, and they'll be happy to comply.
Tweaking Your Customer Service Job Description
Keep an eye on the job applicants and their responses. If you're not finding what you're looking for, your job description is off the mark. Review it, and compare it to what I've described here. Do you need to make changes to the language? Edit out or add in some new information?
Figure out where your applicants are going wrong. Hopefully you've included, either in the application or interview process, a question about why the applicant was interested in your job. Look at those responses and see if you can spot a trend. Have you been unwittingly attracting people for the wrong reason?
Remember, when it comes to hiring for customer service jobs, you must hire the best. Don't get caught up in thinking sales and marketing are the most important jobs to fill. It is customer service.