Top 10 Human Resources Bloggers You Must Follow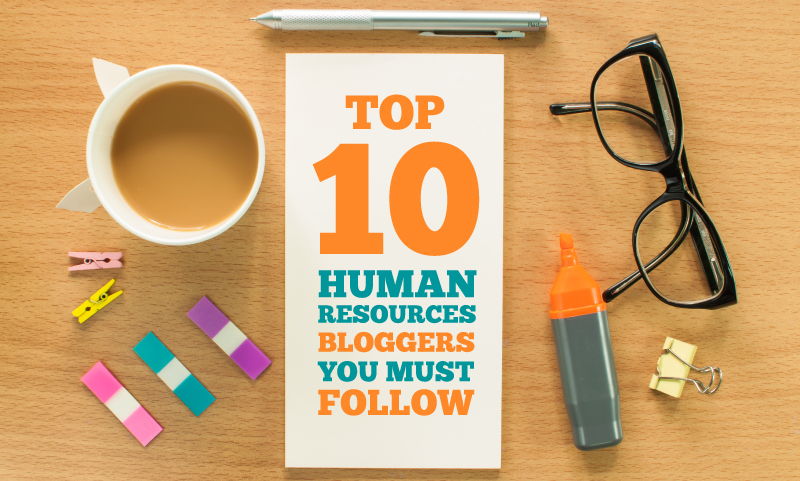 The old stereotype of the Human Resources department being full of busy-body old ladies is a thing of the past!  HR is an ever-evolving realm of business management that's essential to companies large and small.  Not only do HR professionals have to stay on top of legal and technological developments in their fields, they have to constantly sharpen their marketing and talent management skills in order to stay ahead of the employment curve.
FREE HR RESOURCE:
Looking for HR help? We have all the human resources checklists, templates, best practices, and interactive forms you need to manage employees at your business.
Download our HR Resources Toolkit
for free now. 
Thankfully, there are tons of different resources on the internet to help HR individuals keep up with the times and vent some steam. Some are more "traditional," while others are more irreverent, but they're all are valuable weapons to have in your arsenal for one reason or another.
The following are ten of the best HR blogs online today, presented in no particular order.  In them, you'll find information, resources and support for fellow HR professionals, along with a healthy dose of comedy – who knew HR people could be so funny? Check them out:
This blog was founded by the man behind Fistful of Talent (featured next) – an irreverent, but insightful young HR pro with a bone to pick.  Both blogs are geared towards jerking HR out of the dinosaur age and ramping up operations in order to keep them in-line with modern workplace trends, concerns and technologies.
Kris describes himself as the Chief Human Resources Officer for Kinetix and the former VP of People for DAXKO.  He carries a MAE in Education from UAB and a MPPM from Birmingham-Southern College, as well as over 10 years of real-world experience.  The HR Capitalist was founded in 2006 with the goal of "building a community [Kris] could learn from."  Now, he's a master – so check it out today!
In addition to sharing general and specific insights and advancements in HR, Dunn also shares talent management and recruitment specific advice on his "other" blog, found at the link above.
Trisha is an HR Director and strategist, as well as a sought-after new media speaker and consultant.  She's also co-founder of HREvolution and WomenOfHR.com.  In addition to being listed as one of the Top 100 Influencers in HR, Trisha is a prolific Tweeter who "demonstrates an astonishing combination of online networking, good grass roots organizational development, network finesse and working excellence in the profession."
True Faith HR (Run by Dr. Matthew Stollak)
Stollack is a well-regarded, award-winning professor at St. Norbert College's renowned HR program.  In addition to carrying around the 2007 Green Bay Area SHRM Member of the Year and 2006 SHRM National Advisor of the Year awards, he breathes enthusiasm into all of his students and carries that same excitement online on his blog.  Stollak specializes in human capital issues, but never lets his "book learning" get in the way of his friendly and open demeanor, making his site a fun and educational read for anyone who's involved in HR issues.
Winegardner is the VP of Client Adoption for Monster.com and listed as one of the Top 100 Influencers in HR.  He's essentially "the public face of Monster.com" (at least, in the recruiting community) and makes his way around the country spreading the wisdom collected by one of the largest online recruitment and job search websites in the world.
Unlike previous (and future) blogs on this list, the blog isn't solely the domain of Winegardner.  It's a clearing house – a sort of melding of the minds – for HR professionals from all walks of life.  What it lacks in style and pizazz, it more than makes up for with piles of information, data and insight.
Mike calls himself a Human Resources consultant and "all around curious guy," as well as a blogger of HR observations, teacher, speaker and advisor.  Haberman is a proud HR generalist (though he does focus on employment compliance and supervisory training) and offers a wide variety of advice, observations and critical insights on all aspects of HR life.  Haberman's 13 years of experience are an excellent resource for small businesses and business owners alike.
TLNT (Run by various authors)
This blog is the top socially-shared HR blog on the internet, with over 50,000 "shares" on various social sites.  That makes it worth a look, even if you'd rather be reading sassy observations from witty HR veterans.  TLNT is the website to go to for "the business of HR."  From the basics through advanced topics, TLNT deals with recruiting, legal needs, management training, benefits, technology and more, with tons of archived info on pretty much any aspect of HR you could ask for.
Lauby is an HR pro turned consultant who created the HR Bartender "so people would have a friendly place to discuss workplace issues."  Expect a healthy dose of personal advice and maybe even some real-life bleeding into the HR info on this blog.  Lauby is a foodie and finds that act of discussing (and eating) dishes to be universal ice breakers, so expect to read about her breakfast, lunch and dinner.  But behind it all, Lauby's interesting and friendly insights into the often-frustrating world of HR professionals are truly pearls of wisdom.
This very irreverent (and funny) look at the word of HR through the eyes of someone who's been in the business long enough to know better will make you cry with laughter.  Ruettimann is currently a columnist for The Conference Board Review, an advisor to SmartBrief and an active author with The New York Times, Forbes, U.S. News & World Report and CFO magazine (among others).  As the creator of the now-defunct PunkRockHR, Ruettimann is also the cofounder of HRM Today – the first social network for HR professionals.  Be aware – she may or may not have an obsession with cats that comes up on this blog.
Steve Boese is currently on the product strategy team at Oracle and is a 15-year veteran of the HR world.  The name of his blog says it all – it's one of the best online resources for info on up-and-coming HR tech.  Not to mention, it's funny.  It's also the official publication point of the HR Happy Hour Podcast, making it worth a look for HR specialists and generalists alike.
These HR bloggers really are the cream of the crop, many with a decade or more of experience under their belts at some of the largest companies in the country.  No doubt you'll find something that suits your fancy – whether you work in the field of HR yourself or simply handle HR responsibilities as part of your managerial role.