Exciting New Feature Just Added: Annotations
MARCH 3rd UPDATE: You responded, we listened. Click here to read our important announcement regarding who gets access to the new Annotations feature. 
Today I'm excited to share with you a brand new feature that we think a lot of people are going to find helpful. We call it Annotations. The Annotations feature allows you to specify days that your business is closed, block off days that employees cannot request off, and create special announcements for certain days.
Watch our CEO Chad Halvorson explain how it works in this video:
Both Managers and Supervisors can create Annotations within the scheduler, Supervisors will be limited to add annotations to the locations they are tagged to.
As you can see, creating Annotations is easy. All you have to do is click on the message bubble icon in the day you want to create the annotation for. Then decide what kind on Annotation you'd like to create. As mentioned, you have three options:
Business Closed

Don't Allow Time Off

Announcement
Here's how it will look: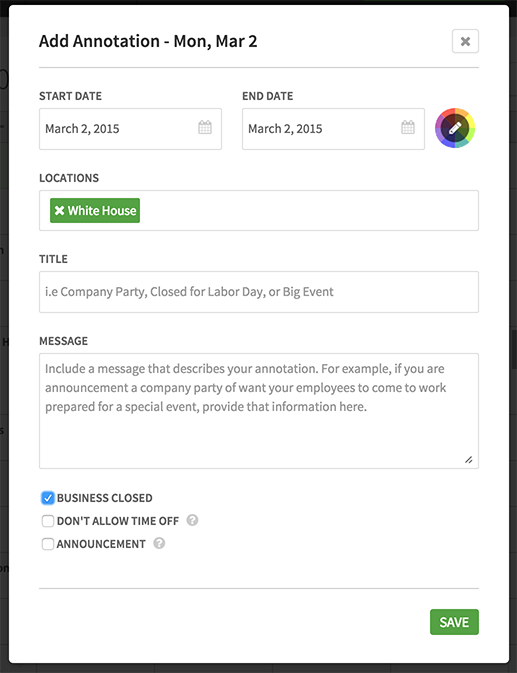 Note: Annotations is only available on current pricing plans that support more than 20 users. UPDATE: This feature is now available on plans that support more than 10 users! Learn why we decided to make this feature available to more people. 
Still have questions? Ask us in the Comments section below, or reach out to us on Facebook or Twitter.
To learn even more about Annotations, go here.