Developing a Strong Culture – Why When I Work is a Top Place to Work
Creating a culture that represents your business can be an arduous task. To gather some inspiration, we sat down with LeeAnn Belski, VP of Talent & Culture at When I Work. She shared some of the ways that When I Work is building a strong culture that helped land us on the Top 150 Places to Work by the Star Tribune.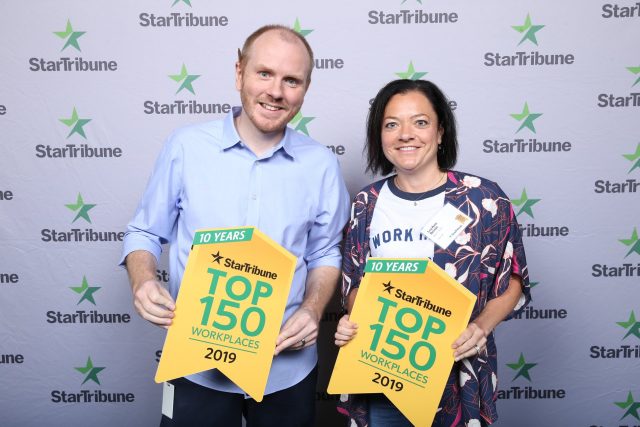 Chad Halvorson, CEO & LeeAnn Belski, VP of Talent & Culture
1. How do you keep your employees motivated on a day to day basis?
Our employees are self-motivated, but it's still important to keep the mission in mind and keep that energy flowing. At every bi-weekly stand-up meeting, we share a customer story and an update on how we're tracking to our mission.
We also celebrate our new hires, employee anniversaries, and promotions. We take a moment to reflect on recent events and to feature upcoming events. We are united – we share honest dialogue and we rally toward our next milestone. We have a Big Hairy Audacious Goal that we work toward and track and post progress real-time.
Communication and natural camaraderie are key. We find that 1:1's and team meetings are helpful to ensure alignment for individual growth and team goals.
2. What are some of the ways When I Work celebrates success?
I think we specialize in celebrations because we truly enjoy spending time together in that capacity! Part of what makes our events successful is our AWE (Awesome Work Environment) Team, with representatives from every department. The members surface ideas and take responsibility for planning and executing the events. We always make sure to ask ourselves how we can include our remote employees in on the action.
For some of our more audacious goals, we've gotten some pretty special swag that commemorates the occasion and unites those involved every time we sport our gear. We really love our customers and strive to find ways to include them in our celebrations and honor them as we appreciate their role in our growth and success.
We also do real-time celebrations in our props-for-peers slack channel and peer to peer awards that highlight internal culture and add to our company folklore.
3. What activities does When I Work offer to promote team building?
Something unique that came about organically in the last year is our motto Better Together, a phrase we use regularly now and that has its own custom emoji and sticker. We volunteer at least once a quarter and there is never a shortage of ideas or interest in taking time and giving back. We even had shirts made just for our volunteer events that say Give A Shift on them. We are pretty smart about not wearing those particular shirts when we volunteer in a school setting, but otherwise, they have gotten a fun reaction when out and about in the community.
In addition, each team has a budget specifically intended to get teams out for team bonding, and we take full advantage of those dollars. Top Golf, the MN State Fair, Can Can Wonderland, Upstairs Circus and the occasional patio are all popular options.
We have hosted Hackathons where all departments are encouraged to participate, we brought in families for a Halloween party, started slack channels to admire employees kiddos and pets. And we love a good dip contest. Often times prizes for contests include gift cards from our customers and that's always a huge hit.
4. How does When I Work promote work-life balance for its employees?
Work life balance is not something we talk about to check a box. We really do care about employees at a holistic level and offer training and development that is intended to help the whole person – such as meditation, mindfulness, and healthy sleep habits. We also focus on creative ways of being self-aware and how to be our best, such as StrengthsFinder learnings and improv training. That's not to say we leave out traditional training and development because you need those foundational items as well.
We also are cognizant of how our office environment serves our employees and everyone has sit/stand desks for their comfort. We tend to offer up alternatives to desks as well, so you'll find folks at high top tables collaborating or cozied up in more of a lounge setting.
We recognize that when you aim and reach high, you also should be allowed to recharge and regroup accordingly. Our time off and flexible work schedule environment allows employees to manage their time in a way that makes sense for them personally.
5. What makes you most proud to be a part of When I Work?
We hear from our customers time and time again how much we are helping them save time, communicate with their teams, and ultimately to run better businesses. At the same time, I see how we are building a successful, supportive and inclusive business for all our own employees – and that's extremely satisfying.