What's New In When I Work: Summer 2022
This summer's updates are all about new ways to customize When I Work for you and better ways to communicate with your team. No more waiting, let's get right into what's new…
New features
Check out these great features, hot off the press, that are available now!
You can create your own "unit" and use one system for forecasting and scheduling. Instead of having to forecast in hours or sales, now you can use whatever makes sense for your business, whether that's number of patients, hotel rooms, or guests. You'll get a more efficient and optimized schedule with the right measurement that's driving your labor. 
Editing chats is easier now that you can remove users from channels, create channels without having to send a message, and the search and filtering functions have been improved. Employees are listed in alphabetical order so you can find them faster, plus the current date displays at the top of the channel so you know when messages were sent. You can now also see when someone is typing.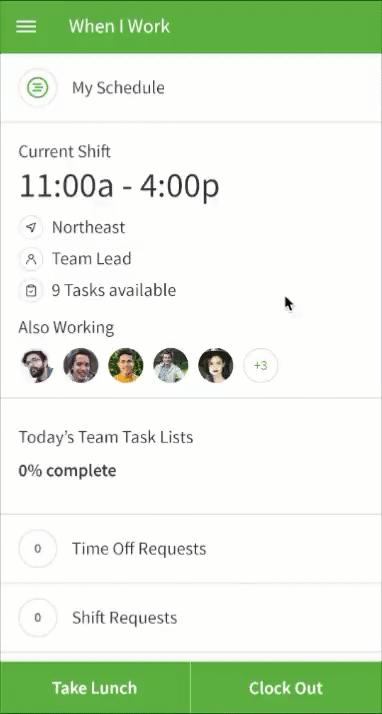 Create the dashboard you want to see. You can reorder and hide information so you have a better picture of what's happening in your business, with the fields that are important to you. You can also now see your labor costs in a graph that's more flexible in the way you view your data. And now there's an Attendance Notices section that lets you quickly triage any attendance issues before they get out of control.
New and improved is the best way to describe our updated time entry and Square data integration. You can push time data as frequently as you want to ensure your labor costs are always up-to-date. You can also add employees and schedules from Square. The cleaner user experience improves the accuracy and simplicity of your payroll and time tracking.
In case you missed it
Here are some of the features we've recently released.
Sorting employees on the Scheduler: Quickly organize your schedule by changing the order of your employees to how you want them to display, directly on the Scheduler.
Employee import: Mass import employee information like schedules, positions, and tags. You'll save time updating, recording, or doing account maintenance on the schedule without the hassle of individual changes.
Time zone toggle: Say goodbye to confusing time zone math. You can schedule employees in different time zones with a simple toggle switch.
Tags in exports: Tags are now a data point in the Scheduler exports, so you always have the full picture of your schedule.
What's next?
Be on the lookout for these new features, getting ready to release in the fall…
Overlapping OpenShift Coverage: Fill more shifts by letting your employees pick up part of an OpenShift that overlaps with when they're already working. 
Timesheet rounding: Make payroll quicker by having your timesheet timestamps automatically rounded to the nearest five, six, or fifteen minutes. You'll reduce manual data entry and human error for payroll software that requires you to round.
Saving custom reports: Once you build a custom report, you can save it so you don't have to constantly rebuild reports or lose your work every time you close out of the reports tab.
Integration improvements: The Gusto and ADP Workforce Now integrations are being updated to improve performance and usability. The Gusto setup will be easier to navigate, and ADP Workforce Now will have new options for multiple pay rates.
Take a few minutes to check out all of the new features we've been working hard on this summer. If you have any questions on anything you've seen here, our amazing Customer Care team is happy to help.