12 Tips For Getting The Most Out of Twitter For Business
Twitter is one of the most popular social networking platforms in the world, with over 271 million active monthly users. It supports over 35 different languages and provides a valuable opportunity for business owners to gain exposure and grow their online audience.
In this post, you'll find a few new spins on some "classic" Twitter tips, as well as a few new ideas that will help you get the most of Twitter for your business.
Join Twitter chats
Twitter chats are one of the most under-utilized aspects of Twitter. However, it's important to participate in chats as an individual, not necessarily the company. This means crafting useful, personal responses instead of repeatedly prompting the other chat participants to buy your products or engage with your Twitter profile.
One strategy to use Twitter chats in a new way is to think outside of the box. If you sell yoga mats, find chats that potentially cover yogis' other interests: natural living, holistic remedies, and mindfulness.
Participate in hashtags for conferences you are attending in advance and in real time
One of the best ways to network at conferences or other events is through live tweeting, which involves tweeting bits of information or quotes from presenters at your next conference or event. Include the event hashtag, which will help your tweet be seen by a wider audience, as most people are looking at the event hashtag stream.
Besides live tweeting, heavily using the event hashtag in advance is a great way to "pre-network." Set up meetings, @ mention speakers you are excited to see to get their attention, and ask for advice on lunchtime spots or sessions to attend.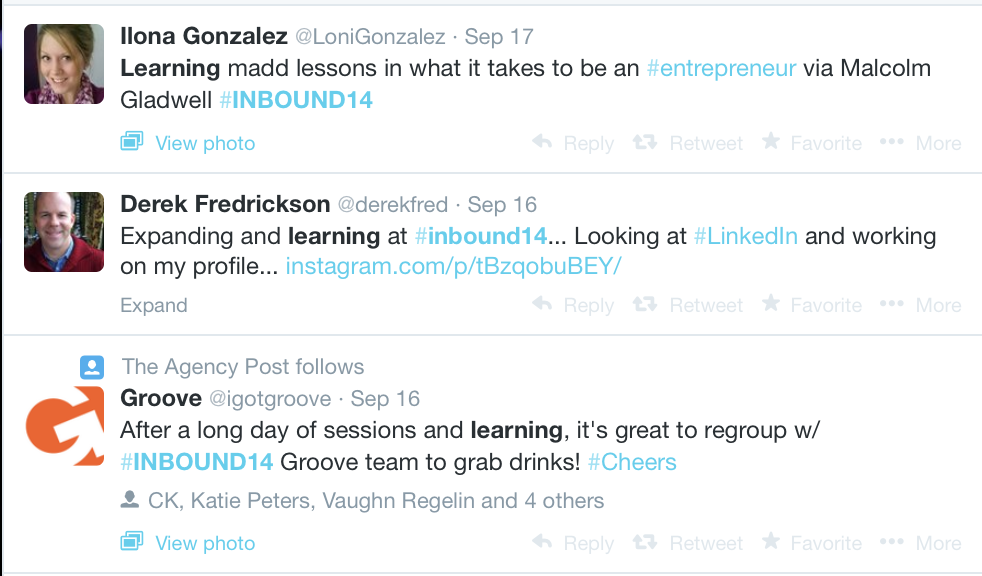 Follow industry bloggers
Bloggers now have significant pull in the majority of industries. Consumers trust bloggers they follow for product recommendations, places, to visit, and more. Following active bloggers in your industry on Twitter will help you learn more about what their interests are, which likely are similar to your wider target audience.
Search for conversational tweets
This tip from Ramon DeLeon (which he frequently shares in his speaking gigs) is a great way to find potential customers who aren't necessarily @ mentioning your Twitter handle. In DeLeon's case, he was handling social media for a set of Domino's stores. He would search phrases like, "I'm craving pizza" or "I really want pizza" in his local area, and then respond to each personally with a coupon code for Domino's pizza. Doing the same for your audience can help you participate in casual Twitter conversations in a helpful way that gets noticed.
Set Twitter alerts for your URL
One example given by Buffer's Kevan Lee is to do an advanced search for your company name, employee names, and other key phrases (like product names) on Twitter. You can then save these searches to re-examine whenever you'd like. As Kevan states, this is extremely helpful for finding tweets that mention related names but don't utilize proper hashtags or usernames.
Let other networks auto-update some Twitter content
Your business Twitter profile should be a good mixture of useful and interesting industry content, personalized updates, and promotional updates. If your company is already using Vine, Facebook, or Instagram, you can set up auto-tweeting that will allow you to automatically share these networks' updates on Twitter as well. This will provide additional content on Twitter, which may help it be seen by more people.
Use photos to make tweets stand out
When you attach photos to tweets, they may automatically appear in a person's timeline: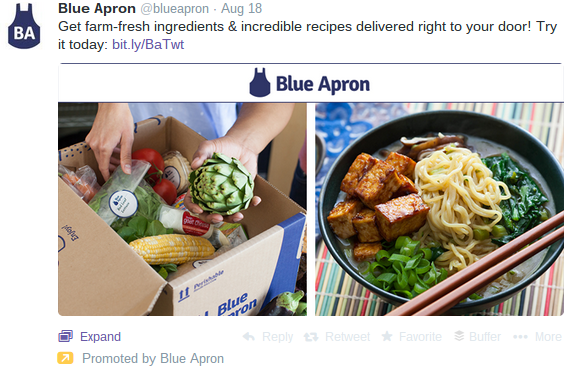 This automatically makes a tweet much more attention-grabbing than text only. And what's even better: tweets don't have to be promoted tweets (like the example above) in order to utilize this feature.
Use your favorites list as a testimonials and press page
One way to interact with tweets is to 'favorite' them. While many tweeters use this feature in a similar way to 'liking' something on Facebook, businesses can use it as an instant testimonials and press page. This is possible by only favoriting customers' tweets about using your products, good feedback employees or the company has received, or mentions in the press. This makes for a great URL to give clients, sponsors, or colleagues when they want to learn more about your company and how products or services are used.
Utilize Twitter Ads to view analytics
One key feature of Twitter Ads is the fact that you can utilize the analytics that come with it. This can provide key insight into your tweet exposure, audience, and other metrics. A low cost following or promoted tweet campaign can still provide valuable data without going over budget. What's better, you don't have to actually implement a campaign to get a good idea of how big Twitter's potential audience for your content could be:


This can help you learn what interests garner the most exposure, as well as how demographics like language and location affect your audience size.
Add hashtags to your bio
Did you know that URLs and hashtags are clickable in your bio? This is a great way to tie your profile back to related industry terms for your business. It also gives you additional space to share a URL for a new product, a launched book, or other URL of interest.
Take advantage of Google Analytics social tracking
The revised version of Google Analytics has a social media section (located under Acquisition), which shows referral traffic from the top social media sites like Twitter, Pinterest, and Facebook. This data is helpful to your business because it shows you what type of content does well on Twitter. After taking into consideration any promoted Twitter campaigns you are doing, if certain blog topics happen to get the most Twitter traffic (and other networks), it can help you shape a content marketing strategy that can get the most social engagement impact.
Kick your header image up a notch
Most businesses have a well-designed header photo that displays their logo, branding, or recent campaign. However, businesses should think of the Twitter cover photo as valuable advertising space. After taking into consideration how it looks on mobile and tablets, craft an eye-catching design that features your services, contact information (or store location), or a new promotion. One such example is blogger and podcaster Pat Flynn, who features keywords about him on his personal Twitter profile:

While it does get cut off some, it's a good example of an easy way to immediately brand your company for users at a glance.
Twitter can be a valuable resource for businesses who want to build their online community, grow their sales, and increase their online presence. Focus on communicating on a personal level with other Twitter users; and your Twitter profile will continue to grow.
What other tips do you have for getting the most out of Twitter as a business? Leave a comment below! I'd love to collect a running list of ideas.
Want to learn about more tips and tricks like the ones in this post? Follow When I Work on Twitter.