Technology Trends in Retail Management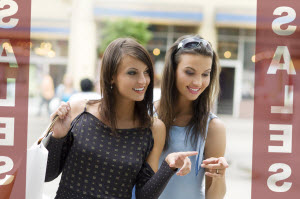 Technology continues to drive retail in ways that no one could have predicted.  The availability and proliferation of mobile devices and retail-oriented software programs has made consumers more savvy, more selective and perhaps even a bit more jaded than ever before.
However, that same trend has also made them more reachable, more understandable and more easily influenced.  For smart companies that are responsive to trends, technology represents a huge opportunity to build a bottom line and a loyal customer base – even as retail analysts are predicting doom and gloom.
Social Media Engagement
Forbes reports that over 80% of consumers make a purchase decision before ever leaving the house.  As a result, you need to do your work before these consumers get off the couch.  Sadly, most companies don't.  Tweeting on Twitter and posting on Facebook isn't enough – true social interaction is about education and giving up great free content in order to get consumer data and build leads.
According to InformationWeek, an IBM survey of 28,500 consumers found that most all of them were willing to share personal information with retailers through social networks if they were guaranteed to get a better, more personalized shopping experience.
Smart retailers like Ice.com, the online jeweler, have cashed in on this by creating a series of interactive games, puzzles and polls that look and feel a lot like Facebook games in order to squeeze out consumer data.  This information is then recycled into the company's marketing materials and ordering system in order to ensure that Ice is offering exactly what customers want.
Predictive Analytics
It's no secret that companies have relied on analytics for centuries.  But unfortunately, most of this data has either been limited or underused in the past.  With software innovations available today (such as up-to-the-minute inventory tracking systems), companies large and small can see exactly what customers are buying and when.
But it's the prediction of future trends – not just the analysis of the past – that's essential to retail management success.  One example of companies doing this well is Hannaford, a supermarket chain with stores up and down the East Coast.  The company has adopted an effective Computer Assisted Ordering (CAO) system, which takes past variables such as daily sales, calendar dates and even bad weather advisories into consideration and feeds data to automated scheduling programs, order entry systems and employee management software.
As a result, the company as able to cut hourly expenses, allow for accurate scheduling and prevent product outages or overstock situations at the store level.
Mobility and Augmented Reality
Shelf overlay via digital device sounds like science fiction but it's already here.  Smartphones allow consumers to quickly and easily access virtual data while interacting with objects in the real world via UPC scanners readers, QR code readers and interactive product displays.  And a tremendous amount of your customers are already using these types of technology.  Over 51% of the population has a smartphone and 50% of these customers are using them while they're in your store.
That may or may not be a good thing, depending on how well your business is marketing to the mobile crowd.  If you're a small business, you may not have the resources necessary to devote to a full-blown mobile marketing campaign.  However, you should – at the very least – be aware of the promotions that any products you stock are offering on mobile (or mobile accessible) services.  If nothing else, find out what it takes to get your businesses listed on services such as Foursquare, Yelp and Google Local, as these websites are particularly popular when it comes to mobile discovery.
Customer Connectivity
"The voice of the customer has never been more readily available, and consumers are increasingly turning to peer recommendations as a key part of the purchase process," said Chris Cunnane, a Research Analyst with the Retail and Hospitality department of Aberdeen Group.
So how can you make the most of this?
Know what you're customers are saying.  Look on review sites like Google Local, Travelocity (for hotels and such) and Yelp.  If you spot a bad review, do something about it – 70% of shoppers trust those online reviews.  Engage with the reviewers.  Thank them for the kind comments and show them you really do value their input. If they've had a bad experience, genuinely try to make it right for them without coming across as dismissive or condescending.
Omni-Channel Engagement
OneStopClick reports that some of the biggest success stories to come out of a rather gloomy holiday season last year were stores that focused hard on digital store fronts, while maintaining their brick-and-mortar locations as well.  These multi-channel marketing opportunities allow businesses to build their brands, engage a wider customer base and gain relevance compared to their competitors.
Similarly, omni-channel engagement is becoming the norm for businesses large and small.  This tech-based consumer satisfaction and retention tool essentially involves you holding your customer's hand all the way through the process of buying – from learning about your products and services through checkout, and even into post-purchase follow-through stages.
Companies like Ticketmaster are doing this well by allowing customers to purchase online, sending email reminders and helpful info and then providing GPS navigation links to get concert goers to venues on time (and don't forget the "after-the-fact" survey that drops into your inbox a few days after your ears have stopped ringing).  By positioning themselves as a helpful agent throughout the buying and follow-through process, Ticketmaster cements itself as a helpful, reputable service in its customers' minds – something all retail outlets can learn from.
Again, a full-blown omni-channel experience may be beyond your budget (though it's a good idea to investigate this first before making a final call).  However, chances are you already have more than one of these components (including a brick-and-mortar storefront, a website, mobile marketing campaigns, television spots or catalogue advertisements) up and running.  By leveraging these different services and expanding your company's technological reach, you can differentiate your business in the minds of your consumers, leading to greater brand recognition and better bottom line results.