How Lime Created a Strong Culture with a Global, Remote Workforce
There are mobile apps and mobile communities, but then there are actual apps that enable communities to become mobile.
It's a safe bet that you've seen Lime in action in just about every major city you've traveled in, with their distinctive bright green bikes—both pedal models and e-assist bikes with a battery pack—and electric scooters (the latest evolution). Lime has created a kind of ad hoc fleet of people around the world who are moving about their city with minimal environmental impact.
With Lime, everyone who has the app can grab a bike or scooter when they need it, and drop it off without having to worry about where to store it. Transportation, when you need it, without the investment of ownership.
Using the Lime app, people can locate the nearest Lime bike or scooter location, and unlock a unit by scanning a QR code with the app. When they're done, riders are able to park anywhere, provided they are not blocking public access to handicap or public transportation platforms or on private property. Financial charges for the use of the unit happen through the app, so there's no unwieldy need to deal with fares or in-person transactions. It's super convenient and easy for those in the city who might not otherwise have access to personal transportation.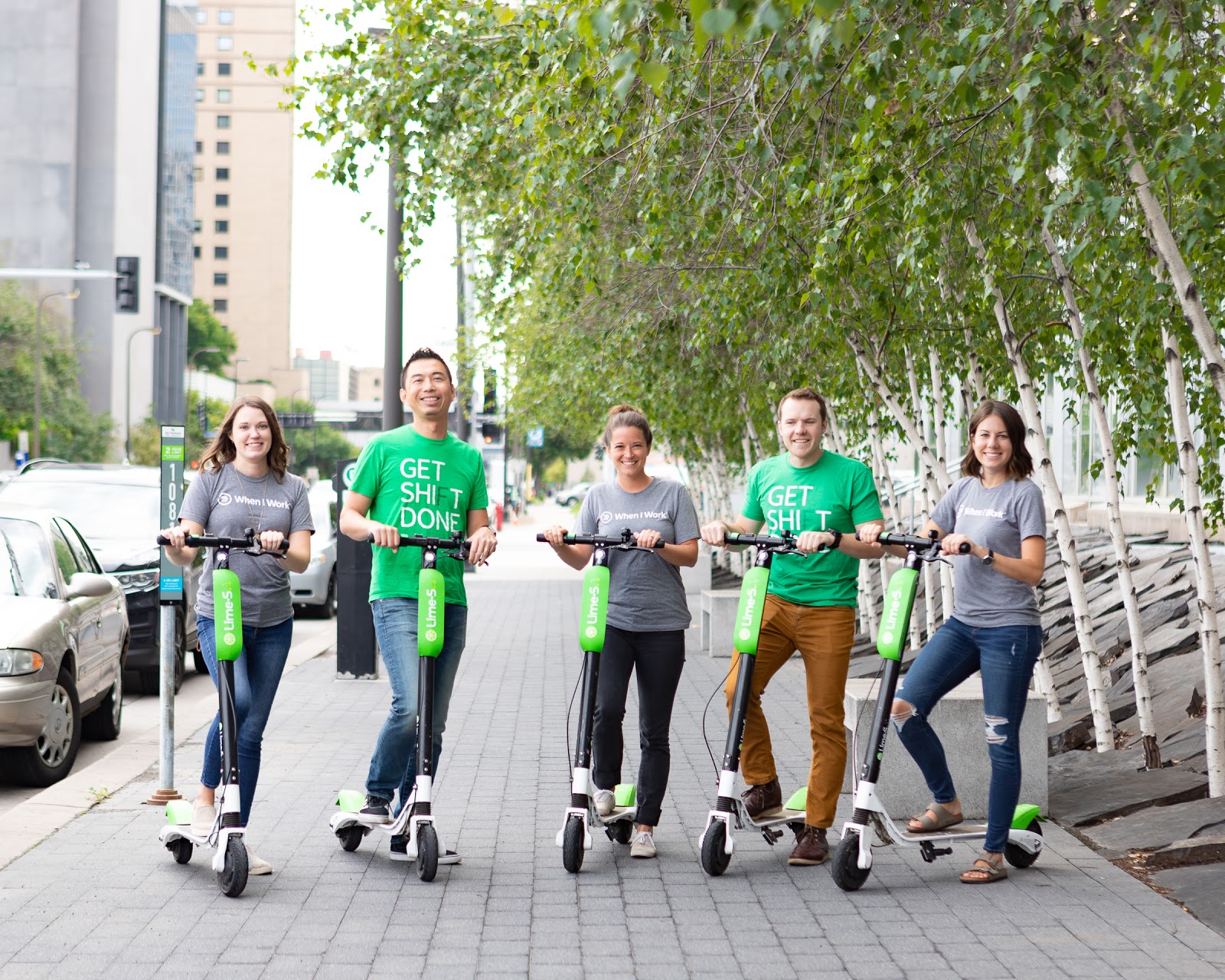 People on scooters and bikes aren't the only things moving quickly, Lime is now the fastest growing startup in Silicon Valley. And with customers using their bikes and scooters 24/7 around the world,  comes an exceptional global customer service team that has to be available 24/7. To be a standout startup in San Francisco means something, but Lime blows past that geographic distinction with their worldwide success. They are in over 80 markets and growing rapidly, having recently closed a series C round of funding lead by Google Ventures and Uber.
How do they make a system with so many moving parts (literal and figurative) succeed? After all, Lime is managing customer expectations, a mobile app, and the bikes and scooters themselves, not to mention that global remote workforce that makes all of that happen across time zones, cultures, and languages. How do you manage a team of that scope?
Lime Bike has always used When I Work for their scheduling, and we wanted to know how that played into their success as they built up a strong team stationed all around the world with a remarkably low employee turnover rate. We spoke with Lakeysha Hayes, the Customer Service Manager at Lime, to get an inside look.
Hayes, as it turns out, is no stranger to successful businesses; she's a bit of a serial entrepreneur and artist herself. For ten years she ran a healthcare administration business and created a skincare line on the side. Her path fatefully crossed with Lime in the same way that hundreds of thousands of other people's do: she used the product. It wasn't long before she decided to phase out her other healthcare business and go all in with Lime.
Hayes has a gift for management, admitting that the best part of managing people is simply genuine curiosity and interest in other people. She said she loves learning their stories and discovering where they come from. As the Customer Service Manager, Hayes oversees an all-woman team—unique in its own right—that includes support operations, customer service, and field communications.
The team answers questions about the app, service, and general outreach to the public. They even heard from the Secret Service one time because someone left a bike on the White House lawn (true story, but thankfully it's not a regular occurrence).
While the Secret Service might not be on Hayes' daily call list, the rest of the list is complex enough. It's a mix of questions from customers on using the bikes and the app and Lime team members communicating with those customers and each other.
That's a complicated web of information and communication that ultimately makes up Lime's customer experience. In other words, if Hayes isn't managing her team well and there are gaps in communication, the customer feels it.
"Scaling a business is like chaos theory applied in real time," Lakeysha explained.
According to Hayes, When I Work has helped immensely in this area, making the team able to communicate about the work they're doing much easier. Everyone on the team stays on the same page in the app; they can see who is working and communicate as they find customer solutions in a timely manner.
"I can't imagine doing this with any other software," Hayes said, explaining that it was previous experience with When I Work that led her to recommend it when she came to work with Lime. As Lime's growth has exploded, When I Work has been able to keep up, with features like responsive zones making it possible to actually manage and stay on top of a growing global workforce.
"Scaling a business is like chaos theory applied in real time," Lakeysha explained.
As with Lime's own app, usability and a great user interface is crucial to customer success. Hayes said she considers the When I Work UI as one that is far superior to other similar apps, noting that she had sat through several demos of other products and that none came close to what When I Work accomplished. The dashboard was simple even while it helped her complete complex scheduling tasks.
For example, Hayes said she can compare scheduled hours versus actual hours worked, and then use that information to help her both understand and control costs. Color coding in the app makes it easier to view and understand data at a glance. Hayes determines the team schedule by looking at various marketplace factors as well as customer support ticket volume. Using that information, she can create a schedule that works for everyone. She also likes the ability to easily add administrators.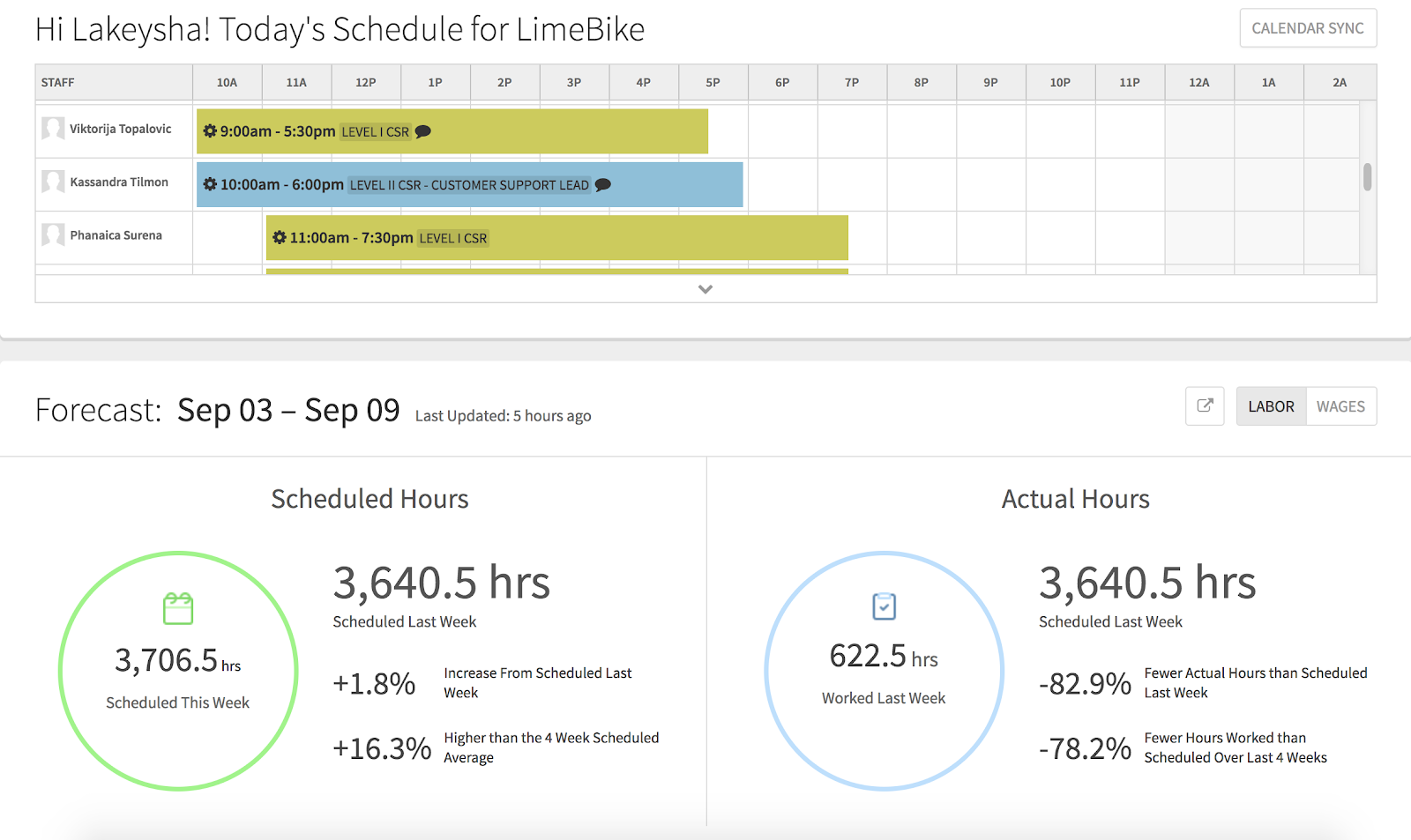 But what about the team? Is When I Work a tool that works for them as much as it does for Hayes? Does it fit in with Lime's unique company culture?
Apparently so.
Hayes said her team loves using When I Work, particularly because of how easy it is to swap shifts and communicate with HR inside the app. Plus, the OpenShifts feature almost guarantees that those shifts will get filled with much less headache than it normally would have taken to find someone to fill them.
"You can get all of your needs met for scheduling, attendance, and communications all in one place," Hayes said. "It is far superior to other scheduling platforms."
And, ultimately, it's easy for new team members to learn. Hayes does all of the onboarding of new team members, including in how to use When I Work, and has found it extremely easy for them to learn without needing a lot of training. For the most part, it's intuitive.
"You can get all of your needs met for scheduling, attendance, and communications all in one place," Hayes said. "It is far superior to other scheduling platforms."
Part of that has to do with flexibility in how and what you use in When I Work.
Because Lime employees work remotely, they don't have any need for the geo-fencing clock in the app, Hayes pointed out. This kind of flexibility is part of what makes When I Work so easy for a variety of businesses to use at different stages of growth. You can use the features you need for your business at the time you need them, letting the app grow along with your business.
Still, for all the ease that When I Work provides, Hayes has her plate full managing a startup that is growing so rapidly. She said the most difficult part in her role as a manager is to make sure that morale is up. Lime is known for a great work culture, and it's everyone's role on the team to work to maintain that.
"Culture is something that is top down, so leadership is really important," Hayes said.
Thankfully, according to Hayes, her team is aligned to the same values, which are all about putting people first.
Perhaps you could summarize the reasons When I Work fits so well into the successful culture of Lime and its rapid growth with one simple idea: everyone is on the same page.
You can't ride a bike if the tires aren't going in the same direction, and when it comes to managing a team in a startup experiencing high growth, everyone has to be going in the same direction as well.
Build the work schedule in minutes, communicate with employees, and handle schedule changes with ease with When I Work.