How to Hire the Right College Student Part-Time Help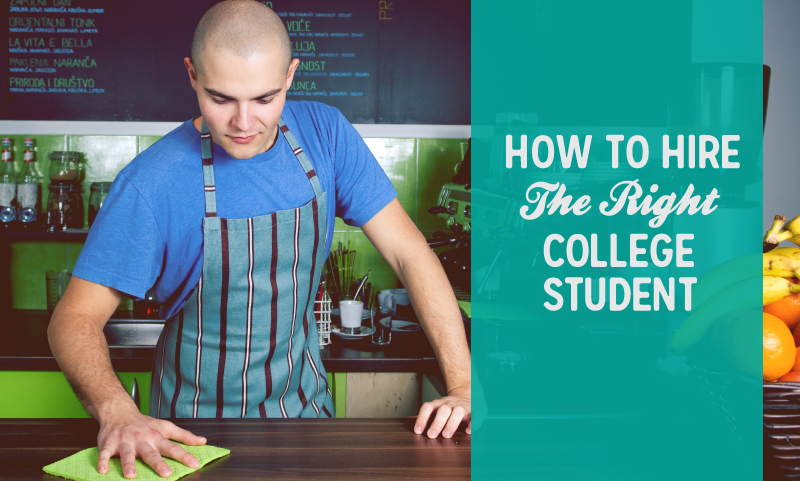 When hiring part-time employees, it's no secret that college students are in most need of money (and most likely to apply), but they are also the least likely available. Between ever-changing class schedules, intense periods of exams and projects, and the desire to enjoy the fun college culture on the weekends, college part-time employees often overestimate the time they have to devote to working, and can leave you in a complicated schedule-making situation when they ask off unexpected blocks of time or have to quit because they realize they have to devote more time to their studies. However, this doesn't mean that college students can't be valuable part-time help. It's up to you as a hiring manager to assess each candidate and determine the right college students to hire because for every scatter brained and busy student, there is also one who is dedicated and driven and can make the perfect part-time employee. Here are some ways you can hire the right college student part-time help:
Search for Schedule Consistency
Schedule is something you should address immediately in the application and interview process. The biggest problem with college students is that they're busy and they (usually) take their education seriously. While there is nothing wrong with placing your education before anyone else, it makes it difficult for you as a hiring manager to find a college student that will take their part-time job just as seriously. When interviewing and receiving applications, ask for schedule details. Ask candidates to send you their availability after they have factored in study time. Students who have a clear grasp on what their schedules are, typically have an excellent grasp on time management and have thought out how much time they can realistically devote to a part-time job. The schedule-oriented students are the keepers.
Look at their Job History
Ask them to provide a detailed history of their past part-time jobs. If they have a pattern of only staying at jobs for a few months at a time, this is a red flag. Look for college students who have a history of sticking with a position for longer periods of time, and don't be afraid to call their references to ask about their reliability and availability while they worked there. While people change over time, leaving positions once life gets complicated is a tough habit to break.
Reward Them with Hours
As a hiring manager, sometimes it's best to hire many employees and give them small amounts of hours each week. Tell your employees that they can earn more hours by being consistently available. Those who ask for frequent time off or have inconsistent availability get fewer hours per week, but having several employees on hand helps you out during finals week because chances are at least a few of them will be able to cover a shift, and that way you can be more flexible with allotting time off for employees to study.
Hire Students Who Take School Seriously
It may seem counterintuitive to hire college students who you know will devote hours upon hours to studying and classwork because that means less time they are able to devote to working, but these students are the ones you want to hire. Students who take college seriously are also the ones who are most motivated to earn the money to pay their tuition and develop responsible working and studying skills. Students who are willing to blow off class are also ones who will be willing to blow off work for something more interesting and will probably need extra (and unexpected) cramming time before exams because they haven't been doing the work all semester. Dedication in one aspect of life (education) usually translates to dedication across the board, so hire the college students who are serious about their studies.
Work Out a Deal with the School
Many real-world trades can be translated into learning experiences for college students. Assess your business's functions and determine whether or not you can create an internship position that offers college credit. Give business students real world experience with acting as an intern assistant manager or marketing students experience with developing a new marketing strategy for your business. Talk to the school and determine what requirements they have for these types of positions. Work with department heads to see if you can create a position that will help a student gain experience to write their senior thesis. Students are much more likely to commit to working part-time if their grades depend on it, and you know you will have them locked into the position for at least the semester.
Be Flexible
Be understanding that college students have other responsibilities and try to work with them so that everyone is happy. If you're offering them a behind-the-counter job, allow them to study when there are no customers coming in. If you know they have an exam coming up, schedule them for more frequent, shorter shifts so that they can fit in some studying each day. A little appreciation show to them will make them more willing to create time for you and will ensure that they stick around throughout their time as a student.