How to Get Customers Back into Your Tanning Salon More Often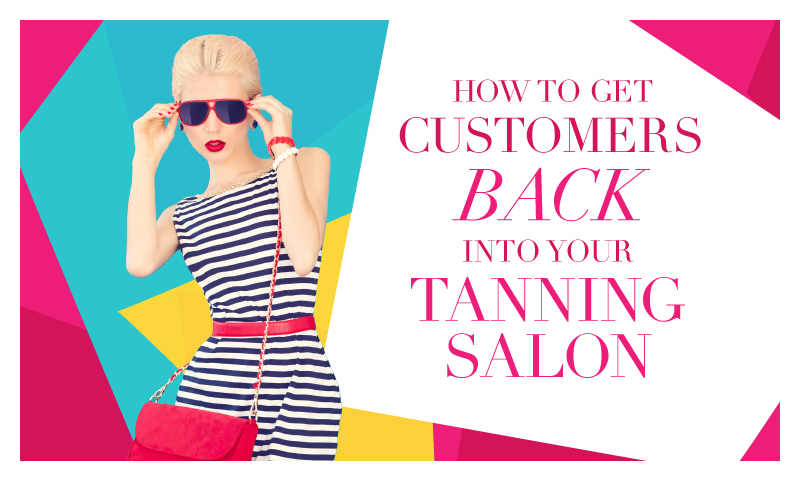 With the summer season around the corner, people are starting their quest for the perfect summer tan. The tanning salon industry knows about this ramp-up period but what about the other months of the year? What are ways salons can acquire new customers? And how can a salon keep current clients coming back?
Here are some tips to help your tanning salon get new customers and turn them into frequent ones.
Let Your Customers Find You
True there are some salons that don't advertise and have a steady customer base but that's a rare situation. First, ask yourself these questions:
What types of advertising are you using?

Does your location augment the visibility of your business?

Is your salon in a high-traffic area?

Do you use outdoor advertising to draw in walk-ins?
Make sure your potential customers know about your business and where it's located. It's important to be visible as much as possible. Who knows? That random walk-in customer could turn out to be a long-term customer who can also spread the word about your salon to their friends. Overall, make it easy for customers to find your salon's location.
Build a Website
Let's face it—we're living in a digital world so it's important to consider online advertising when getting the word out about your salon. If customers are searching for you online, make sure they're able to find you with ease.
There are many affordable and even free website building solutions to help create your company's online presence. Your company website is where you can put all the vital information such as hours, services offered, pricing, special deals, and contact information.
Consider having a Yelp page to help promote your business online. List your business on web directories. If it's in your budget, you may want to look into paid advertisements with search engines like Google and Yahoo!
Customers are searching online for your products and services. Make it easy for them to find you online.
What's Special About Your Business?
In marketing, positioning is differentiating your business among your competitors. What makes your tanning salon special? Is it your location, particular services, pricing, or hours?
Consider highlighting what makes your tanning salon different from the rest and try to incorporate that within your marketing message. In a competitive landscape, you want to make sure that you promote your business so it stands out among the rest.
Using Social Media
It's wise to think about tapping into social media to help acquire new customers and to also maintain relationships with current clients. However, social media (blogs, Facebook, Twitter, Instagram) may not be appropriate for every business. Too often companies rush to create social media accounts but don't invest in the time to maintain these media channels.
If you're comfortable with social media and feel it can augment your business, go for it! Create those social media accounts but take the time to respond professionally to feedback and comments. Customer conversations on social media such as Facebook or Twitter can give your company more of a personal touch.
Discounts and Other Special Deals
It's important to give your customers a financial incentive to come back to your salon. This can be done with special deals such as coupons and other discounts.
When customers come to your salon, get them to share their emails with you so you can send them updates on specials. You can also have visitors to your online site sign up for these emails, too. Whatever you do, don't spam them constantly about information that's not pertinent to their needs.
As we mentioned above, social media can offer a great way to directly connect with your customer base. You can use Facebook or Twitter to advertise a special salon promotion.
Word-of-Mouth Marketing
When a customer has a great experience with a business, he wants to share his recommendation with friends. Word-of-mouth referrals carries a lot of marketing weight and can positively impact your business—sometimes more than all your other advertising efforts. Think about it: A customer had a great tanning experience, she tells her friends about your salon, the friends visit, have exceptional service and then tell their friends. The recommendations can go on exponentially.
In today's digital age, review sites like Yelp are often the starting point for customers searching for a local business. If your salon has a presence on Yelp, be sure to monitor the comments and feedback. Got a negative review from an irate customer? Don't panic. Just private message that person and address the issue they were complaining about. Be apologetic about their negative experience, and explain how you are going to make it better next time. Offering a discount or free session and going the extra mile for that customer will prove to them how much you care about your customers and will hopefully change their negative opinion into a positive one.
Overall, if your salon is about high-quality service with a combination of professional and personal interaction, you're already on the right track of getting new customers and maintaining your current client base.
Have any other tips to share? We'd like to hear your feedback in the comments!