A 101 Guide To Email Marketing
One of the biggest challenges a small business faces is deciding where to focus its marketing efforts. Few small businesses have the luxury of testing a long list of marketing channels––they need to see results quickly, and they need to avoid sinking time and money into channels that may or may not pan out.
Email marketing is one of the most consistently effective channels for communicating with customers. It allows you to build an audience of highly-qualified leads who, if you become good at crafting emails, love hearing from you. Done right, it can also be a huge source of new and recurring revenue.
What's more, email marketing can be a key asset for a wide variety of businesses, from companies that sell information products or SaaS apps to consultants and medical practitioners (a chiropractor I visited recently sends customers emails with helpful advice on how to care for your back).
In this article I'll review five key tips for succeeding with email marketing, but first let's look more closely at why email marketing is so effective.
4 Reasons Email is an Ideal Marketing Channel for Small Businesses
#1. The Stats Don't Lie
There are several great compilations of email marketing stats that show just how effective email marketing is. Here are a few figures that really stand out:
These numbers demonstrate that email is an incredibly effective way to engage customers, and there's no sign of its power waning in the near future.
#2. The Impact of Email Marketing is Easy to Measure
As mentioned above, nearly three-quarters of companies that regularly test email strategies report a positive ROI. In contrast, one of the biggest complaints in the business world about social media is that it's hard to measure ROI from social activity; in fact, 52% of marketers cite difficulties with accurately measuring ROI as their biggest source of frustration in social marketing.
I don't mean to diss social media––it can be an incredibly effective way to build an audience, and it's often a critical part of effective content strategies––but if you're a small business with limited resources you might want to pay special attention to highly-measurable channels like email marketing.
#3. Customers Want Brands to Talk to Them Via Email
According to the Direct Marketing Association, 66% of online consumers have made a purchase as a result of an email marketing message. As Jeremy Smith points out, people actually want to get your marketing emails: Research by ExactTarget shows that 77% of consumers say they prefer to receive permission-based marketing communications through email, beating out both text messaging and social media.
#4. Email Marketing is Efficient
Small businesses need to be efficient in order to succeed. I've really internalized this over the past few months as I've built my consulting business. Time wasted is money wasted, which is enough to make any small business owner shudder.
Email marketing lends itself to automation, and anytime you automate something you end up saving a lot of time. I don't mean to imply that email is a set-it-and-forget-it kind of thing; you'll need to constantly monitor engagement metrics. But once you've optimized the copy of your autoresponder sequence or your sales funnel, for example, automation takes over and does most of the work for you.
5 Tips for Smart Email Marketing
Tip #1: Get Clear on Your Subscriber Goal
As with any marketing goal you set, you need to get super specific about the results you want to achieve when hatching plans to grow your list. Don't just say you want to grow your list; identify exactly how many new subscribers you want to obtain, estimate how long it should take and then get to work.
Noah Kagan's free Email1K course is perfect for businesses who want to follow a proven, straight-forward system for growing their mailing list. In the first lesson you'll get access to a template for mapping out your goals so that you are crystal-clear on where you're heading.

Tip #2: Define How Email Fits into Your Overall Content Marketing System
Email marketing very rarely operates on its own; it tends to be part of a larger content strategy that may include a blog, podcasts, social or video. I recommend mapping out exactly how email fits into your overall marketing machine.
Are you going to send an email every time you publish a blog post? How often will you reach out to members of your list who haven't clicked on the links in your email recently in order to reactivate the relationship?
Getting specific about what kinds of emails will go out when will allow you to set up systems to automate your email marketing, thus saving you huge chunks of time.
Tip #3: Start Off on the Right Foot
Email marketing company Vero highlights that 74.4% of consumers expect a welcome email when they subscribe to a list. The welcome email, also known as an autoresponder sequence, is your chance to make a great first impression on your new subscriber. As the Digital Marketer blog points out, this is where you show your subscribers what you're all about, explain what kinds of emails they should expect to get from you and how often you'll contact them.
A great autoresponder series often consists of several emails, starting with the welcome email described above followed by a few emails containing high-value content sent over several weeks.
This KISSmetrics article points to a MarketingSherpa case study about a company that increased new subscriber click-through rate by 450% by optimizing the welcome email sequence. The changes they made were driven by customer research that allowed the company to get inside the head of its customer and design an autoresponder sequence that the customer would thoroughly enjoy receiving.
Tip #4: Get to Know Your Subscribers by Asking Questions
Your email list provides a great opportunity for you to get to know your customers. There are a few ways you can use your list for customer research: for example, you can ask a question at the end of each email and prompt readers to respond.
Ramit Sethi does this all the time, like in the example below. If you've followed him for a while it's easy to recognize that a lot of his free content and course material is inspired by insights he gets from people who reply to his email prompts or comment on his blog.

Opening up the opportunity for dialogue with your subscribers also helps your email marketing feel less like a strategy for simply broadcasting your message and more like a platform for interaction and building relationships.
You can also reach out to your subscribers and ask them what kind of content they'd like more of. Let's say you're a store that sells high-end baby clothing and runs a popular blog for new moms. Keep it simple with something like:
Hi Nancy,
I'm planning my blog posts for next month, and I'd love to know what you want to learn more about. What's been the hardest part about being a new mom for you? What are some questions you'd like the answers to?
– Jen
Tip #5: Optimize for Mobile
This KISSmetrics infographic points out that despite a 78.9% increase in email opens on tablets and a 40.7% increase in email opens on mobile, few companies have a mobile-optimized email marketing strategy.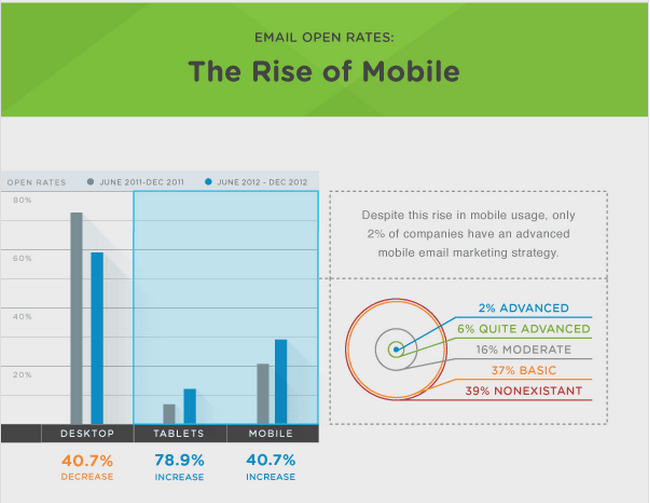 If you're only paying attention to how your emails look on desktop it's highly likely that you'll see an increase in unsubscribes and a disappointing level of interaction with your emails. In fact, 70% of consumers delete emails that don't render well on a mobile device immediately.
What can you do? Make sure to test your emails on mobile devices before sending. If you're overwhelmed by the amount of time it will take to make a fancy email template look good on mobile, just stick to a super-simple style. You can even use a plain text email (Ramit Sethi, who I mentioned earlier, still uses plain text for almost all of his emails, and he has hundreds of thousands of subscribers).
Conclusion
In his famous book Launch: An Internet Millionaire's Secret Formula To Sell Almost Anything Online, Build A Business You Love, And Live The Life Of Your Dream, Jeff Walker, who's been marketing products online since the mid 1990s, describes having an email list as a license to print money––it's a core strategy in every business he owns. Hopefully this article will give you some ideas about how to focus and improve your email marketing strategy (or convince you to get started if you don't already have one!).
Now I'd love to hear from you: what's one lesson from this article you want to apply this week? Let me know in the comments below.
About the Author: Chloe Mason Gray specializes in digital marketing and growth strategy for small businesses and solopreneurs. Be sure to say hi to her on Twitter. You can also follow her on Google+.