Do You Have a Cause?
Strategic Giving is Good for Your Small Business.
Charitable giving and volunteer activities help out those in need while building a sense of pride and purpose within your small business.
Giving should always come from the heart. Aligning yourself with a cause that reflects your true business values is the right way to go. It can help you attract the right kinds of employees and build customer loyalty. But what's the best approach? Here's a simple guide.
What is Your Cause?
Philanthropic activity instills a greater purpose in your business. A whopping 90% of Americans are more likely to trust brands that have social causes. 
Start your free 14-day trial of When I Work! Click here to start scheduling your employees today.

Start by choosing a cause that is logically connected to your business strategy. For example, if you are in the food/beverage industry, consider charities that combat hunger or provide scholarships to aspiring chefs. Choose a charity that:
Matters to you

Matters to your employees (Ask them!)

Aligns with your business's values 

Resonates with your customer base. Perhaps your community has a particular fundraising goal. Or  
Tap into a site like GuideStar, or CharityWatch to do further research. Make sure you align with a well-established non-profit that is using its money wisely. Here are some great tips for evaluating charitable causes. 
Build Giving Into Your Day-to-Day Routine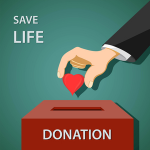 Once you've decided on a cause (or causes) to support, you can:
Offer donation opportunities throughout the year. Donate a percent of sales to a particular cause

Donate excess inventory to a group in need
Make your brick-and-mortar location a drop-off point for canned goods, clothing, or other items related to a charity
Engage Your Employees in Giving
By including your team in your business' philanthropic activities, your cause will benefit from your employees' expertise and manpower; your employees will feel inspired and empowered. Studies show that employees work harder when their employers have a charitable mission.
Empower employees to manage different aspects of your philanthropic activities, like charity relations, event planning, etc.
Organize an afternoon of volunteer work for your as a quarterly team-building outing 

Start your free 14-day trial of When I Work! Click here to start scheduling your employees today.
Create a Sense of Community
Let your customers know about your philanthropic efforts. How?
Spotlight your activities on your website, social media, and promotional materials

Partner with your cause on a marketing campaign or sponsor a charitable event

Consider involving your customers by inviting them to volunteer or purchase products and services that benefit your cause
As business owners, we're used to rolling up our sleeves, digging into big issues, and solving complex problems in the name of growth and long-term goals. Why not apply the same mantra to charities and important causes?
Sources and Resources:
Americans trust brands with social causes
You can use a calendar like this one to tie-in with national causes and tailor your local efforts to a larger cause-related effort.
Employees work harder for companies with a charitable mission, according to this study.