8 Easy Ways to Bring New Customers to your Restaurant in 2016
Every restaurant wants more new customers. Why wouldn't they? A steady stream of new faces means more word of mouth referrals, and more overall business.
But bringing in new customers can be harder than it sounds. With all of the other responsibilities on your plate, you could probably use some fresh ideas on how to effectively attract new business that are simple to launch and test.
The good news: Bringing in new customers to your restaurant can be fun and low-maintenance. Here are 8 easy ways to attract new patrons:
1. Host a Themed Event
A special, themed event can be a nice way to spice up your regular menu and to attract new audiences. These out-of-the-ordinary experiences give bored diners something to look forward to–and can pique the interest of customers who've never patronized your business before, too.
Not sure what type of themed event to try? Think outside the box. San Francisco restaurant Jardiniere hosts special menus with lower rates on slow nights that boast interesting themes like "Summer in Venice" and "Australia Day", which bring in a whole new demographic of patrons, according to the Wall Street Journal.
WSJ writer Alina Dizick commented, "Rather than 'Meatloaf Mondays' or 'Taco Tuesdays,' these high-end theme events showcase guest chefs, hard-to-find wines, rare ingredients and seldom-prepared dishes, such as the sweet-and-sour sardines on Jardiniere's Venice menu and its tropical Pavlova, an Australia Day dessert."
When planning your themed event, consider what you can offer that will highlight the skills of your kitchen staff and that will resonate with the type of customer you're trying to lure in.
2. Test Facebook Ads
Everywhere you look, people have their eyes locked on to their smartphones. At the dinner table. Before a movie. In the car. Some of the time, they're scrolling through their Facebook feeds. In fact, 2014 Q2 data from Facebook indicated that the average US user spends about 40 minutes per day on the platform.
We know that there is a relevant audience spending time here, so testing some Facebook ads to attract new customers to your restaurant just makes sense. The beauty of Facebook ads is that you have control over many different aspects, like budget, runtime, targeted audience, and how the ad looks and sounds.  
Facebook recommends that restaurants test a variety of different types of ads to see which are most effective with its unique audience.
Within your ad, you might highlight:
News about new dishes, promotions, or special events

Employee spotlights, "Meet the Chef", or your most loyal regulars

Fun facts about your location, history, neighborhood, or atmosphere

Unusual menu items, patron favorites, new specials (as seen in the

example

below)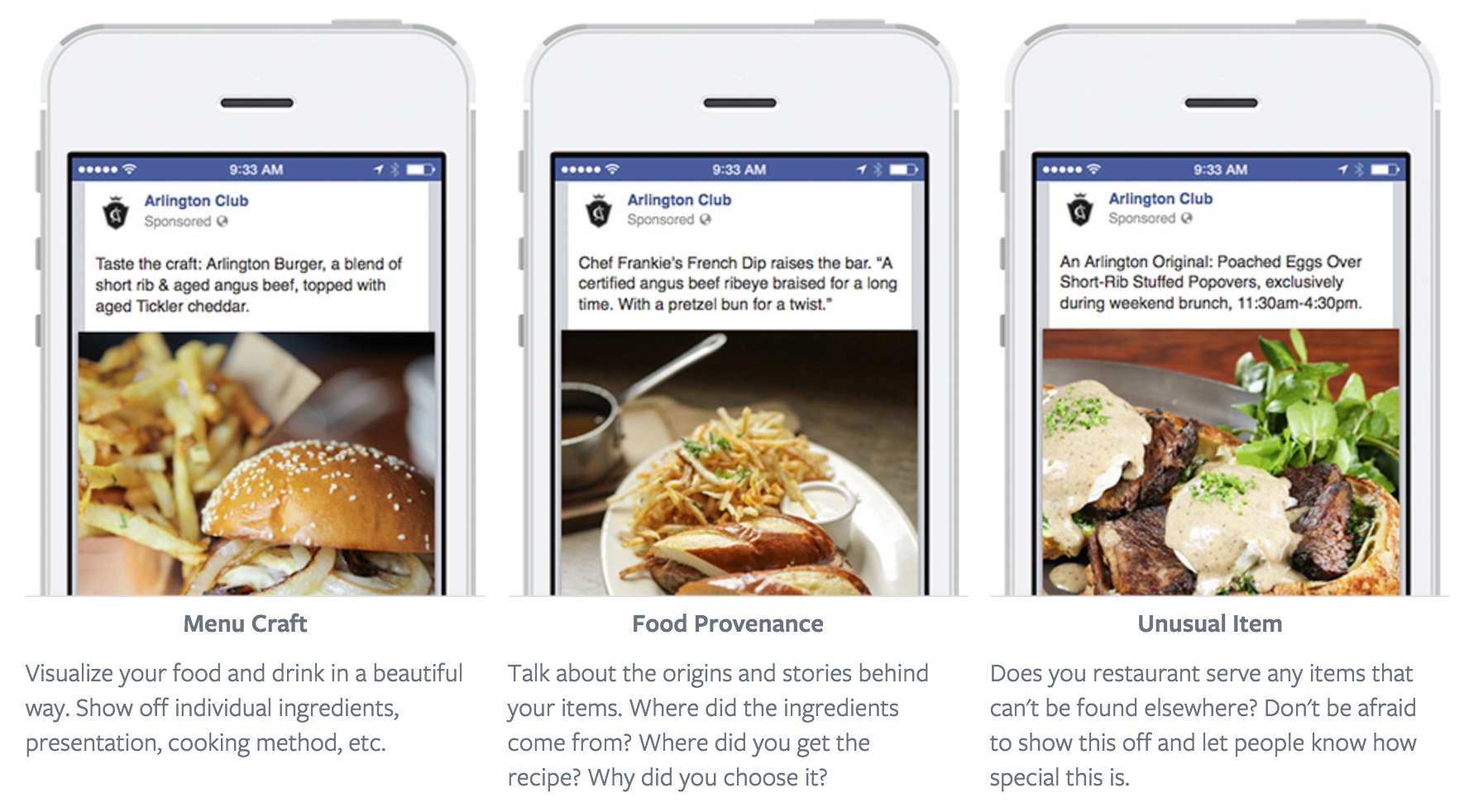 You should start slowly with a small budget and see what which audiences, images, and Facebook ad copy provides the highest levels of engagement.
You can also monitor their effectiveness with new customers by including a "How did you hear about us?" form with every meal check. If you find that responses indicate a trend of new customers as a result of Facebook, you'll know your efforts on this platform are paying off.
3. Utilize Email Marketing
Unlike social media, email is a more static environment with less likelihood that your information will be lost in an ever-moving feed of activity. Add to this the fact that small businesses spend about 15% of their marketing budgets on email–and it becomes more clear that this channel is not only relevant, but produces worthwhile results.
There are many different email marketing platforms you can choose from, such as Campaign Monitor, MailChimp, and others with different tiers and functionality. How you select your provider will depend on your specific needs.
Once you've picked an email platform, you'll want to make sure there's a place on your website and social media outlets for visitors to subscribe–but you can also ask for email addresses in-house, too. (Think sign-up lists, comment cards, information on customer receipts, etc.)
As your list of subscribers begins to grow, you can start sending out occasional messages about specials, events, new menu items, etc. and keep your customers in the loop with restaurant news. Here's an example from Jersey Mike's, a sub shop with franchises across the US: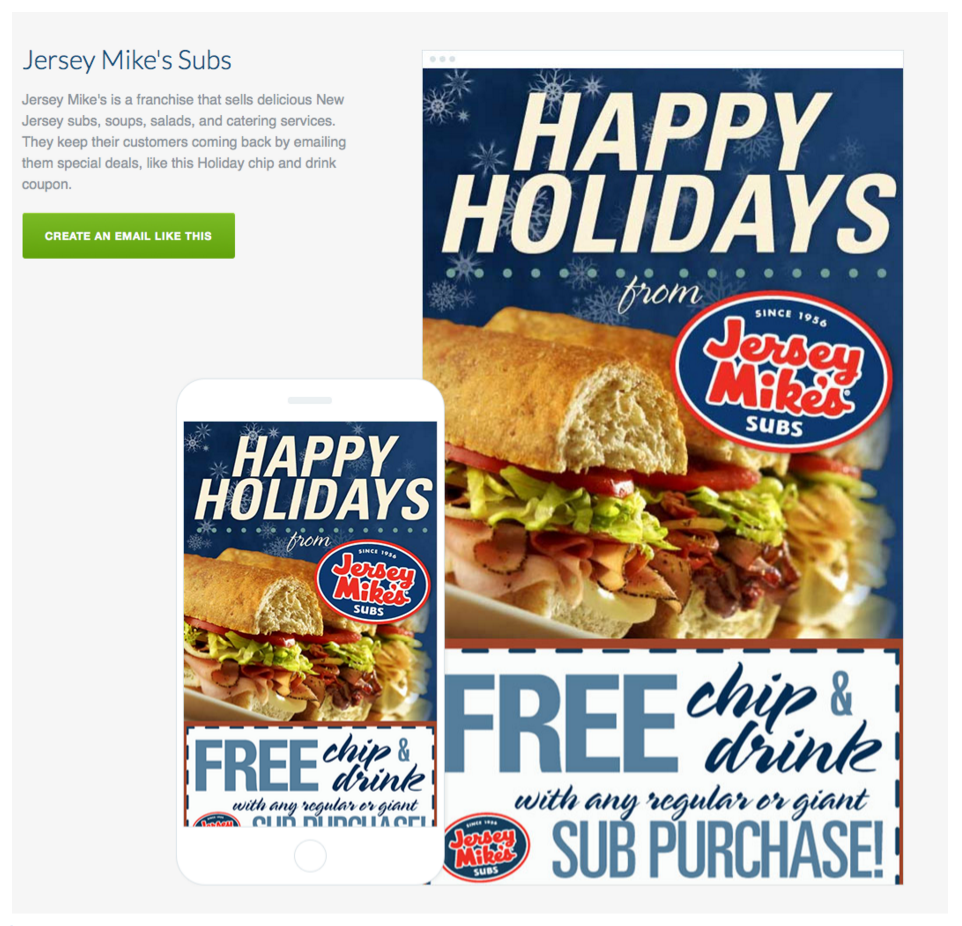 Just remember: It is a violation of the CAN-SPAM act to add unsolicited email addresses to your list.)
4. Make Your Menu More Inclusive
If you're looking to attract different types of eaters to your restaurant, it's a good idea to add a few menu items for those with dietary restrictions (like gluten-free, dairy-free, vegan, etc.)
While some diners self-select their dietary restrictions, others are medically required to eat in a certain way. From a health perspective, The University of Chicago indicates that there are 3M people in the US who suffer from Celiac Disease, and other sources show that there are about 15M people with some type of food-related allergy. These diners often miss opportunities to dine at restaurants because of lack of options–but with a few changes to a restaurant's preparation processes, these patrons can easily be accommodated.
Increasing your options for diners also means your restaurant can then be added to websites that those with dietary restrictions use to discover new places to eat, like FindMeGlutenFree.com or AllergyEats.com.
5. Create Photo-Friendly Opportunities
Creating photo-friendly opportunities for diners increases the likelihood that they'll post about your restaurant on their social media accounts (and tell their friends about where they're eating.)
So how can you approach this? NYC restaurant Chalk Point Kitchen creates a custom chalkboard message for each diner who makes a reservation, which makes for instantly share-worthy photo ops.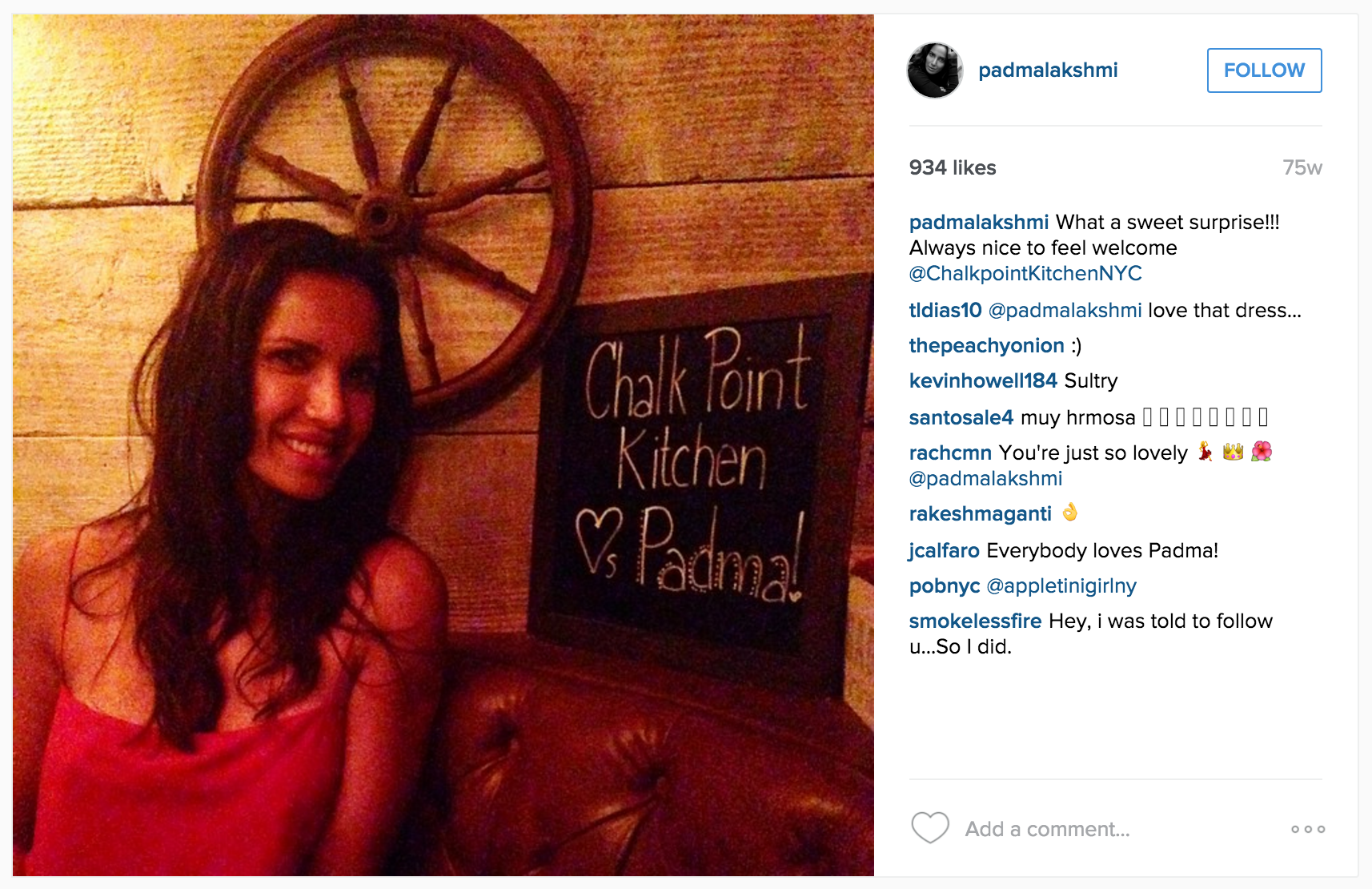 They also wow diners with dessert napkins printed with rap-inspired dessert lyrics (to match their theme) and they have an in-house Polaroid wall with photos of past guests. All of these unique atmospheric elements present opportunities for smartphone addicts to snap away and share the experience online.
6. Be Good to Your Neighbors
If you haven't yet taken the time to connect with your neighborhood through local outreach and neighborhood-specific events, now's the time to think about starting some. It can be as simple as stopping by to introduce yourself, a free meal, or special events that make your closest neighbors feel like old friends.
Think about tactics such as:
Neighborhood-exclusive pre-tastings

Special "thank you" events for neighborhood supporters

Occasional freebies for loyal diners

Discounted catering options for nearby businesses
All of this outreach comes together to endear you to the people closest to your business. On days when things are slow, they'll be the ones who come by to support your operation.
7. Reach Out to Local Media
Standard press releases may feel like a waste of time, but by reaching out to media with timely, relevant pitches or perspectives, you can earn free press coverage for your restaurant. Don't be afraid to chime in on an industry specific issue (like local liquor license changes) by reaching out to a specific reporter who covers the topic.
Make yourself known to local media as a go-to resource within your industry by providing thoughtful commentary when it's appropriate. You can also use a resource like Help a Reporter Out to get emails about relevant stories journalist are working on (and are looking for sources on.)
8. Lead a Community Fundraiser
Build goodwill within your local community by giving back. Whether it's a "Pack the House" event in which you donate a percentage of the night's sales, or simply sponsoring a local sports team, these community-minded activities can bring in new customers who turn into loyal, long-time patrons.
Panda Express works with community organizations to share 20% of all pre-tax sales during fundraising events for schools, PTOs, church groups, etc. It's a win-win for the restaurant, too–as these groups encourage more and more people to dine-in or carry-out, your restaurant brings in a higher volume of sales.
Test out these simple strategies for attracting new customers and see how it impacts the flow of new faces into your restaurant. You'll not only become more beloved by locals, but you'll meet new patrons who are delighted by the treasure they've discovered!