The Current State and Future of "Made in America" Business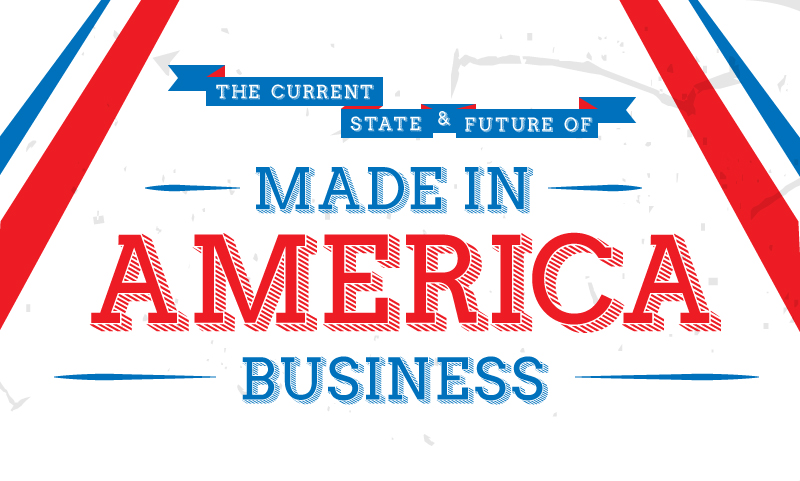 For some products, the fact that they are made outside of the United States' borders is of little consequence. For others, it makes all of the difference for ensuring the products' quality and dependability. Yet, which products are produced in which countries all comes down to consumer demand.
If buyers refuse to purchase products made in foreign countries, then wholesalers and distributors will shift their stock to have more American-made products in order to maintain profitability. And with the outsourcing of work to foreign factories and the importing of foreign-made products growing ever more expensive, that shift back to buying and selling American-made goods is becoming an increasingly easy one to make.
The Current State of "Made in America" Business – The Tide Is Shifting Inward
In April 2013, TIME magazine ran an issue with the words "Made in the USA", being assembled by large manufacturing machines. Within the issue, the cover story boldly claimed that American manufacturing is currently making a comeback since, "suddenly, the math on outsourcing doesn't look quite as attractive" as it once did.
To support that assertion, the writers noted that since 2010, some 500,000 new manufacturing jobs were created within our borders, making a dent in the millions of American jobs lost in the recent recession. Given shifting market trends and the combined efforts of private businesses and the government, it was only a matter of time before we started coming up and out of our economic slump.
However, the more surprising aspect of the story lies where these new jobs are arising. More foreign companies are beginning to see the value in the American-made product and are adding factories and plants within U.S. borders. According to ABC News, "For the first time since the 1930s, U.S. manufacturers have an advantage in exports. With the most productive workers in the world, U.S. labor is now 20% to 45% cheaper than foreign competitors." In fact, when Mexico-based baking company Bimbo first began selling its products in the United States, it had no factories here. But today, "the company has 80 plants that have created 40,000 jobs in the U.S., and it will continue to add more."
In addition to foreign companies investing in the American workforce, American companies, such as GE and Apple, are realizing the worth and cost-effectiveness of turning inward and hiring local manufacturers. As the TIME article authors noted, "Every $1 of manufacturing activity returns $1.48 to the economy. In other words, what you make, makes you." These American companies are even building new factories and assembly plants here to drastically reduce what they spend when shipping their own products back into the country. And a year ago, game-changing, retail giant Walmart announced that it would be increasing its sourcing of U.S. products by $50 billion over the next 10 years – and will even be saving money by doing so.
The Future of "Made in America" Business – If We Play It Smart, We'll Be Hot Commodities Again
The overseas demand for American-made goods is nothing new in the realms of entertainment and fashion. However, it is certainly a recent change in trend for the less-glamorous, large-scale manufacturing products, such as windows and flooring materials.  In fact, exports to Mexico and all of Latin America, including Brazil and Argentina, are up 121% in the last decade.
If this trend in exports is to continue, American industry will need to modernize its manufacturing processes, plants, and people. The TIME authors assert that these highly-technical and super-automated factories of the future, "have more machines and fewer workers — and those workers must be able to master the machines."
American manufacturing is starting to evolve into something far different than the factories that our grandfathers may remember, and our workforce needs to be educated enough to compete globally. To that end, more and more companies are requiring their employees to have 2-year technical degrees, and will likely start demanding 4 years of education prior to making job offers.
A Rosy Outlook
But as the writers stated in TIME, "Based solely on wages…American workers aren't a bargain compared with workers in emerging economies." Fortunately for domestic laborers, "it's also about relative labor productivity–which has been rising sharply in the U.S. over the past decade while remaining flat in China–as well as how flexible a workforce is, how close factories are to customers (which reduces the time needed to meet orders), what kind of subsidies states can offer companies for manufacturing, and how well a company can leverage all that to cope with quickly changing customer demands."
If American businesses continue listening to the national and international calls for products "Made in America," prepare smartly and appropriately for meeting that demand, and uphold their reputation of producing quality products, then our country's return as the premier production powerhouse may soon be reappearing on the horizon.
Additional Information – How to Officially Be and Support "Made in America"
The Federal Trade Commission (FTC) – Complying with the Made in USA Standard
For in-depth guidance on how to comply with the "all or virtually all" standard for claiming that your product is "Made in USA" or "Assembled in USA, consult the information found here.
The Alliance of American Manufacturing