How Great Apps Help Small Businesses Achieve Big Results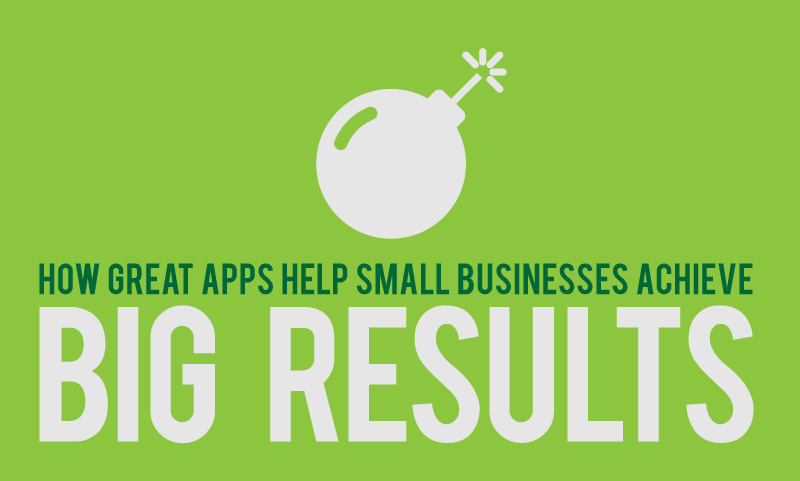 As a business owner, it's important to have the right elements in place to be successful and technology can help with this. There are many apps available to help your business achieve results. We've put together some helpful tips and tricks to help you decide how to best use technology to make your business a success.
How They Can Help
The most important thing to keep in mind with apps is that they can help you simplify your business and make things run more efficiently, whether it's something as simple as a work-schedule template or something to make communication easier. Technology can help create a simplified and streamlined system, resulting in increased productivity and minimized chaos.
Results You Can Expect
The results will be dependent on the type of app that your company is using. A well-designed business app should make it easier to perform whatever function the app is designed to do. So if you download a communication app, it should make communicating with your employees or customers simpler. That's why you need to understand what the program offers and how effective it is before you buy it and implement it.
It's also important to understand that an app is not a magic wand. You'll need to understand the app and utilize all of its features in order to reap the benefits of using it. So, in short, an app is only useful if you use it. Depending on the program, the learning curve can be a few minutes to a few weeks.
Options for Small Business Apps
The technology age has given businesses many different apps to help make running a business easier. By understanding the many options available, you'll know which apps are right for you and your business.
Document Sharing
If your business relies on sharing information with employees who work from home or travel frequently, a cloud-based storage app allows you and your employees to access documents from wherever you are, provided you have the correct permissions. Well-known offerings are Google Drive or Dropbox, but Soonr offers a workflow in addition to storing files. You can sort files into projects and create user groups and subgroups and assign them with different access levels.
Communication
There are a number of different communication apps available. Companies can enjoy video chatting which is perfect for meetings or even chatting with prospects about what your company offers. Some apps help you keep up on customer response, both in email form and via social media and review sites.
Accounting
A solid accounting app can help you keep your company's books in order, and there are many available from expense reports to managing payroll. The right accounting app can help simplify the accounting end of your business so you can focus on what your business is really about. Check out Easy Books, a free iPad app that lets you create estimates and invoices. Mint is a personal finance tool that small businesses can use to track spending and budgets. Or check out Kashoo, which allows you to collaborate with business partners or your accountant in addition to tracking transactions, creating invoices and recording payments.
Scheduling
Getting the schedule right for your employees is essential. Scheduling by hand means that you might end up missing people or shifts, or accidently scheduling someone for overtime. The biggest issue though is that this complicated process can take hours every week to figure out.
When I Work
The When I Work scheduling app is designed to make the employee work schedule easier to set and manage. Schedule templates allow you to input information and it actually keeps track of employees' hours.
At a glance, management will be able to see how many hours an employee has for that day as well as for the week. This allows you to schedule employees for the right number of hours and can help reduce overtime costs. You can even see your employees' time off and availability with the app so you'll know just what hours they need.
The When I Work app lets employees download the program to their smartphone. They can receive texts about their schedule and they can even switch schedules with other employees.
A great program for monitoring employees' attendance, it actually uses a smart time clock. So, your employees can clock in directly from their smartphone. However, they will have to be at work in order to actually clock in.
The program is designed to work with businesses of all different industries. You select your industry and you'll get the employee schedule maker that's right for you.
The cost of this program is determined by the number of employees in your company, which means it can fit any budget.
Having the right tools can help any business reach success. With many apps on the market, it can be difficult to know which ones to use. Take the time to understand the different options available and what exactly your business needs.