Using Mobile Apps to Coordinate and Organize Younger Workers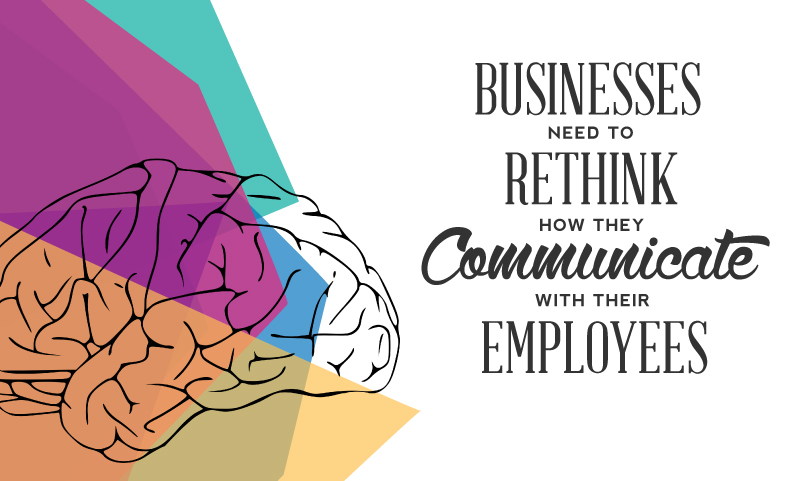 Millennials and younger workers grew up watching their parents sacrifice their causes and social lives for work. They typically lived in dual-income households or single-parent households, where their parent or parents woke up, went to work, came home with fast-food dinners and went to bed only to get up and do it all over again. As a result, younger workers strive to maintain a work/life balance that allows them to earn money and have a career while still spending time with their friends and pursuing their passions. That means businesses need to evolve in order to effectively coordinate and organize their younger employees.
Flexibility and Balance
Young workers are primarily looking for jobs that give them a sense of accomplishment and offer flexible work schedules. They want to feel like they're part of a team, and they want to make their own decisions while still being involved in the decision-making processes of the business.
When Millennials' desires are compared to those of Baby Boomers and Generation X, 30 % of younger workers want jobs that allow them to perform meaningful work, while only 12 % of older generations want meaningful work, according to a study performed by UNC Kenan-Flagler Business School. Older generations would rather sacrifice meaningful work for higher pay and more responsibility. Only 28 % of Millennials value high pay, and only 5 % value added responsibility.
The bottom line is that businesses need to rethink their company culture and how they communicate with their employees. One option available to employers today is the ability to create dynamic scheduling via mobile applications. These applications can help make Millennials feel like they're in control of their work life and that they're appreciated and respected in their jobs.
Connected to Technology
Young workers are connected to technology in a way that older generations are not. While Gen Xers were the first students to have computers in their classrooms, many didn't see those computers until high school. In contrast, Millennials grew up with cell phones, home computers, laptops, tablets and smartphones, and they're quick to purchase and adapt to new technology.
Therefore, the old paper and computer-printed schedules and calling into the office for time off or calling a co-worker to cover a shift are obsolete in their minds. Younger workers want a faster way to learn and correct their schedules and connect with their employers so they can achieve the proper balance for their lives.
Mobile Scheduling Applications
Almost every Millennial owns a smartphone and they spend a great deal of their time communicating with their friends, family members and co-workers via instant or text message and through Twitter, Facebook and Instagram.
Scheduling applications, such as When I Work, allow employers to quickly add employees, create shifts and communicate that information seamlessly through the application itself, e-mails or text messages. This is a much faster way to disseminate information when compared to phone calls and employees asking for and viewing paper schedules.
Small Business Benefits
Many scheduling applications offer the ability to perform payroll and budgeting tasks along with in-depth scheduling and employee and employer communications.
Scheduling
Scheduling is one of the most time-consuming tasks a business owner or manager can undertake each week. It requires knowing or memorizing employee availability, taking into consideration requested time off and filling open shifts. With an all-in-one application, the employer can input employee availability and time-off requests and feel confident that they're being fair to all their employees.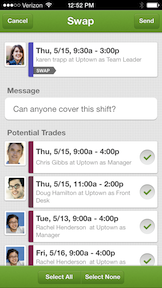 Employee Schedule Flexibility
The application, When I Work, also allows scheduling flexibility by offering the ability for employees to directly ask their co-workers if they want to pick up a shift.
If the co-worker agrees, the scheduled employee can offer their shift to the co-worker or swap shifts, and to keep management in the loop, supervisors or owners must approve the swap before the shift becomes available to the intended employee.
Payroll and Budgeting
Imagine being able to project payroll costs and know whether or not the business is adhering to its payroll budget. An online, mobile budgeting application can allow the business to rapidly check scheduled hours and view current and projected payroll costs.
Communicating With Employees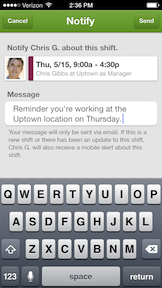 Disseminating companies' communications is a breeze when the business utilizes the features of their mobile scheduling application. Employers can quickly let their employees know of current and open shifts, sudden meetings and important company information just by choosing the message recipients, inputting a subject, typing the brief message and hitting send. It completely eliminates the need to call or email all the staff members via traditional means, and it saves time.
Keeping Workers Connected
Mobile scheduling applications are all about fulfilling the needs of the small business while keeping employees abreast of scheduling changes and important business communications. These applications make employees feel appreciated, save businesses money and help younger workers achieve and maintain balance between work and their
personal life.
Sources
Maximizing Millennials  in the Workplace, UNC Kenan-Flagler Business School, Jessica Brack