How To Hook, Train and Keep High-Quality Restaurant Employees
The National Restaurant Association is excited about working with the Department of Labor on an unprecedented tool for the restaurant and foodservice industry, which is made up of 1 million restaurant and foodservice outlets and a workforce of 14 million employees.
Earlier this year, we debuted the interactive Food and Beverage Service Competency Model, which profiles the employability and technical skills essential to achieving lifelong career success in the industry. Hosted on the U.S. Department of Labor's CareerOneStop website among 22 other high-growth industry sector competency models, this restaurant-specific model is now represented as part of the U.S. Department of Labor Employment and Training Administration's Industry Competency Model Initiative. Very cool stuff!
So what exactly does this resource do for restaurant and foodservice industry leaders? It serves as a guide for workforce development, training and certification standards and approaches, as well as those of industry employers, educators and the public workforce investment system. For a whopping five months, alongside allied industry partners and the U.S. Department of Labor, the National Restaurant Association Educational Foundation collaborated with NRA members and State Restaurant Association reps to form a workforce industry advisory panel. This super group aimed to ensure the competency model aligned with the skill sets, values and career pathways within the industry.
And thus, the first-ever Food and Beverage Service Competency Model was born. It provides an understanding regarding industry career opportunities and aligns with other industry models to show common transferrable skills and competencies. The nine-tiered framework covers the following aptitudes: personal effectiveness, academic, workplace, industry-wide, industry-sector, occupation-specific and management.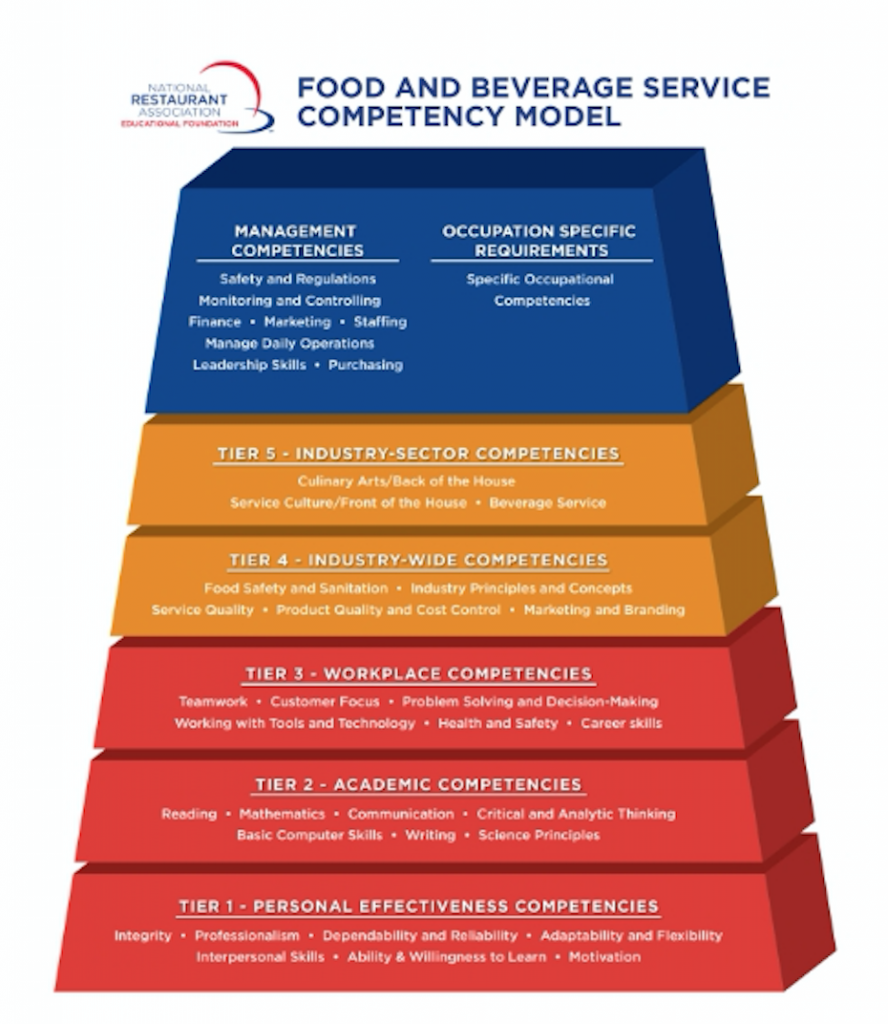 Many people in the restaurant and foodservice industry snagged their first paying job as teenagers at a restaurant. NRAEF research shows that more than 70 percent of current restaurant employees believe they have the opportunity for career advancement in the restaurant industry. Ninety-seven percent of restaurant managers and 94 percent of shift or crew supervisors, no longer in their first restaurant job, have advanced to higher-paying positions in the restaurant industry. These powerful numbers demonstrate that rewards abound for those who stick around.
Looking to help your entry-level employees accelerate up their career ladder? Here are some useful tips:
Educate employees so they understand their roles and responsibilities, whether they're at a big chain or a small independent restaurant.

Set expectations during the hiring process to weed out less serious candidates and nurture promising new recruits.

Give promising employees the opportunity to experience all hours of operations to see how things work during different shifts.

Emphasize that employees must always look for opportunities to learn and grow. Do they want to open their own restaurant? They should be proactive about researching funding options, for example.

Acknowledge achievements. Institute award and recognition initiatives, like an employee-of-the-month program, for the back of the house. More often than not, people singled out in such programs are targeted for promotion and advancement. And when restaurants promote from within, it signals to staff how employees can get ahead.

Be upfront if you have more talented people than positions. If you have multiple concepts, reach out to other restaurants if one location can't accommodate a promising employee.
From May 16 to 19 in Chicago's McCormick Place, the NRA hosts the National Restaurant Association Restaurant, Hotel-Motel Show®. Restaurant and foodservice leaders from all over the nation convene, accessing unparalleled opportunities for buyers and sellers to come together, conduct business and learn from each other. Use this forum as an avenue to discuss issues like employee advancement, retention and more. We hope to see you there!
You can also reference the NRA's Manage My Restaurant platform for best-practice info encompassing a wide array of restaurant industry topics.