Fun & Games Can Build Your Team
Team building pays off — literally!
Studies show that companies with effective team building programs earn 2.5x as much as companies without them. Plus, people who feel engaged with their employer are 87% less likely to leave.
Spending time playing games with co-workers has many benefits. According to psychologists, "Play brings joy. And it's vital for problem solving, creativity and relationships."
If you have regular team meetings (which most good managers do), consider incorporating some "play time" into them. Or, schedule a time that's convenient for people to get together outside of work hours.
When I Work is now FREE  for to up 75 employees.  Click here to start scheduling your employees today.

Engage one of your trusted employees in planning the agenda and keep it short and focused. Build a sense of excitement and surprise around the gathering and make sure you have snacks and beverages on hand.
Here are some "best practices" for productive meetings from Forbes.
Make your objective clear

Consider who is invited

Stick to your schedule

Establish ground rules early on, so vocal people don't dominate the meeting

Ban technology

Start on time and end on time

Follow-up
Now we're adding #8…which is incorporate a fun, inclusive team building activity at least once a year (or even more if time permits).
Of course, outings are great — no work, all play. If time and budget permits, you can treat your team to an outdoor activity, group cooking or art project, or other "out of work" experience. But many businesses don't have the luxury of extended breaks from work. Incorporate play time into your group meetings.
Some games are simple and easy to execute. They'll help people relax, get to know each other, and make your meetings more memorable and enjoyable.
When I Work is now FREE  for to up 75 employees.  Click here to start scheduling your employees today.

Because planning for play shouldn't feel like work, we've created a FREE List of 32 Team Building Games. They are time-tested, fun, engaging, and simple to lead. Some of them (like #11, 14, and 28) can be done in about 10 minutes — ideal for busy businesses who don't have lots of time for meetings.
Work hard…play hard…build your team!
(And download our List today!)
Want to save these ideas for later? Download the free ebook version of the Epic List of Great Team Building Games!
Something Went Wrong
---
We had some issues creating your account. Please check your info and try again.
---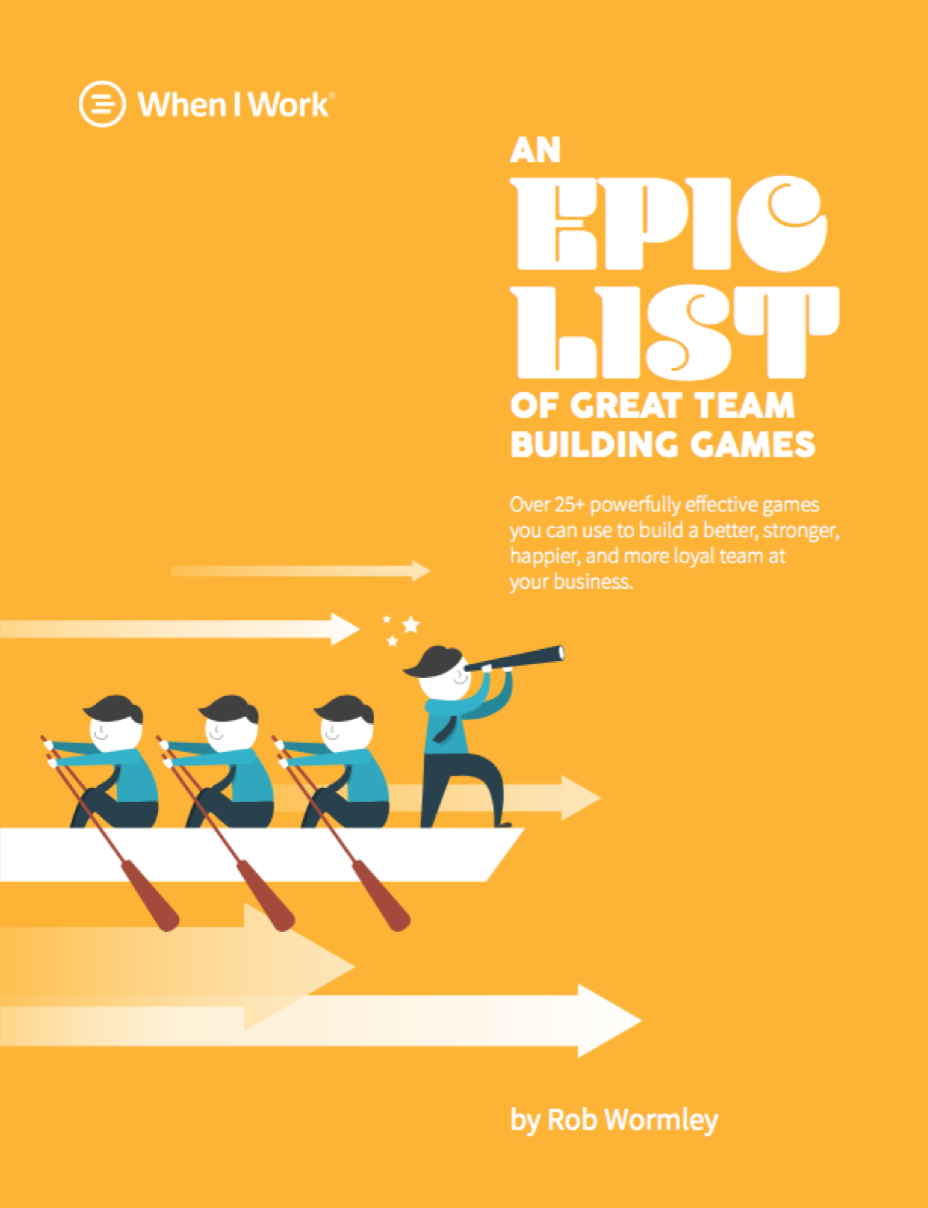 Sources:
http://www.totalteambuilding.com.au/the-positive-impact-of-team-building/
https://psychcentral.com/blog/archives/2012/11/15/the-importance-of-play-for-adults/
https://www.forbes.com/sites/forbesleadershipforum/2014/02/05/seven-steps-to-running-the-most-effective-meeting-possible/#3596a25d7a61