22 Business Tools for Boosting Productivity and Fueling Growth
The perfect tool is the perfect weapon in the battle for productivity and growth. The wrong tool is a stumbling block.
What you need are tools that actually help you do your work and, because you're busy, will help free up time to focus on growth. With that in mind, we wanted to give you a list of tools that are no-fuss, easy to learn, and do a great job at what they say they can do. Flexibility is also important, allowing you to adapt the tools to the way you work. We've categorized the top tools according to the cornerstones of productivity and growth.
Marketing Tools
Marketing covers a broad range of activities from email to social media platforms, and the tools used to create content for those platforms.
Email Marketing
1. MailChimp is one of the most popular email marketing platforms. Clean interface. Robust free options (even better options for paid accounts). Social media integration. Multiple app integration (e.g. EventBrite, SurveyGizmo). Reports that are easy to read. MailChimp is as simple or as complicated as you make it; if you're not an email marketing guru, MailChimp doesn't penalize you for it. MailChimp's true one-click unsubscribe also makes it more likely your emails make it to the inbox. Other email marketing systems with less unsubscribe ease end up getting flagged as spam.
Alternatives: Tiny Letter, Constant Contact, Active Campaign, Get Response
Social Media And Content Marketing
The big platforms are Pinterest, Instagram, Facebook, and Twitter. Each has a very different personality and audience demographic. The trick to making these platforms a growth booster without sucking up all of your time is to find a tool to help you manage how you use them.
2. Buffer takes a unique approach to social media publishing. Using a simple interface, you determine what kind of publishing schedule you want, fill up a queue, and the posts are sent out without you having to schedule each post individually. It also offers a basic image creator for visual posts. Buffer integrates with most major social platforms, and offers analytics to see whether you need to adjust publishing frequency.
3. Hootsuite is the granddaddy of social media scheduling platforms. It integrates with lots of social platforms, let's you schedule content far in advance, and gives you analytics tools to see how well your content is doing. You can also monitor how your brand is faring online.
4. Schedugram is the most popular scheduler for Instagram. If your focus is on that platform, it makes sense to use a tool specifically for it. Simply user interface, and the ability to upload and edit images before saving them for later publishing will definitely save you time. Plan ahead, schedule, done.
5. CoSchedule bleeds across multiple content marketing lines. It's part editorial calendar and social media scheduler. It integrates directly with social platforms and other apps, and allows your team to manage all of that content (including blog posts) from a drag-and-drop calendar. CoSchedule also provides some analytics to track your success. If your content marketing involves a team, lots of different content types, and multiple social platforms, this is your tool.
6. Canva makes gorgeous image creation easy without having to own or know how to use complicated graphic design software. Canva also makes it easy for your team to create visuals that fit your brand specifications (e.g. font, colors, logo). Create uniform imagery in the cloud, from any place. It's easy to get fixated on tools that publish and monitor content, but in a visual world, you need to be just as concerned about making good content.
Task Management Tools
7. Trello is basically a digital bulletin board. Your team can manage any kind of project using "cards" that can be moved from one board to the next. Each card can have its own conversations, labels, deadlines, notifications. etc. This flexibility means pretty much any business could adapt to how they currently work. Trello gives you a "blank" structure and leaves it to you to figure out how you want to use it.
8. Wunderlist is a kind of to-do list with individual options as well as team options. Multiple lists, the ability to upload files, and have team conversations turn the lists into a project management system. A free mobile app with a simple interface makes it easy to manage everything on the go.
9. Focuslist a daily planner that helps you focus on what you need to get done. It accomplishes this using the Pomodoro technique, which breaks tasks down into timed segments, with breaks in between, to help you maintain focus on actually getting things done.
10. ScheduleOnce is a tool for scheduling meetings and bookings. Your customers can go to your custom booking page, schedule a meeting, and your team is immediately in the know. This app has serious features, including SMS notification, cancellation options, take payments, and more.
Alternatives: Calendly, Assistant.to, TimeBridge
SEO and Website Optimization
11. Moz Local makes local SEO easy for your business. If you are running a small business and aren't at least starting to think about SEO, then you're missing out on a huge opportunity to attract new customers. Instead of individually managing all of the location sites and local listings, Moz Local makes it easy to do it through a single location. Set up a business listing one time, and it will send it out to listing sites consistently. Local search is key to a lot of traffic; if you ignore it, you're missing out on growth.
12. Moz is almost synonymous with SEO. Their apps and tools, including the free Moz Academy, will teach you all you need to know about SEO. A mix of free and paid tools makes it easy to get started building your business online.
13. Hotjar creates a heat map of your website. Through a simple dashboard, you can see exactly how viewers are using your website. You'll be able to visually determine, through heat maps and mouse movements, what people look at, click on, or mouseover, and what changes you need to make so that your website is more effective for customers.
Employee management
Managing your employees and HR by hand is extinct. You're wasting a lot of time.
14. 15Five is a tool for managing employee performance. You can track successes, stay on top of issues before they get out of hand, and track your team's great ideas instead of forgetting them. This app works almost like a social network in how it allows you to manage employee performance.
15. When I Work makes managing your hourly employees easy using an online interface and a mobile app. Time shifts and changes are made easy with options such as setting eligibility requirements. At a glance, you can see who's working now, and make sure there are no future scheduling conflicts. You can even automatically assign any open shifts you have to qualified employees. 
16. Snagajob is the answer to the costly task of finding and hiring qualified hourly employees. You can post your job listings easily, using filters to get the best suited applicants. The app also has some scheduling components to it.
17. Aventr is meant to improve employee engagement and team growth by helping the work better together. Here's how it works: you can send positive feedback, gifts, make idea sharing easy, and provide important training through a question-and-answer format between employees. It comes with analytics so you can measure engagement.
Want to save this ebook to refer to later? Download your free copy of the First Time Managers Handbook now!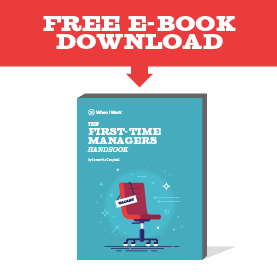 Apps To Grow Your Business
There are three keys to growing your business:
Asking customers what they want (and don't want).
Being targeted in what you offer them.
Rewarding them for being a customer.
Notice something? These actions are all built around your customer, not you. Your customer base is where growth happens.
Survey Your Customers
18. SurveyMonkey makes it easy to ask people what they think. Employees, sure, but also customers. The best way to grow your business is to find out what customers like and don't like, and then focus on those things. If you're wondering what changes to make, the best thing to do is ask. SurveyMonkey makes that easy.
Targeted Or Specific Content
19. Instapage helps you make landing pages for specific promotions that convert without all of the headache. You know they'll convert, because part of the tool is measuring what works and what doesn't. Instapage also allows for team collaboration in building your landing pages, and integrates with marketing tools (e.g. MailChimp) you're already using
Customer Loyalty Programs
The next set of growth tools has to do with customer loyalty programs, which are based on the idea that you reward current customers to keep them coming back and they become advocate for your brand. Customer loyalty programs are inexpensive to set up considering that return customers in such programs spend more money.
20. Loyalzoo makes customer loyalty programs easy, right at your POS. Loyalty programs bring customers back twice as much as without them, and those customers tend to spend more. Loyalzoo makes it easy for customers to sign up however is most convenient for them, whether by email, phone number, or checking in through the app. You can also connect your account to Facebook for more organic marketing as your customers check into your business. As your customers use your loyalty program, you can gather stats on purchasing trends.
21. FiveStars is also a customer loyalty program. It allows you to send specific and targeted offers to the right customer at the right time. For example, FiveStars can set up automatic offers for a customer's birthday, new signups, or if they've been gone a long time. It's customer loyalty with targeting.
22. Belly (now part of Hatch) is a customer loyalty program and one of the largest ones around. It integrates with social media, offers custom rewards and email integration with automation to help ease some of that. Combining with Hatch (which is geared for medium to larger businesses) means it now latches onto the customer data you've been gathering and creates rewards that are increasingly specific to customers.
—
Here's the thing about tools: if you have simple needs, use simple tools. A tool with all kinds of bells and whistles isn't helpful if you don't need them; they get in the way, and waste your time. Choose a tool that fits what you need, without excess. If you're a small business, don't choose a tool meant for a corporation.
And above all, remember that time is money, and being more productive with your time is saving money. That leads to direct growth.